The commodities markets are mixed as the physical commodities are trading lower for the most part and the equities are marginally higher according to our lists. The SPDR Gold Shares (NYSEARCA:GLD) caught our eye as gold is down about 2% on the session and the iShares Silver Trust (NYSEARCA:SLV) are not that much further behind. It is certainly a rough day for the precious metals, but if the trend lower continues and we break through some important support levels across multiple markets then it could get even uglier quite quickly.
Chart of the Day:
Traders had pegged gold around the $1,300/ounce level over the past few months. With the move lower our attention has now gravitated towards the $1,250/ounce level as we watch to see whether that key level will be breached.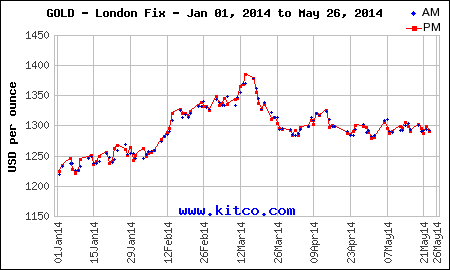 Source: Kitco
Commodity prices are as follows (at time of submission):
Gold: $1,268.10/ounce, down by $23.60/ounce
Silver: $19.075/ounce, down by $0.343/ounce
Oil: $103.89/barrel, down by $0.46/barrel
RBOB Gas: $2.997/gallon, down by $0.0265/gallon
Natural Gas: $4.481/MMbtu, up by $0.076/MMbtu
Copper: $3.1725/pound, up by $0.005/pound
Platinum: $1,463.30/ounce, down by $9.50/ounce
Big News Out Of Africa
Many in the resource sector are well aware of the laws that govern companies looking to extract resources from mines in various countries. Many of the resource rich countries require that local investors be included in the development of projects and in many cases the equity is essentially given to preferred parties. Some jurisdictions require only 10% of a project be locally owned while others are as high as 51% ownership.
Zimbabwe is one country which moved to require that 51% of a project be locally owned and this has chased off a lot of potential investors in resource projects in the country. Now it appears that the country has decided to relax their rules to allow companies to recoup their initial investments while earning a decent return before they are forced to share the profits.
This is still far from ideal but could see foreign investment pick up now that there is much more certainty that capital expenditures will lead to future profits and in a much shorter time frame than under the previous framework. Nothing is certain yet, but if the government does relax the current rules we could see junior mining companies once again exploring the country for projects that make sense economically.
Time To Buy Again?
With both the Permian and Eagle Ford plays remaining among the top plays in the shale space we think that investors are still safe to play the channel trade in Rosetta Resources (NASDAQ:ROSE). As many readers know by now, this is a name which we love to buy in the $40-45/share range while selling in the $47-50/share area. Long-term we like the name, but when it comes to trading this is something which has worked numerous times in the past and we have always been of the school of thought that one should do something until it stops working.
Over the past couple of years it has paid to purchase shares between $40-45/share. When trading, one should always do more of that which is working and less of that which is not. We are buyers here, both for the short-term and the long-term.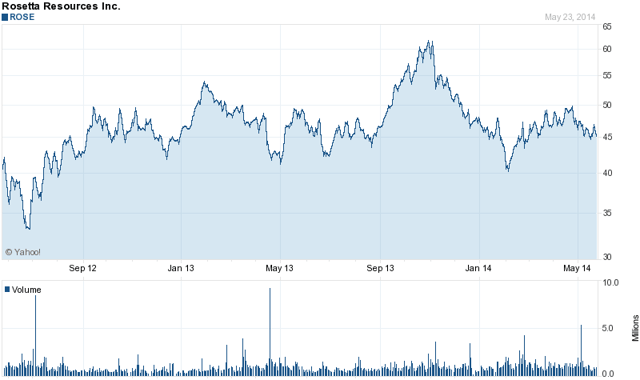 Click to enlarge
Source: Yahoo Finance
Rosetta Resources continues to deliver on developing its Eagle Ford play and with the company beginning to crank up its drilling activities in the Permian we think that the company may finally have found the second play it has been looking for. If the Permian acreage turns out to be as good as we think it could be, then Rosetta Resources could become more of a momentum stock like Diamondback Energy (NASDAQ:FANG). We also think the recent IPO of Parsley Energy (NYSE:PE) bodes well for Rosetta as it highlights investor demand for exposure to the area.
Disclosure: I have no positions in any stocks mentioned, but may initiate a long position in ROSE over the next 72 hours. I wrote this article myself, and it expresses my own opinions. I am not receiving compensation for it (other than from Seeking Alpha). I have no business relationship with any company whose stock is mentioned in this article.