Pacific Drilling S.A. (NYSE:PACD)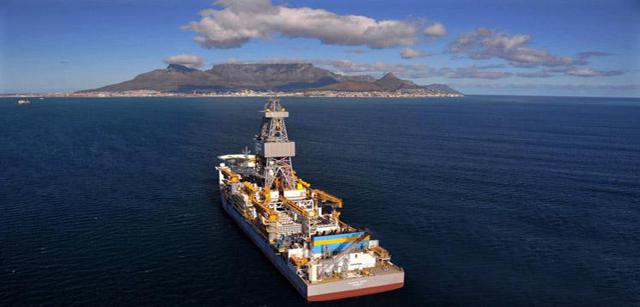 Pacific Bora from PACD website.
Pacific Drilling S.A. is an offshore driller contractor specialized in ultra-deepwater high-specification drillships 7th generation. It contracts its UDW rigs on a day rate basis following a similar business model of the offshore driller industry that I have covered extensively.
As of May 26, 2014, the company fleet is composed of a total of eight drillships with two still under-construction to be delivered in 2014 and 2015.
The first four UDW drillships were ordered in 2008, and PACD took the delivery of Pacific Bora in October 2010. In 2011, the company took delivery of the three other rigs and ordered two more. In 2012, the company ordered its seventh drillship scheduled to be delivered in Q4 2014. In 2013, the company ordered its eighth drillship scheduled to be delivered in March 2015.
From PACD's latest presentation on May 12, 2014, we can see that PACD has one of the most-recent fleets in the industry.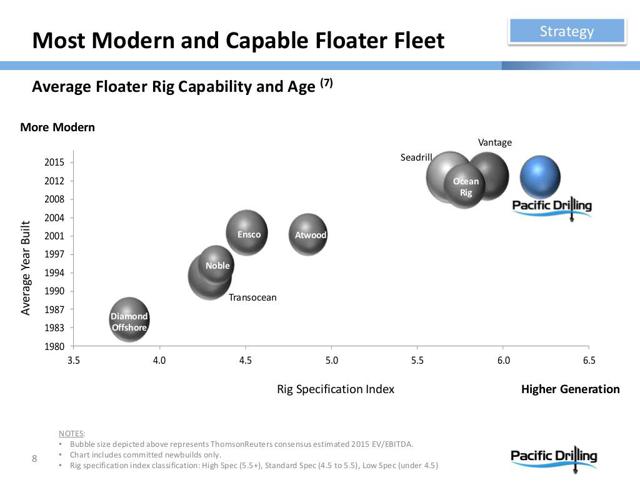 The company was founded in 2006 and is based in Luxembourg. Pacific Drilling S.A. is a subsidiary of Quantum Pacific Ltd. based in Gilbraltar.
Quantum Pacific Ltd. is the majority shareholder and is represented on PACD Board of Directors by three board members.
The company has over 1,400 employees worldwide.
Complete fleet analysis and status as of May 1st, 2014
The company owns only Ultra-Deepwater, high-specification Drillships. The numbers indicated are from the fleet status May 1st, 2014 on the company's website.
N
Name

Year

Built

Specification

UDW

Contract

End

Day Rate

K $

Client

Location

1
Pacific Bora
2011
Samsung 10,000 design

8/14

8/14-8/16

474.7

615(waiting for approval)

Chevron

Nigeria

2
Pacific Mistral
2012
Samsung 10,000 design
2/15
458

Petrobas

Brazil

3
Pacific Scirocco
2011
Samsung 10,000 design

1/15

1/15-1/17

494.95

498.99

Total

Nigeria

4
Pacific Santa Ana
2012
Samsung 10,000 design
3/17 + 38 days extension
489.53

Chevron

US Gulf of Mexico

5
Pacific Khamsin
2013
Samsung 12,000 design
12/15
660

Chevron

Nigeria

6
Pacific Sharav

Delivery

Now

Samsung 12,000 design
3Q/14-3Q/19
555

Chevron

US Gulf of Mexico

7
Pacific Meltem

Delivery

Q4 2014

Samsung 12,000 design
Available
-
-
8
Pacific Zonda

Delivery

Q2 2015

Samsung 12,000 design
Available
-
-
Note 1: Q2 2014 operating fleet average revenue, efficiency is 91% to 95% and full year 2014 is between 89% to 93%.
Note 2: PACD has a state-of-the-art fleet brand new.
Fleet and first-quarter 2014 results snapshot
Important links:
1- Conference call on May 6th, 2014.
2- First-quarter 2014 results press release May 6, 2014.
PACD reported a Q1 2014 revenue of $225.591 million, up 12.5% from fourth-quarter 2013.
Net income was $22.2 million, or $0.10 per diluted share, an increase of 47% from Q4 2013.
General and Administrative expenses were $12.5 million and EBITDA was $100.9 million.
Cash and cash equivalent were $236.5 million.
Long-term debt end of Q1 2014 was $2.429 billion.
Shares outstanding as of March 31st, 2014 were 217,139.
Q1 2014 capital expenditure was $88.8 million, and $1.4 billion remaining to complete construction of the three remaining rigs.
Guidance for 2014 was reiterated, reflective of the required inspections across the fleet.
As May 1st, 2014, the company has approximately $3.3 billion in backlog.
Chris Bennett, CEO, said on the conference call:
So starting with operations, for the fifth consecutive quarter, we've reported an increase in revenue to a new company record of $225.6 million. EBITDA also topped $100 million for the first time, coming in at a $100.9 million. And our first four rigs continued to deliver strong operational performance. However, we still have room to improve. And we experienced more challenges during the initial months of Pacific Khamsin's operations than we expected. We are very disappointed that we actually had to pull the BOP three times to address various issues.

We've worked very closely with NOV to address the start up issues and we are very pleased that Khamsin achieved a 100% revenue efficiency in April. So whilst we can't guarantee that we won't experience any further issues, we believe that we got the major problems behind us.
YTD chart for PACD: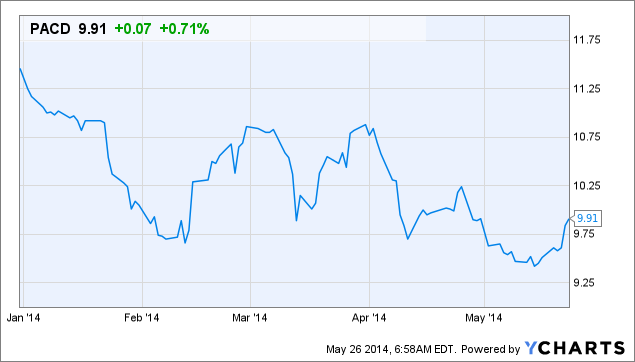 General comments about the fleet
Pacific Drilling S.A. is another mid-tier offshore driller that recently entered the market quite successfully. The company has a strong backlog for its five rigs reaching $3.3 billion. If we look at its fleet in-depth, we are forced to admit that PACD has the most modern fleet among its peers, with six working rigs and 2 coming soon. One company that I believe can be compared with PACD is Ocean Rig UDW Inc. (NASDAQ:ORIG) with its 13 UDW rigs of 6th and 7th generation, including 10 working rigs and 3 under-construction rigs.
It is important to notice that PACD and ORIG have had some similar BOP issues with their new drillships.
These BOP issues during the start-up of the Pacific Khamsin have reduced PACD's utilization rate and efficiency for the first-quarter, thus a loss in revenue.
ORIG Fleet operated at 85.9% utilization rate, which is lower than the company's average (94%) due to a series of BOP-related issues with the new-built Ocean Rig Mylos on its start-up period.
Comparative table between PACD and ORIG.
| | | | | | | | |
| --- | --- | --- | --- | --- | --- | --- | --- |
| Name | Working UDW Rigs | Rigs under-construction | Backlog in $ billion | Long-term debt $ billion | Q1 Revenue $ million | EBITDA $ million | Day rate average $ K |
| PACD | 6 | 2 | 3.3 | 2.43 | 225.6 | 100.9 | 563 |
| *ORIG | 8 | 3 | 5 | 4.41 | 360.8 | 172.2 | 574.6 |
* ORIG has also 2 semi-submersibles that are not indicated above.
Comparisons YTD chart between PACD and ORIG.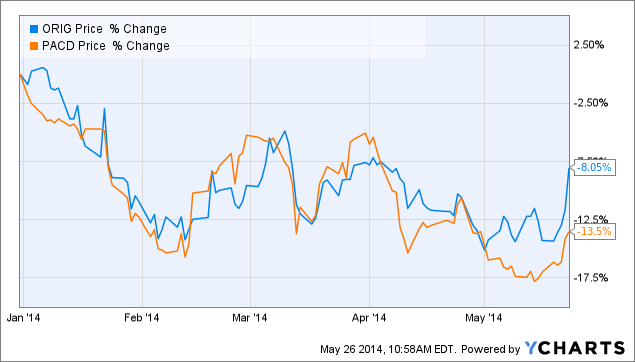 Recent comments regarding Pacific Bora and Nigeria at the CC.
During the conference call Darren Hicks from Evercore Partners asked:
And then one more if I may, you mentioned your frustration with the Pacific Bora extension process and you're willing to market the rig elsewhere if necessary. Would you be willing to look outside of Nigeria or you're really trying to focus on that region?
Christian J. Beckett, CEO, answered:
Well, I think there're some benefits left to keep that rig in Nigeria. She is fully staffed. She meets the local content requirements. We've done a lot of work to train up and develop and promote Nigerian local staff and so I'd certainly - our primary focus will be to keep it busy in Nigeria. Our primary focus is to keep it on the contracted zone, and I don't want this to be overblown. It's - we will - obviously, we're not going to be willing to sit around and have the rig go away but we don't expect that to be the issue. I mean this rig is optimized for the work it's doing. We have a visible well program in front of it. Clearly, Chevron wants to get this done as well. It's just taking longer than we would hope, but I think the approval process in Nigeria has always been a bit elastic and we're not the only guys out there who have seen delays in this process, so, yeah, it's part of the business.
Another concern at the CC was about the Pacific Mistral in Brazil with Petrobas contracted until February 2015. There is now a fierce competition and one person referred to a recent "rumor" regarding a contract of three rigs at a day rate of $450k. Something to think about.
Finally, it was a talk on the Pacific Meltem, which will be delivered by Q4 2014 now, and has not secured a contract yet. However, PACD should be able to secure a contract for this rig.
Approval of a dividend starting Q1 2015
The company shareholders approved a proposal for 2015 cash distribution of up to $152 million.
My first quick calculation is indicating a dividend of around 7% of today's stock price ($9.91), based on 217,139 shares outstanding.
PACD was hard-pressed to follow its peers' steps and declared a dividend as Seadrill Ltd. (NYSE:SDRL), Transocean Ltd. (NYSE:RIG) and even ORIG and RDC recently did. Leaving only Atwood (NYSE:ATW) and Vantage Drilling (NYSEMKT:VTG) behind at the moment.
Conclusion
Pacific Drilling is another well-equipped and well-managed mid-tier company that is specializing in UDW drillships as ORIG, for example. These two companies have a lot in common and are well positioned to grow in 2014 and beyond. The total debt of $2.43 billion is manageable, and the company has a forward P/E ratio under 8. It is important to notice that PACD has a 100% modern fleet and will have a better growth because of the bifurcation increasing between high-specification and low-specification rigs, as the chart below from PACD last presentation is showing: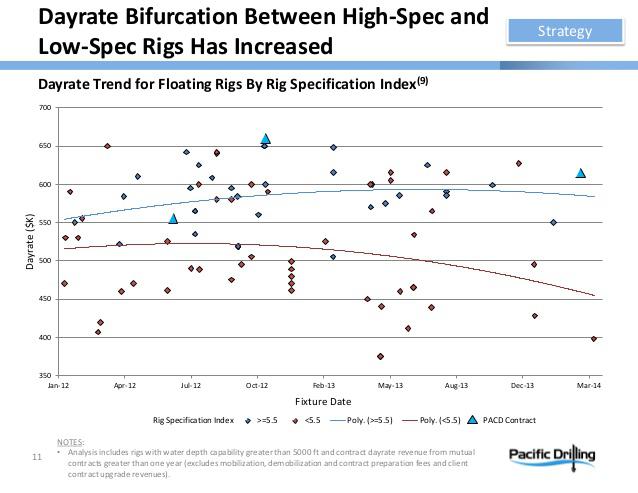 Furthermore, PACD will distribute a dividend to its shareholders by early 2015.
Assuming that the Pacific Meltem will be contracted by the end of 2014, the company is on a path of a strong growth potential for the next few years.
I am rating PACD as a BUY.
Disclosure: I have no positions in any stocks mentioned, but may initiate a long position in PACD over the next 72 hours. I wrote this article myself, and it expresses my own opinions. I am not receiving compensation for it (other than from Seeking Alpha). I have no business relationship with any company whose stock is mentioned in this article.
Additional disclosure: Depending on my cash availability I will try to add this company to my offshore drillers basket.