Are you a growth or value investor? Growth investors pick companies that have above-average growth rates even if valuations are relatively high, while value investors select companies that are currently undervalued and expect an eventual return to fair value. As segregated as these two categories are traditionally, it is possible to find growth companies that are currently undervalued; in fact, it behooves each and every investor to find such investments.
I came across a small-cap company in the healthcare sector that represents both growth and value: Air Methods (NASDAQ:AIRM). It took a knock recently due to an earnings miss, but is well positioned to grow in the long-term from an increasing number of people that have health insurance and from an expanding business segment of air tourism that caters to growing numbers of tourists.
Business Operations
AIRM is currently valued at about $1.8B and is the largest provider of air medical transportation services in the U.S. and also operates internationally. Last year, it transported just over 100,000 patients using a fleet of about 400 medical transport helicopters. Most of these patients required immediate medical attention from either the scene of an accident or from a general hospital to specialized care centers. It operates through two business segments: 1) Air Medical Services, which provides air medical transportation services independently and under operating agreements to hospitals and other institutions, and 2) United Rotorcraft, which designs, manufactures, and installs medical interiors and other medical transport products for customers. About 4/5 of its contractual agreements provide a fixed revenue source whereby clients pay a monthly fee regardless of service usage. The remaining 1/3 of contractual agreements provide variable fees based on service usage.
In addition to these business segments, AIRM recently began diversifying into air tourism. In 2012, it acquired Sundance Helicopters, which provides helicopter tours of the Grand Canyon, and in 2013, it acquired Blue Hawaiian, which provides helicopter tours of Hawaii. While the air travel segment is seasonal, the profit margins are higher for this segment compared to air medical transport (24% for Sundance Helicopters vs. 16% for AIRM prior to diversifying into air tourism).
The breakdown of revenue from these 3 different divisions is shown below: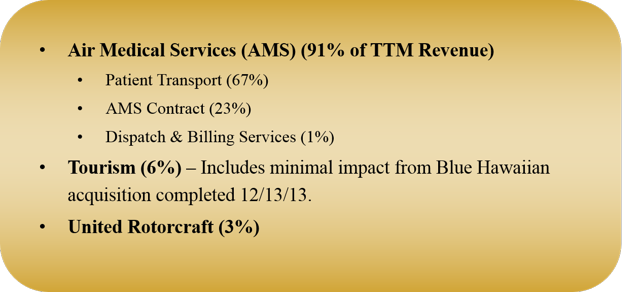 Source: AIRM Investor Relations.
The lion's share of net revenue is from the air medical services division, but the tourism and United Rotorcraft divisions are growing contributors.
Performance
AIRM's stock performance is very attractive: Even with the recent 20% hit to its stock price, AIRM has returned 375% over 5 years or 75% per year. This performance would be the envy of any stock portfolio. But what of the recent blip downwards in stock price? This was attributed to a lower EPS of $0.28 vs. expected EPS of $0.33 for the first quarter of 2014. This was due to seasonal variability, bad weather, and higher than expected maintenance costs. The bad weather, in particular, makes it difficult to operate its air services and may contribute to higher maintenance costs. These concerns are largely short-term ones and unlikely to affect AIRM's long-term performance.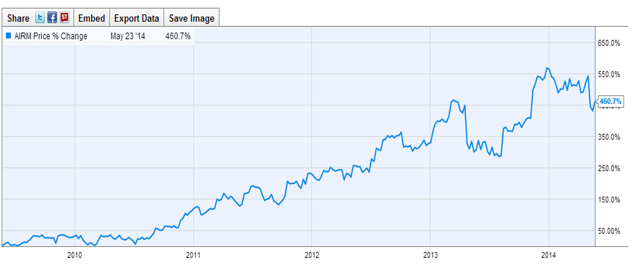 Source: Y Charts.
Despite the earnings miss, there were several positives last quarter. For instance, revenue increased 24% YoY and has been steadily increasing over the past 5 years as shown below. Net income has not kept pace, especially over the past year due to a growing number of liabilities from acquisition and from buying aircrafts that were previously leased. However, these moves are part of a long-term strategy to diversify into the air tourism business segment, which has more lucrative profit margins, and to decrease fixed costs. The acquitision of Sundance in 2012 was accretive to earnings last year and accounted for ~6% of the company's net revenues. Similarly, the acquisition of Blue Hawaiian in 2013 is expected to contribute about as much to AIRM's revenues as Sundance. Also, Blue Hawaiian, which operates in Hawaii, is expected to be less vulnerable to seasonality than Sundance. These acquisitions in air tourism make sense for AIRM, which already has extensive experience in purchasing and maintaining helicopters.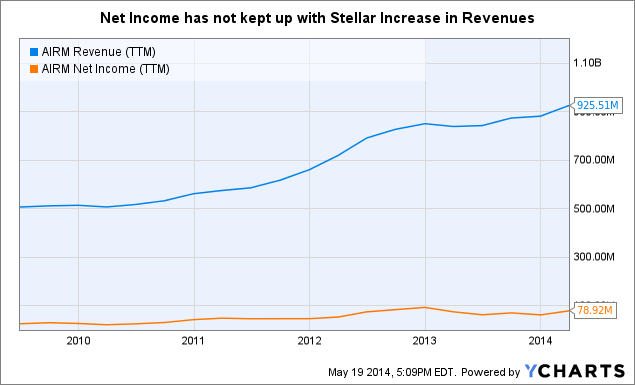 AIRM Revenue (TTM) data by YCharts
Current Valuation
Here are some relevant metrics for AIRM: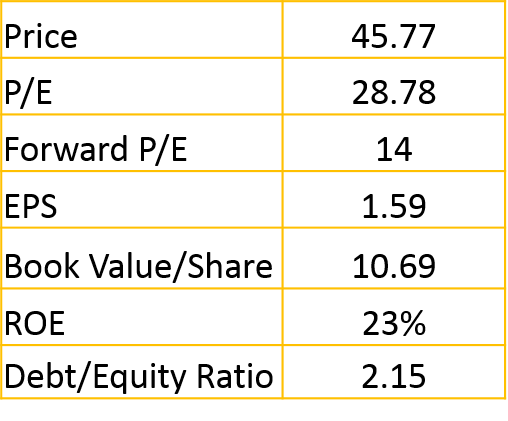 The current P/E of 28.78 makes the stock seem relatively high compared to the current P/E for the average S&P 500 stock of 18.74. However, the stock offers above average growth as evidenced by the forward P/E of only 14.
The current P/E after the recent correction is also within the historic P/E range for the stock as shown below.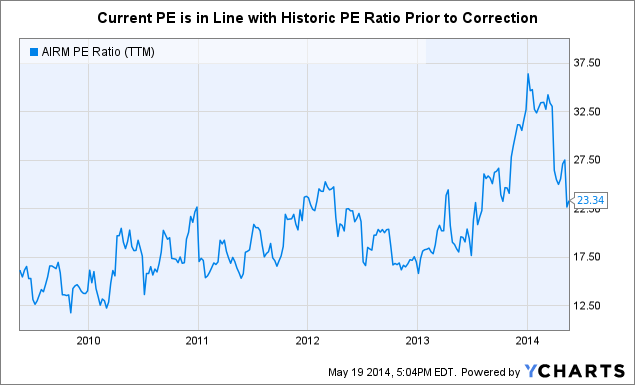 AIRM PE Ratio (TTM) data by YCharts
There are several different methods to value a company. One way is to consider future growth estimates for a company and then based on those, calculate what the company is worth today. The estimated 5-year future growth rate is 18.33%, compared to 43.83% for the previous 5 years. Growth is clearly expected to slow down from previous years, but still remains above average. At this growth rate, the EPS in 5 years is estimated to be $3.69. At today's P/E, that amounts to a stock price of $106.16. Using a discount rate of 7%, the current stock price should be valued at $75.69, which is 65% higher than the current price.
Another way to assess the valuation is by ROE, which reflects management's ability to return profitability to shareholders. AIRM has a 10-year ROE of 18.92%.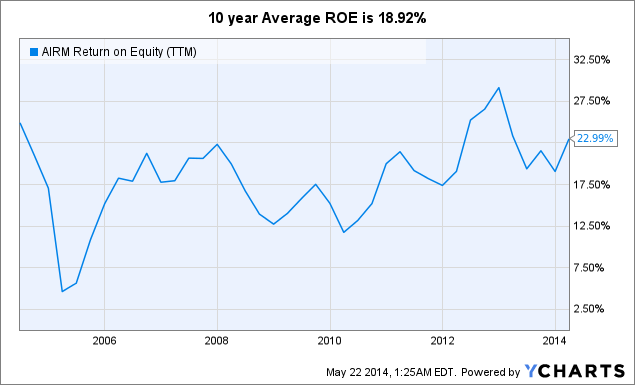 AIRM Return on Equity ((TTM)) data by YCharts.
Based on this, the current book value per share of 9.36 can be projected to grow to $22.25 in 5 years. Using the current price premium to book value per share of 4.89, the stock price in 5 years is estimated to be $108.86. Then, a 7% discount rate values the current per share price to be $77.61, which is 70% higher than the current stock price.
Growth Prospects
The estimated 5-year future earnings growth rate is 18.33%, compared to 20.40% for the previous 5 years. Earnings are expected to grow 52.40% in FY2014 and 23.70% in FY2015. There are three short-term and two longer-term factors that will ensure healthy growth for AIRM.
The first short-term stimulus for growth is higher than average increase in interest for operating agreements from hospitals and other institutions that previously hired AIRM on an independent basis. This was noted by management in their last earnings call. The conversion from independent services to contractually offered services has two key advantages for AIRM including: 1) higher revenues since the operating agreements are on a fixed cost basis regardless of the amount of service provided; and 2) profit margins that are 3-4X higher since more value-added services can be bundled into operating agreements.
A second short-term stimulus for growth is better weather. This past winter was brutal as many of us can attest to depending on your geographic location. The severe winter also makes it harder for AIRM to operate in affected regions and may also contribute to high maintenance costs. Improved weather in spring and summer means fewer weather-related cancellations and consequently, higher number of air transports.
A third short-term stimulus is seasonality related to tourism. Due to vacation schedules and daylight hours, passenger volume for Sundance, which operates in the Grand Canyon, is lower in the first and fourth quarters of the year and should improve as we move into the second quarter of 2014.
There are also several long-term stimuli for growth as discussed below:
ObamaCare and Improving Economy
The Patient Protection and Affordable Care Act (PPACT), also known as ObamaCare, requires health insurance coverage for all Americans by 2014, amongst other things. Prior to 2014, 44 million Americans or about 15% of the country's population was uninsured. May 1st is the deadline for all individuals to start health insurance by without incurring penalties. The penalties amount to $95 per adult and $47.50 per child or 1% of taxable income, whichever is greater. However, despite several attempts at informing people of this deadline, ~60% of surveyed Americans were unaware of this deadline. Therefore, increasing health insurance coverage amongst uninsured Americans is likely to be a slow process that could take several more months.
For 2013, the payer mix for AIRM reflects 13% uninsured patients, which have the lowest probability of paying as shown below.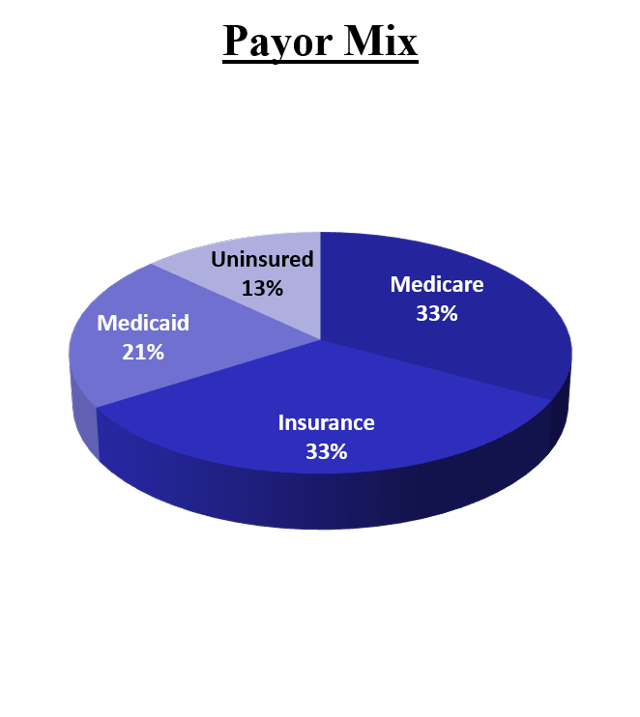 Source: AIRM Investor Relations.

Source: AIRM Investor Relations.
According to their own projections, a 1% shift from uninsured to Medicaid will result in $1.2 million in additional revenue, a 1% shift from uninsured to Medicare will result in $3.4 million in additional revenue, and a 1% shift from uninsured to insured will result in $14 million in additional revenue or a 1.6% increase in revenues.
There is also a trend for an improving U.S. economy with higher employment rates that may result in more health insurance coverage and a better payer mix.
Tourism
With the recent trend in an improving global economy, tourism is also picking up. Both domestic and international tourism to the U.S. have gone up dramatically over the last 3 years and this trend is expected to continue. The below chart shows the trends of number of visitors to the Grand Canyon and Hawaii specifically, which are the regions in which AIRM has significant presence.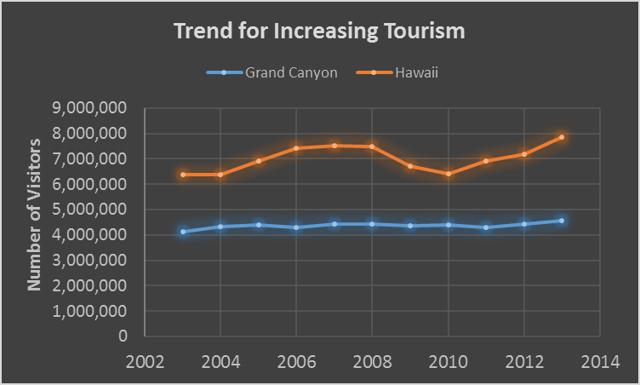 Source: NPS.gov and Hawaii.gov.
More strikingly, the amount of money spent per tourist is also increasing. For instance, there was an 18% increase in amount of money spent per tourist in Hawaii last year. As tourists are spending more money, they may be more likely to buy into luxury activities like helicopter tours.
What's not to Like?
Chief among risks to this investment is the growing level of debt as depicted below.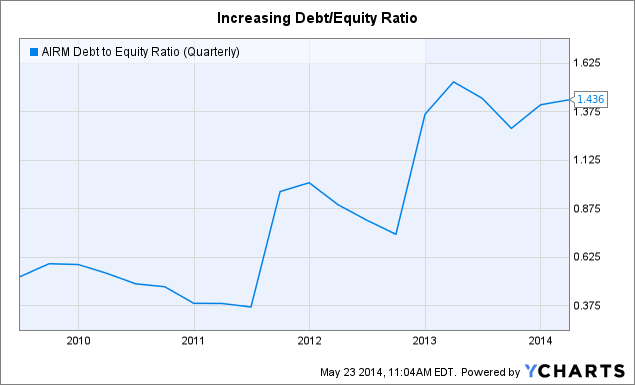 AIRM Debt to Equity Ratio (Quarterly) data by YCharts
Despite this, management is electing to leverage the current low interest rate environment to invest in acquisitions and in buying aircraft that were previously leased. While the current debt/equity is similar to that of its competitors, it is important to ensure that management does not continue to take free rein with debt. In fact, management openly acknowledges to have in place restrictive debt covenants that restrict additional indebtedness through mergers, acquisitions, and cash dividends.
Competition is also another concern. There is less competition in the air medical transport segment since there are high barriers to entry, including large capital expenditures and highly trained staff and personnel. In fact, AIRM holds the highest safety records as recognized by the FAA in the entire air medical transport industry. However, there is more intense competition from smaller entrants in the tourism segment that it also operates in. Even there, AIRM is the largest operator in terms of revenue and as such, has favorable operational economies of scale relative to competitors.
Investment Options
There are several different ways of investing in AIRM stock and options, depending on your level of risk and confidence towards the investment.
1. Bullish perspective: Directly invest in the stock at current levels. You can also invest in call options that expire in Q4 2014. Over the last 5 years, the stock price was higher in Q4 than Q1, which make the call options expiring in Q4 as shown below attractive.
| | | |
| --- | --- | --- |
| Strike | Price | Expiration Date |
| 50 | 3.50 | 18-Oct-14 |
| 55 | 1.30 | 18-Oct-14 |
| 55 | 2.20 | 17-Jan-15 |
2. Bullish-Hedge perspective: If one is cautiously optimistic that AIRM will perform well over the next few months but require some insurance against this possibility, then one can invest in the stock and also, purchase put options at a strike price lower than the current stock price. Some put options are highlighted below:
| | | |
| --- | --- | --- |
| Strike | Price | Expiration Date |
| 40 | 1.85 | 18-Oct-14 |
| 45 | 3.22 | 18-Oct-14 |
Conclusions
AIRM is a small-cap company that is the largest air medical transport service provider and is leveraging its expertise by diversifying into the air tourism industry via strategic acquisitions. This strategy is already contributing to its growth. In addition, it is expected that conversion of uninsured to insured patients, as incentivized by ObamaCare, will improve AIRM's bottom line. Continued improvements to the unemployment rate will also improve the payer mix. Lastly, increases in the number of tourists and the amount spent per tourist will favorably benefit the company's tourism business. The company is poised to continue doing well despite the recent earnings miss and there are a number of different stock and option combinations that can be made to invest in this company. AIRM represents both an undervalued and high-growth investment. However, increasing debt levels and the possibility of unpredictable events like accidents may affect short-term performance.
Disclosure: I have no positions in any stocks mentioned, and no plans to initiate any positions within the next 72 hours. I wrote this article myself, and it expresses my own opinions. I am not receiving compensation for it (other than from Seeking Alpha). I have no business relationship with any company whose stock is mentioned in this article.