PennyMac Mortgage Investment Trust (NYSE:PMT) is a REIT that invests primarily in residential mortgage loans and mortgage-related assets. The company operates as a REIT for tax purposes. PMT is an externally managed by PNMAC Capital Management, LLC (PCM) an investment adviser.
PennyMac invests in residential mortgage-related opportunities including mortgage loans, mortgage servicing rights and mortgage-backed securities. PMT invests in both newly originated prime mortgage loans and distressed mortgage loans.
Disappointing First Quarter Results
PMT reported its Q1 results on May 7, 2014. Net income for the quarter was $37.9 million, down 28% from the prior quarter, mainly due to lower income from correspondent lending as well as reduced gains in the distressed loan portfolio.
Net investment income was $76.6 million, down 20% from the prior quarter. At $0.50 per share, net income was 27% short of the Zacks Consensus Estimate of $0.68 per share.
ROE declined to 10% from 14% in the prior quarter but the book value increased to $20.88 from $20.82 in the prior quarter.
Results were affected by the contraction in the mortgage origination market. The management said that the market for distressed whole loans was changing and in general the pricing was unattractive.
Downwards Revisions
Due to disappointing results, quarterly and annual estimates have been revised sharply downwards in the past few weeks by analysts.
Zacks Consensus Estimates for the current and next fiscal year now stand at $2.46 per share and $2.57 per share, from $2.81 per share and $2.93 per share, 30 days ago.
Declining estimates sent PMT back to Zacks Rank # 5 (Strong Sell) earlier this month.
The Zacks Price and Consensus chart shows the trend of declining estimates for the company: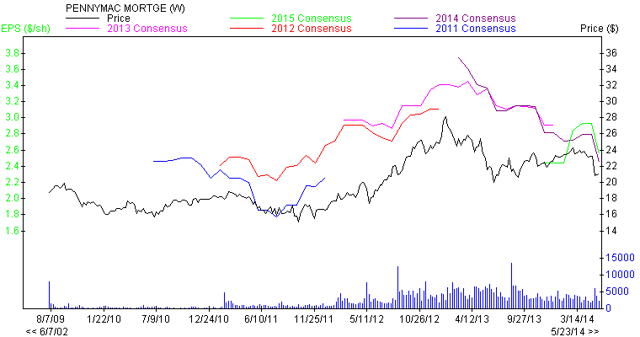 Click to enlarge

The Bottom Line
Adverse pricing conditions in the distressed loans market and a highly competitive origination environment will continue to pose headwinds for the stock.
Further, a brightening economy and rising rate environment does not bode well for the profitability of the company.
Better Play in the Industry?
Real Estate operations industry is currently ranked 163 out of 265 Zacks industries (Bottom 38%). There is no stock currently ranked #1 (Strong Buy) by Zacks in this industry.