Anika Therapeutics (NASDAQ:ANIK) is among the few stocks that have bucked the trend in a downward biotech market. Most of this is attributed to better-than-expected, in fact, an excellent set of financial numbers for Q1 2014, including a more than 300% jump in net income and a 4.5% jump in gross profit margin.
Earnings
Anika Therapeutics focuses on development of hyaluronic acid (HA)-based therapeutics for tissue protection, healing and repair. On April 29, 2014, the company announced its Q1 2014 results, showing 123% year-on-year increase in total revenue - $34.01 million against $15.25 million in the same quarter 2013. Net income of $15.03 million, or $0.97 per share (diluted), was up 378% from $3.07 million, or $0.21 per share. There was also a 3% increase in product gross margin.
Whereas there was minor drop in product revenue, the revenue increase was possible because of the $18.91 million increase in licensing, milestone, and contract revenue on account of FDA approval and commercial launch of Monovisc.
Monovisc
Monovisc is a single-injection treatment - a supplement to the synovial fluid - for knee pain and improvement in joint mobility in patients suffering from osteoarthritis of the knee. Monovisc comprises of non-animal sourced hyaluronic acid, which is distributed widely throughout connective, epithelial, and neural tissues. HA is a gel-like substance that is found in the tissue space, the synovial fluid of joints, and the vitreous humor of the eyes, and acts as a binding, lubricating, and protective agent. An average 154-pound individual has approximately 15 grams of HA in the body, out of which one-third gets degraded and then synthesized every day.
Known as viscosupplementation, Monovisc is injected directly into the knee, and serves as a lubricant for relieving knee pain in osteoarthritis patients who fail to get relief from non-pharmacological therapy and simple analgesics.
Potential
It's a huge market out there that Anika is trying to tap. Approximately one-third Americans above fifty have knee osteoarthritis, and two-third above the age of 65 suffers from osteoarthritis of the knee. It is evidently a huge market as the baby boomers age. The global market for viscosupplementation therapy with HA is growing at a rapid pace, and is expected to reach to $2.5 billion by 2017.
While Anika announced the first commercial sale of Monovisc in the U.S. on April 15, 2014, Monovisc has been available internationally since 2008, and has been used in more than 230,000 treatments since then. The first commercial sale triggers a milestone payment of $5 million under agreement with Anika's commercial partner, DePuy Synthes Mitek Sports Medicine, a subsidiary of Johnson & Johnson (NYSE:JNJ). Additionally, the agreement also provides for royalty payments and certain sales threshold milestones.
Not an easy road ahead
The market is currently dominated by Seikagaku, a Japanese company, and the French giant, Sanofi (NYSE:SNY), both of which collectively account for over half the global market for viscosupplementation with HA. While Seikagaku has captured the Asia-Pacific market and has recently entered into partnerships in the US, Sanofi is strongest in the U.S. market.
However, the scope of viscosupplementation can be expanded - from the knee to other joints in the body - as physicians get more used to using the procedure to other joints, such as the shoulder and hip joints. Presently, it is physician preference that determines the use of injections such as Monovisc for persistent pain from glenohumeral joint osteoarthritis and rotator cuff tear.
However, there is adequate evidence to show that HA is "effective and well-tolerated for the treatment of osteoarthritis and persistent shoulder pain that is refractory to other standard nonoperative interventions". An expanded label for Monovisc would, however, depend on how the results of trials on non-knee joints being conducted by manufacturers, including Anika, pan out in the coming months. Given that Anika already has two approved HA products - Orthovisc and Monovisc - getting FDA approval should not be difficult, that too if required, for use in other joints.
Moreover, while the five-injection treatment is currently the preferred choice, the global trend is towards shifting to a higher-priced but shorter treatment regime because of the convenience and increased patient compliance.
Anika's earlier product, Orthovisc, faced stiff competition in U.S. from Sanofi's Hyalgan, Genzyme Corporation's Synvisc, Ferring Pharmaceuticals' Euflexxa and Smith & Nephew's (NYSE:SNN) Supartz, all of which are three-to-six injection treatments. In 2009, the FDA approved Synvisc-One, the first single-injection HA treatment.
However, being a single-injection treatment, Monovisc scores not only above other treatments, but also over Synvisc-One, as it is derived from a non-animal source. (Synvisc-One uses a protein partly sourced from birds.) This offers Monovisc a better chance of capturing market share. At the same time, its real success would, however, depend upon its ability to compete on price, and its full potential will be realized if it gets approval for non-knee indications.
Sustained growth
A closer look at the company's earnings report reveals a general decline in revenue of all segments, apart from orthobiologics and surgical, which achieved year-on-year growth of 3% and 77% respectively.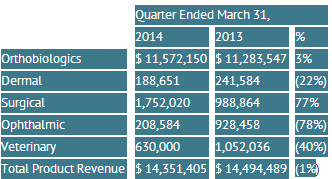 Despite this, Anika has grown over the last few years. Over this period, it has steadily increased earnings at an average rate of 47%. A gross profit margin of 70% and net profit margin of approximately 45% is no mean achievement for a company of the size of Anika.
On the face of it, it appears that it would be difficult for Anika to compete with the likes of Sanofi. However, the presence of a strong commercial partner is a big assurance for the success of Monovisc in the U.S. In addition, it enjoys the advantage of being a single-injection treatment.
Additionally, with $82 million in cash and no debt worth its name on its balance sheet, Anika is a financially strong company.
The final word
All indications point to a continued steady future growth.
A strong balance sheet with healthy cash flows indicate that the company has the wherewithal for expanding its existing product line and exploring potential applications of HA solutions and gels that can be "combined with other compounds or entities such as cells, growth factors and genes".
On the valuation front, a PEG ratio of 0.45 - a thumb rule is that a PEG ratio of 1 is desirable - suggests that Anika is undervalued at CMP. It also trades at a P/E of less than 22, against the industry average of 28.
Anika is a good stock to have in your healthcare portfolio.
Disclosure: I have no positions in any stocks mentioned, and no plans to initiate any positions within the next 72 hours. I wrote this article myself, and it expresses my own opinions. I am not receiving compensation for it (other than from Seeking Alpha). I have no business relationship with any company whose stock is mentioned in this article.
Additional disclosure: I might buy ANIK soon, probably just not in 72 hours.