When we did our first interview with senior geologist David C. Mathewson of junior explorer Gold Standard Ventures Corp. (NYSEMKT:GSV) in February 2011, the stock traded at around C$0.80 ($0.74) and doubled thereafter within a few months. One year later, the stock traded at its all-time high around C$3 ($2.76) thanks to sensational drill results from its North Bullion Deposit located in the northern part of its Railroad Property in the heart of the Carlin Trend in Nevada. The general gold price correction followed and forced the stock down to a new all-time low at C$0.50 ($0.46).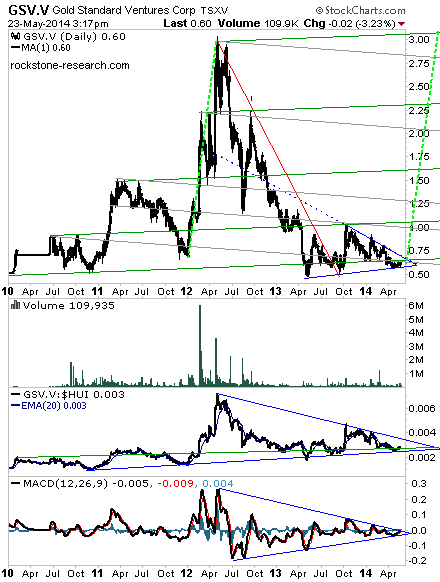 When we did our 2nd interview with David in October 2013, the stock traded at around C$0.70 ($0.64). Simultaneously, the Canadian investment bank Macquarie came to the conclusion that Railroad is "one of the few quality Tier 1 (+20 million oz potential) drill hole plays in the market." The stock appreciated strongly to the C$1 ($0.92) level, after which it came down hand in hand with a weakening gold price.
Today, the stock trades at C$0.60 ($0.55), and with this report, we initiate coverage on this C$70 ($64) million capitalized company due to its attractive risk-reward ratio which has opened now after four years of intense exploration and land consolidation. Over the next weeks and months, we anticipate a strong and material news flow on the recently acquired Pinion Deposit, thus we evaluate GSV as strongly undervalued for the time being. We expect our price target (C$2.80; $2.58) to be reached within six months - irrespective of what the gold price may do. The fundamental reasons for this extraordinary prognosis are laid out briefly with this initiating coverage.
The 4th gold window is being opened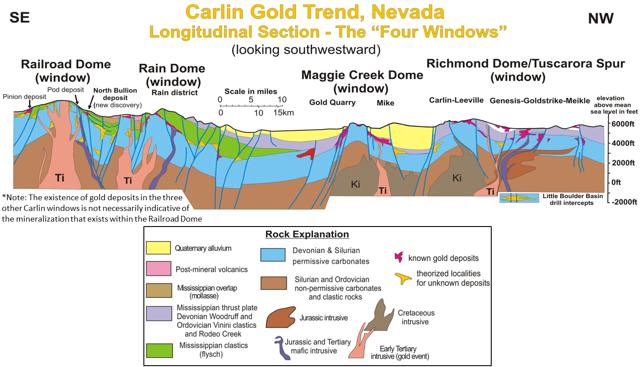 Source: Company information.
For decades, mining companies have tried to consolidate and take control of the Pinion Property (an exclave within the southern part of GSV's 100% controlled Railroad Property) - in order to finally find out how much gold really is in the ground here. The problem ever since: Too many private hands and companies owned parts of Pinion intimately knowing about its true potential. The more Pinion was drilled in the 1980s the more it became clear that another bonanza could be discovered being comparable with the other 3 gold "windows" on the Carlin Trend:
1. Goldstrike, Leeville & Meikle (>80 million ounces gold)
2. Gold Quarry & Tusk (>60 million ounces gold)
3. Rain (>6 million ounces gold)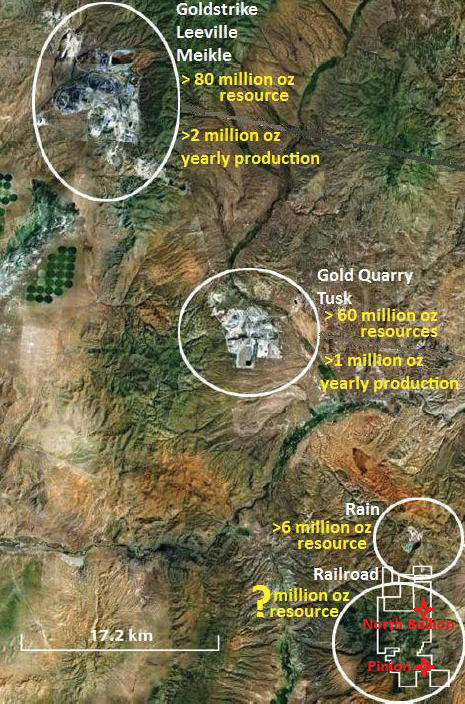 Source: Company information with annotations from the author.
"The 4 structural windows are critical features along the (Carlin) Trend, characterized by intrusion-related doming which has exposed the host Paleozoic rock units and the gold deposits they host. The 3 structural windows northwest of Railroad are associated with multiple gold deposits; the occurrences found to date around this southernmost uplift have characteristics similar to the gold deposits to the north." (Jonathan Awde in a press release, April 29, 2014)
Therefore, it does not surprise us at all that companies like Amoco (1981), Freeport-McMoRan (NYSE:FCX) (1983) and Teck (TCK) (1986) disclosed drill results only sparsely and obviously reported as little as possible, for reasons of being able to negotiate better with the many owners. Yet a consolidation proved to be impossible - until 2014, when GSV succeeded in securing 100% of this district-sized property.
In 1995, Cyprus Mining Co. calculated a first resource estimate (now considered historic), which was published for the first time in a Technical Report in 2002:
Historic Pinion Resource (measured, indicated & inferred):
30.6 million t @ approximately 0.9 g/t gold = approximately 841,754 ounces gold*
*These numbers were extracted from a Summary of Cyprus Historical Resource, and are not NI43-101 compliant and are not disclosed by Gold Standard Ventures Corp.
Apparently, some few initial holes in the 1980s and 1990s were sufficient to show the potential of Pinion. Quickly it must have been clear to all involved parties that Pinion potentially hosts at least 1 million ounces of gold directly at surface with gold grades in the range of 1 g/t.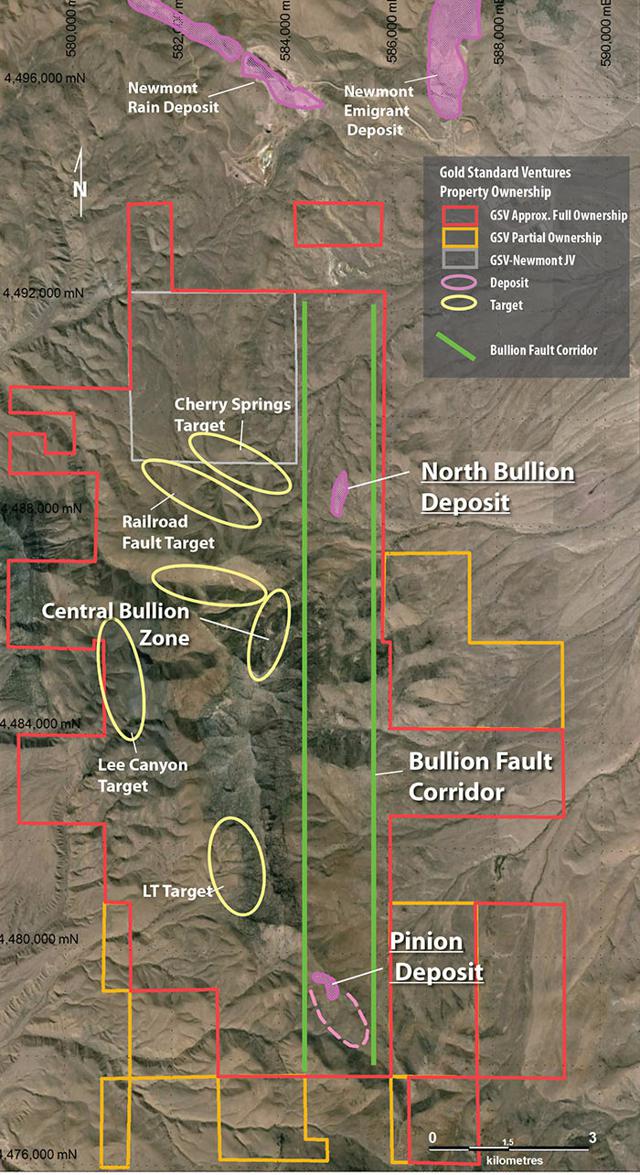 Source: Company information with annotations from the author.
The size and grades are unspectacular?
The opposite is true, because Pinion is a Carlin-type gold deposit right at surface, which means its ore is hosted in completely oxidized rocks.
For comparison: The spectacular North Bullion Deposit in the northern portion of Railroad, which GSV discovered during the last 4 years with multiple sensational drill assays (e.g. >3 g/t gold over hundreds of meters) starts at a depth of 100-150 m below surface. Hence, North Bullion is a sulfide deposit.
The difference to oxide deposits is enormous because sulfidic ore is much more expensive to process. Especially in times of low gold prices, sulfide development projects are typically rare, no matter how large these may be, since capital expenditures (MUTF:CAPEX) reach billions of dollars rather easily.
Especially in times of low gold prices, oxide deposits are the perfect way to make money notwithstanding and perform outstandingly against the negative broad market trend.
In our 2nd interview of October 2013, GSV's chief geologist, David Mathewson, said the following about the Pinion Property consolidation, which at that time was completed only 51%:
"Approximately half of the gold ounces in the Pinion deposit are controlled by GSV. The other half of the gold ounces is controlled by another junior mining/exploration company. Additional exploration potential exists in a westward to southward direction. At this time, nothing can be done by either controlling party until consolidation has been completed. The Pinion deposit may be comprised of uniform grade oxide material hosted in a shallow dipping tabular breccia at/near the Webb Devils Gate contact. The average grade of this oxide material is about 1 g/t gold. The Pinion deposit is geologically and character-wise analogous to Newmont's (NYSE:NEM) currently in production, run-of-mine, heap leach Emigrant operation located in the Rain District just to the north. In comparison, the North Bullion deposit is structurally complex and comprised of complex multi-stage breccias with locally much higher grades, i.e. 10 g/t gold. The Pinion deposit is a low strip, oxide deposit. The mineralization is open to the west and south, and has the potential to be substantially large. It is open-ended and has a lot of exploration potential."
It was in 2013, when GSV management succeeded in acquiring 51% of Pinion from private hands, whereas it was 2014, when the brilliant coup was achieved to take over the remaining 49% from Scorpio Gold Corp. (OTCPK:SRCRF). Why, after all these years, did Scorpio decide to sell its half? Because the gold price correction forced them. Scorpio lost $6.8 million in 2013 and urgently needed cash to advance its Mineral Ridge Gold Mine. GSV gave them $6 million in cash along with a 5% equity stake in GSV.
Especially during difficult times, the gold sector is known to do virtually everything for money, which on the other hand means that the best deals are made in times like today. However, Scorpio owns sufficient equity in GSV to also profit generously in case of success. For years, the negotiations between Scorpio and GSV must have been extremely tough, which proves that Scorpio is fully convinced of the Pinion potential.
GSV is the first to succeed in taking 100% control of the Pinion Deposit, which enables to develop it into a mine. As the market gives the impression of not (yet) understanding the significance of the successful Pinion consolidation, we evaluate the stock of GSV as strongly undervalued.
On the other hand, GSV itself has become a much more attractive takeover target after acquiring 100% of Pinion.
We are confident that the many press releases in the coming weeks will make its contribution for Pinion to be valued fairly within GSV's attractive project portfolio.
The starting shot has been fired
After the successful consolidation of the Pinion Deposit, GSV started with a first drill program (13 holes to be drilled until end of June) last week, on May 22, in order to upgrade the historic previous resource estimate to NI43-101-compliant standards.
However, even before the release of first drill results, there exist good reasons to assume that the initial NI43-101 resource estimate (expected in mid-July) will exceed the "magic" size of 1 million ounces which in turn is anticipated to surprise the market - thus we expect a strongly appreciating share price in due course.
Right after the acquisition of Pinion, GSV was able to inspect historic data and core for the first time - and made a startling discovery:
72% of the holes drilled in 1996 and 2007 were not analyzed for gold. GSV made up leeway and announced the results on May 15:
• Hole PN-07-02 assayed 1.1 g/t gold over 35 m between 14 and 49 m depth only (i.e. directly below surface). This historic hole was drilled in the northern part of the Pinion Deposit and ended in gold mineralization averaging 1.4 g/t (i.e. this strongly mineralized intercept is likely to extend for some distance). The drilling that started last week will soon show how long this mineralized trend really is.
• Hole PN-07-05 intersected in 35 m depth a 3 m long interval averaging 1.3 g/t gold. Mineralization dropped to 0.4 g/t and drilling stopped. GSV argued that the gold-enriched main zone is situated a bit deeper and that current drilling will test this new concept.
Meanwhile, GSV came to a highly interesting conclusion:
Not only have the remarkable gold grades in previously un-assayed drill holes surprised, but more importantly the main gold enrichment zone was missed a bit deeper in the underlying breccia zone, which also represents the main gold hosting zone in the North Bullion Deposit.
The reason why many of the newly analyzed holes did not show any significant gold grades is simply because historic drilling was not deep enough and thus the gold-rich breccia ore zone was not tested at all. Obviously, this breccia zone was not the exploration focus in the past, which also brought us to the conclusion that historic drilling was not deep enough and that the historic exploration model was wrongly interpreted.
On the other hand, we think it is probable that historic drillers purposely did not drill deeper because surface drilling (e.g. 4.3 g/t gold over 24 m starting at 2 m depth, or 1.1 g/t gold over 67 m at 12 m depth) already gave a good impression of the potential that lies beneath. It must have been negotiating tactics why previous explorers did not want to cause a furore with deeper holes presenting even higher grades.
Metallurgical tests of the Pinion mineralization already indicated its favorable amenabilty to the cost-effective heap leaching extraction method - just like the similarly mineralized ore from Newmont's Emigrant Mine some 15 km up north. In contrast to sulfidic ore, which must be transported to distant roasters and processing facilities, oxidized material can be processed directly on site cost-effectively with heap leaching. Thus, only a tiny fraction of CAPEX is required to bring an oxidized deposit into production with an open-pit when compared with sulfide deposits.
Nowadays, it has become extremely rare that public companies exist developing such small but highly profitable gold oxide deposits into mines, because these typically occur at surface and thus have already been discovered in prolific mining camps, first and foremost, the Carlin Trend.
The exceptional history of finely dispersed ownerships around Pinion has prevented its exploration and development until 2014, although the outlook for success has always been great. The mysterious fog around Pinion is being lifted in the next 5 weeks with 13 drill holes.
Most recently on May 22, GSV announced the start of the first drill program on Pinion. We anticipate a flood of drill assays which we expect to immediately make clear to the market that GSV owns an uncomplicated gold oxide deposit directly at surface that is poised to be brought into production quickly and cost-effectively.
Above that, we expect an institutional and private run on the GSV stock because it is this speed in the project's development that many do not take into account yet. That is to say, during the last four years, GSV published drill assays from the North Bullion Deposit only irregularly every few months because such a large and complex sulfide deposit is much more difficult to drill than the straightforward Pinion oxide deposit.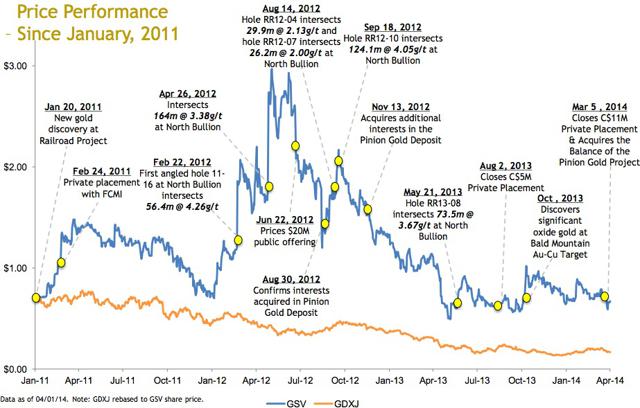 Valuation
In April 2014, mining analyst Michael Gray of Macquarie opined a 12-month price target of C$2.25 ($2.07) into perspective if GSV succeeds in reaching the following goals:
"Pinion will have an initial 0.6 million to 1 million ounce gold compliant open-pit heap leach resource documented over the next 9 months."
• As laid out, we rate the outlook as very good that the historic resource (0.8 million ounces) will be confirmed compliant to NI43-101 within the next weeks (until late July).
• Furthermore, we see good potential that the resource can be expanded to up to 1.2 million ounces with the initial 13 holes.
• The 2nd drill program, that may start in July, is expected to increase the resource to more than 2 million ounces until the end of the year.
"Pinion metallurgy will be favorable (similar to the Emigrant deposit)."
• Some 15 km north of Pinion lies Newmont's prolific Emigrant Mine, which is geologically similar to Pinion. The historic data and latest metallurgical tests already indicate that the Pinion oxide deposit has almost the exact same mineralogy and grades as Emigrant.
• We are confident that the core, that is being pulled at the moment, will officially confirm that the Pinion metallurgy is just as favorable as being the case with the productive and highly profitable Emigrant Mine; thus Pinion is believed to qualify for cost-effective heap leaching rather sooner than later.
"North Bullion will deliver a 250,000 to 1 million ounces gold compliant maiden resource (size range dependent on the grade)."
• Not only will Pinion see new drill programs in the upcoming weeks and months but North Bullion as well.
• The many drillings during the last years already made clear that North Bullion is likely to be larger than 1 million ounces because numerous holes intersected hundreds of meters averaging more than 3 g/t.
• The upcoming drilling on North Bullion is designed to finally calculate a first NI43-101 compliant resource.
• We came to the conclusion that the probability is exceptionally high that GSV will publish a maiden North Bullion resource estimate exceeding 1 million ounces during the next 6 months. Although this type of deposit cannot be developed toward production as fast as Pinion, we are still highly optimistic that GSV will prove sulfidic gold deposits with more than 20 million ounces during the next 12-36 month.
Macquarie's mining analyst evaluated that a price target of C$10 ($9.20) will be reached within 12 months if GSV succeeds in reaching the following goal during the next 9 months:
"Our upside scenario assumes that GSV is able to pull a series of high-grade intersections at the North or South Bullion target corridor and establish thick mineralized sections with documented continuity - essentially that they have a tiger by the tail and the deposit could be another Goldstrike or Meikle-type deposit. It is our view that the Railroad-Pinion gold project has Tier 1 (+20 million ounces) potential and that such discoveries will attract M&A at the +$1 billion market cap level, as highlighted in our initiation report, is a typical price tag for such discoveries."
• When considering that the historic drilling on Pinion was not deep enough to test the gold-rich breccia zone, we evaluate it as realistic that the recent drill campaign can prove grades in excess of 3 g/t gold over long intervals in the breccia zone because the grades of the material that lies above already showed remarkable grades in excess of 1 g/t.
• Macquarie's evaluation also comes to the conclusion that GSV has exceptional potential to host more than 20 million ounces of gold on Railroad and that such a large resource estimate would immediately attract major mining companies to start bidding in excess of $1 billion.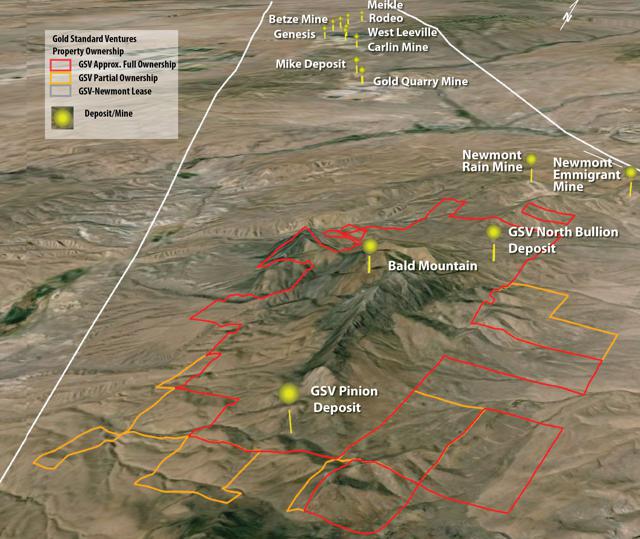 Source: Company information with annotations from the author.
Conclusion
We value the new focus on developing the Pinion oxide deposit quickly toward production more than just a lucky pull potentially at the end/bottom of a three-year long gold price correction, whereas it does not even require a rising gold price in order for GSV to generously create shareholder value over the next weeks and months.
The reasoning behind that speculation is simple and straightforward: Pinion is now advancing to those type of gold deposits that can be brought into production fairly fast, cheap and uncomplicated. Large sulfide deposits like North Bullion are best developed into mines during high gold prices.
As the negotiation successes of GSV's management has proven over the last years, Jonathan Awde is a highly determined president with compelling persuasive power who has not only fulfilled all market expectations so far but oftentimes exceeded them.
To have prominent Dave Mathewson as chief geologist is, however, the best guarantor for future success as we intended to present with both our initial interviews. In our 1st interview, he admitted that it was the outlook for a successful consolidation of the finely dispersed Railroad Property that made him commit to the new market entrant by the name of Gold Standard Ventures. When he worked for Newmont as Nevada's chief geologist, he tried many times to acquire Railroad for Newmont. However, the high royalties and mixed ownerships made a consolidation impossible.
Eventually, three men succeeded in 2010 to achieve this consolidation feat: Dave Mathewson, Jonathan Awede and Luke Norman. They just succeeded in achieving another spectacular feat. Although the Pinion District is smaller than Railroad, the impact on GSV's stock valuation is anticipated to be much larger because Pinion can be developed into a mine much faster.
We are confident that the most successful time in the history of GSV has just started - now, when it is easier to evaluate what they have, what is possible and what the market demands in times like these.
Since insiders (15%), Agnico Eagle Mines Ltd. (NYSE:AEM) (5%), Scorpio Gold Corp. (5%), and institutionals (50%) together own around 75% of GSV, we anticipate a takeover to prove highly difficult when considering that only 25% of GSV's equity is available in the market, dependent at which price level the lion's share of institutionals cannot resist a take-over bid any longer. However, such a strong and institutionally-based share structure, which is the dream of most exploration companies, is the best warrantor for the long-term creation of shareholder value.
Concluding, we also value it as highly bullish when insiders start buying stock of its companies in an increasing fashion. Since the beginning of the year, Jonathan Awde bought more than 100,000 shares of GSV in the market, whereas David C. Mathewson accumulated another 400,000 shares and Albert Friedberg's investment firm (FCMI) acquired some 2 million shares during the same time (see insiders report here). When insiders buy instead of sell, the course for higher prices is set, especially when material project development milestones are around the corner and insiders obviously assume to exceed the expectations of the market, which we also think is likely after thorough analysis.
As laid out, we conclude it being more likely that Macquarie's goals to make the C$2.25 ($2.07) price target happen are to be achieved not only within the next 9 months, but are even exceeded within 3-6 months. During those 6 months, we expect a 2nd drill program to start on Pinion in mid-July which we envision will expand the resource to 2 million ounces of gold. Hence, we evaluate the probabilities of exceeding Macquarie's price target as fairly high.
Technically, the last strong price resistances are currently located around C$2.30 ($2.12), C$2.80 ($2.58) and C$3 ($2.76), at which levels we anticipate short consolidations.
Jonathan Awde affirmed after the successful Pinion acquisition on April 8, 2014:
"The project data is very complete and very high quality, which puts us well ahead of where we thought we would be at this stage in terms of our understanding of the Pinion deposit. The geological setting is very similar to Newmont's Emigrant Run-of-Mine ("ROM"), heap-leach oxide gold deposit just a few miles to the north, as we had thought. The highly oxidized nature of the mineralized zones is evident. Historical drilling clearly did not find the limits of the deposit, either vertically or along strike. Gold Standard is the first company, in the Pinion Project's history, to consolidate control of the deposit. To date, this acquisition is proving to be everything we had hoped for and more."
Risks:
Investors should be aware that there are material risks associated with Gold Standard Ventures Corp.
Share structure: On the one hand, a "strong" and overweighted institutional share structure (as being the case with GSV) may also be considered negative, as institutional investor behavior can be even more unpredictable when compared with private investors. Institutionals may be forced to sell relatively large positions within relatively short time.
Resources: The Pinion Deposit does not have a gold resource compliant to modern/today's standards of NI43-101 and therefore can not be relied upon, that is to say, the historic resource is not indicative of a resource that is to be drilled off. There are no known resources or reserves on the Pinion deposit, the North Bullion deposit or any other targets on Railroad-Pinion project, and Gold Standard's exploration programs are exploratory searches for commercial bodies of ore. In addition, the close proximity of and presence of gold resources on adjacent or nearby properties within the Carlin Trend, including Newmont's Emigrant mine, is not necessarily indicative of the gold mineralization in the Pinion deposit, the North Bullion deposit or the Railroad-Pinion project. No preliminary economic assessment or other study has been carried out by Gold Standard on the Pinion deposit, the North Bullion deposit or any other target on the Railroad-Pinion project, and it is uncertain if further exploration will result in such deposits or targets being delineated as an economically viable mineral resource.
Drill Speculation: If the current drill program is not able to confirm the historic drill assays, the share price may lose heavily. Speculating on a drill success within the next weeks and months is to be considered as a high-risk speculation.
Disclaimer: The author holds shares Gold Standard Ventures Corp. and may sell those any time without notice, whereas neither Rockstone Research Ltd. nor the author was remunerated by any of the companies mentioned herein to produce or publish this content. Please read the full disclaimer at rockstone-research.com and within the full research report as none of this content is to be construed as an "investment advice." All statements in this report, other than statements of historical fact should be considered forward-looking statements. Much of this report is comprised of statements of projection. Statements in this report that are forward looking include that gold prices are expected to rebound; that Gold Standard Ventures Corp. can and will start developing its projects into a mine; that exploration has or will discover a mineable deposit. These statements involve known and unknown risks, uncertainties and other factors that may cause actual results or events to differ materially from those anticipated in these forward-looking statements. Risks and uncertainties respecting mineral exploration companies are generally disclosed in the annual financial or other filing documents of Gold Standard Ventures Corp. and similar companies as filed with the relevant securities commissions, and should be reviewed by any reader of this report.
Disclosure: I am long GSV. I wrote this article myself, and it expresses my own opinions. I am not receiving compensation for it. I have no business relationship with any company whose stock is mentioned in this article.
Editor's Note: This article covers one or more stocks trading at less than $1 per share and/or with less than a $100 million market cap. Please be aware of the risks associated with these stocks.