The line-up of volatility products available to retail traders continues to expand, as Barclays has rolled out its S&P VEQTOR ETN (NYSEARCA:VQT).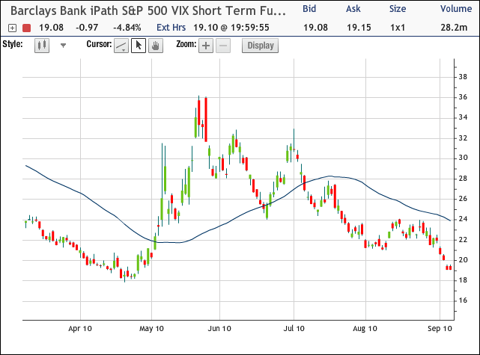 As the first dynamic volatility fund, VQT will be very interesting to follow. It is comprised of a long S&P 500 position, a long VXX Short Term VIX Futures ETN position and cash, and dynamically allocates among them according to a formula based on realized and implied volatility.
The fund will carry an equity weighting of anywhere between 60-97.5 percent, while the VXX weighting will be 2.5 – 40 percent. As I detailed on Thursday, the VXX has some serious headwinds when there is an upward sloping term structure in the VIX. But that is not always the case. When the VIX is on the rise, the negative roll could turn positive.
Most people use the VIX as a contrary indicator: When it spikes higher, they look to buy stocks and/or get short volatility. But this fund will apparently increase its VXX allocation when volatility is on the rise. This would have worked well during the crisis of 2008, and likely puts the VXX positive roll into play. Now we need to see how it fares during the more normal quick volatility spikes.
I do like the idea, and I do trade a similar theme on my own. The trick will be not increasing their volatility allocations at exactly the wrong times.
(Chart courtesy of tradeMONSTER)