Alright, before MannKind (NASDAQ:MNKD) longs flip out on me for the title, I'd like to offer a disclaimer that I am no way bearish on the company itself and what it's trying to do with Afrezza. For me, for you, and for humanity, I hope Afrezza receives its approval in the coming month and MannKind shareholders are lucratively rewarded.
I have, however, noticed a couple of small biotech trends: runs-up to binary events and post-FDA approval corrections. It's post-approval that I want to talk about. Let's talk about a trend I pointed out in a previous article.
Post-FDA approval, there is usually a pocket of some time where the hysteria wears off and people realize that millions upon millions in sales still stand between their coveted biotech company and the burgeoning acquisition target that they are seeking it to be. Sometimes, the company does go down that path - successful sales that eventually lead to a Big Pharma buyout or partnership. Sometimes, things come up that prevent that from happening.
In "My Definitive 17 Cardinal Rules...," one of the recurring themes is emotion in trading and how to use it to your advantage. I wrote:
Emotion is what prevents real success for many novice traders. Emotion is the catalyst behind making trades that make no sense on paper. Emotion is why people sell off positions after the crash and why they baghold buying at the tail end of rallies. Emotion makes idiotic things run through your head, like:

"This stock may never stop going up! Better get in no matter what cost!"

And conversely:

"This company is doomed! We are going to zero right here, right now, on this crash!"

This may seem like idiocy when you read it now, but even the savvy investors know this voice still comes out in their head when they're in the midst of a rally or crash.
Emotion is one of the key factors at play here with MannKind, as it is during a lot of biotech events. One trend that I continually see is that there is a lot of emotion behind biotech stocks leading up to binary events - whether it's FDA approval or trial results. Most companies, just like MannKind, have great stories of searching for drugs that will help humanity, in addition to having the ability to make savvy investors rich if they're on the right side of the trade.
What I've noticed from a lot of biotech catalysts is that the emotional charge behind the event often leads stock running far higher than rational, and that on good news, the share price usually pulls back and corrects. It's the age-old adage: buy the rumor, sell the news - in practice.
In the case of MannKind, we've gotten no new news over the last couple of weeks, but the stock is starting to poke upwards in anticipation of good news coming in July.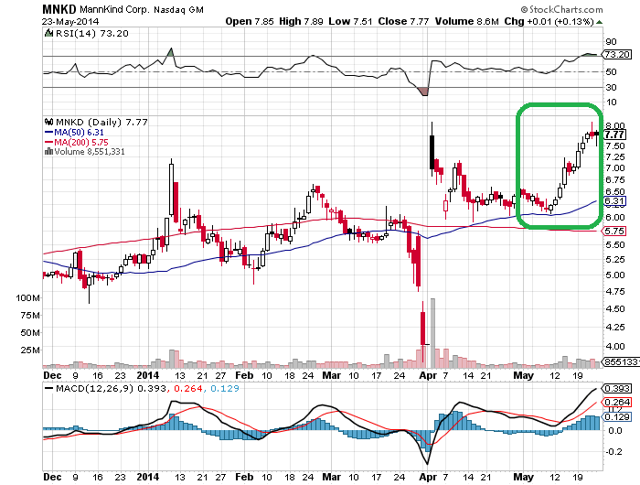 The resistance at $8 seems to be calling the shots, for the time being. We'll have to see how MNKD fares in the upcoming short week to see if the stock is going to make it over the $8 point.
Simply put, there's something in the human psyche that tells traders to keep jumping in, no matter what the price, when the possibility of good news is coming down the pipe.
This is why we're seeing the move into MannKind right now. There's a chance we could continue to see it right through July. Heck, this could be a good time to buy and just wait for the run-up to the news. On the news, however, MannKind likely presents a more cogent short-term short.
It's the "run-up to the binary event" we've seen in the past. Hell, I was even part of it in CLSN: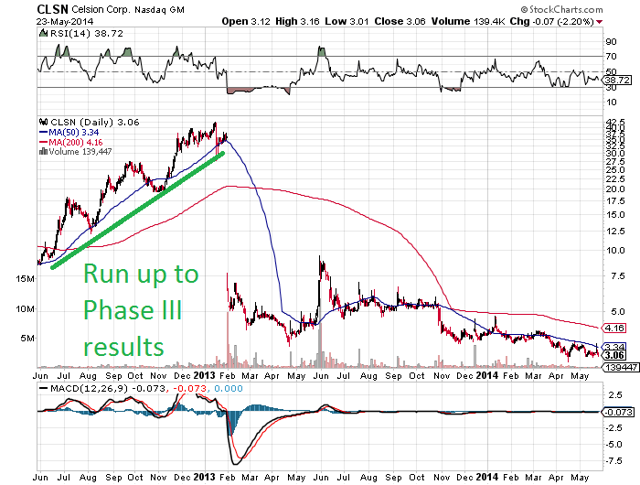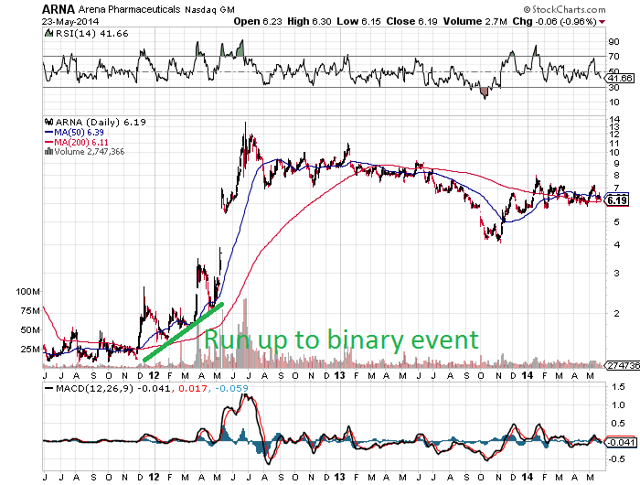 The fact is that depending on how much MannKind runs, the FDA news could become priced in here. Because so many people are expecting approval, the risk inherent in getting behind the trade is significantly less than in a normal binary event. Thus, people have decided to "cherry pick" and get in early.
Here are three examples of biotech catalysts and corresponding price movements after FDA approval:
| | | | |
| --- | --- | --- | --- |
| Stock | Event Date | PPS Spike | PPS Low |
| | | | |
| Keryx (NASDAQ:KERX) | 1/28/13 | $9.08 (1/31/13) | $6.43 (2/28/13) |
| Amarin (NASDAQ:AMRN) | 4/18/11 | $19.50 (5/27/11) | $1.30 (5/20/14) |
| Arena (NASDAQ:ARNA) | 6/27/12 | $11.81 (7/10/12) | $4.39 (11/1/13) |
Shorts playing the exact right time in these three could be yielding anything from 30% and up, if done correctly.
Again, this isn't a bearish stab at MannKind. It's simply a reminder that the company sports a $3 billion market cap right now and produces zero revenue. Upon FDA approval, the likelihood of producing significant revenue gets a boost, but until the rubber meets the road, the onus is on MannKind.
While I love the long-term prospects of the company, it's important to keep your focus after FDA approval and potentially consider the company for a short until it starts to get some traction, sales, or a pharmaceutical partner. The short thesis is off the table if a major partnership is announced between now and FDA approval.
Best of luck to all investors.
Disclosure: I have no positions in any stocks mentioned, and no plans to initiate any positions within the next 72 hours. I wrote this article myself, and it expresses my own opinions. I am not receiving compensation for it (other than from Seeking Alpha). I have no business relationship with any company whose stock is mentioned in this article.