Over the past few days, a fellow SA contributor has written a series of articles (I, II, III) where he explains the "controversy" surrounding Kinder Morgan and the issue of IDRs. While I agree with him on some issues, I also disagree on several major points.
As a side note, I suggest that readers of this article also read my prior series of articles (I, II, III) regarding the possibility of KMP acquiring KMI.
The focus of this article will be on the first two of the series, titled "Kinder Morgan: Be Careful What You Wise For" and "Kinder Morgan: The Good, The Bad And The Ugly Truth." I also plan a follow-up response on the third article.
In addition, please note that "Kinder Morgan" refers to the Kinder Morgan family of companies as a whole (Kinder Morgan Energy Partners (NYSE:KMP), Kinder Morgan Inc. (NYSE:KMI) and Kinder Morgan Management (NYSE:KMR)), unless otherwise indicated.
Kinder Morgan Energy Partners is clearly undervalued based on DCF
In the first article, it was argued that midstream companies were hard to value due to differences in their asset bases. While this may be technically true (natural gas pipelines are currently less valuable compared to oil), comparisons can be made using the industry standard of profitability for MLPs of distributable cash flow, or DCF.
Using data from MLPdata.com, we can see how KMP stacks up when compared to its large-cap peers. Using its TTM DCF, KMP currently trades for a 13.69x multiple. As shown below, this is a very large discount to peers such as Enterprise Products Partners (NYSE:EPD), MarkWest Energy Partners (NYSE:MWE) and Magellan Midstream Partners (NYSE:MMP).
KMP: 13.69x
EPD: 25.84x (88% premium)
MWE: 18.00x (31% premium)
MMP: 32.45x (137% premium)
You would think that at such a discount, KMP would offer nearly no distribution growth compared to the others. However, this is hardly the case. Instead, KMP's yield plus expected growth rate is among the highest of the group. Hat-tip once again to MLPdata for providing this information.
KMP: Yield: 7.27% Forecasted growth: 5.43%
EPD: Yield: 3.83% Forecasted growth: 6.50%
MWE: Yield: 5.60% Forecasted growth:7.80%
MMP: Yield: 3.04% Forecasted growth: 16.00%
The sole difference between KMP and the other MLPs has to do with incentive distribution rights, or IDRs. KMP has to pay IDRs to KMI, while the others have long ago acquired their GPs or the IDR interest. Due to its partnership agreement, KMI is entitled to 50% of incremental cash flow increases from KMP.
The net effect of these IDRs is arguable. However, they clearly increase the cost of capital for KMP. As an example, if KMP were to make an acquisition and fund it via equity, its return ("IRR") would need to be north of 15% per year in order to have an accretive effect per unit. This obviously limits the potential growth opportunities.
Kinder Morgan Inc. is aiming to become a pure-play general partner, and is not looking to buy midstream assets
In the first article, the author initially made a note regarding KMI's IDRs, which has since been corrected:
"The general partner is compensated by IDRs from the MLP's distributable cash flow. Kinder's IDR rate has reached the upper limit of 50% presently. In turn, KMI uses the IDR funds to obtain large midstream energy assets that the company feels will substantially cover the cost of capital and then drop them down to the MLPs."
As a KMI shareholder, I can tell you right now that this is simply not the case. Since its El Paso (NYSE:EPB) acquisition, KMI has been moving toward becoming a pure-play GP.
Due to being a C-Corp and other factors, KMI's current midstream assets generate pretty much zero free cash flow. Instead, they are self-funding, and are only held at the GP level in order to eventually be dropped down to the two MLPs.
KMI recently transferred to EPB 50% interest in Ruby Pipeline, 50% interest in Gulf LNG and 47.5% interest in Young Gas Storage for around $2 billion. This transaction was immediately accretive for EPB and initially a non-event for KMI. Indeed, KMI sold these assets to EPB at a relative discount based on adjusted EBITDA in order to facilitate the transaction.
However, KMI stands to benefit from it eventually, as EPB will need fund at least a portion of the acquisition via an equity offering. This is where the IDRs kick in. As the GP, KMI will receive 50% of the increased DCF generated from these assets. In addition, as a 40% holder of EPB's limited partner interest, it will benefit from any future distribution increases.
To put it simply, MLPs are there to hold midstream assets in a tax-efficient structure. The resulting cash flow is then paid out to the limited partners via often hefty distributions. However, GP continues to hold the IDRs in order to participate on the upside of the assets.
As shown, KMI's current and future cash flows are going almost entirely to the dividend. By far the largest individual source of growth for these dividends are IDR payments from KMP and EPB.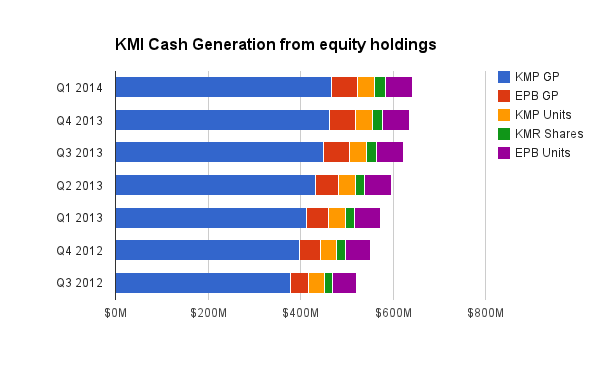 Source: SEC Filings
MLP unitholders are not left holding any "bags"
Side note: This section is entirely regarding the KMP/KMI class action lawsuit and its merits.
Lastly, let me discuss the following item from the second article:
The Bad

MLP unitholders left holding the bag

The notion that KMP unitholders have been left holding the bag was recently spotlighted by the filing of a lawsuit. KMP investor Jon Slotoroff initiated a class action suit against KMI. The underlying argument in the suit is that KMI, as general partner, allocated too little of KMP's capital spending to maintenance capital which reduces distributable cash flow, and too much to expansion capital, which typically is funded through equity issuance and debt. As a result, KMI set distribution rates to KMP unitholders too high and earned billions in IDRs for itself. Also, the equity and debt issues unfairly burdens and dilutes the holdings of KMP limited partner investors.
Unlike what is implied by the lawsuit, KMP does in no way allocate too little capital toward maintenance capex. Instead, Kinder Morgan simply follows its partnership agreement, which defines maintenance capital expenditures as "capital spent to maintain an asset without increasing its capacity or throughput."
If KMP were skimping on maintenance, it would show via its safety record. However, the company has hardly seen many pipeline spills or other safety incidents. In terms of both incidents per 1,000 miles and liquids pipeline release rate, KMP has been below the national average every year since 2006.
As tax-efficient vehicles, MLPs are an ideal structure for midstream assets and other high-depreciation infrastructure. This is why they are able to offer the high yields.
In addition, there is no "transfer of wealth" or other items. MLPs are formed with agreements in place regarding the allocation of future profits. When an investor buys a unit in a MLP, the payments to the GP are often already baked into the valuation, as with KMP.
Conclusion
"You sell. I'll buy. And we see who comes out best in the long run."

Richard Kinder
I believe Kinder Morgan should seriously consider a merger between KMI and KMP. As the largest midstream MLP, the current structure seems to be a bit too complicated for most to understand. In addition, as seen by the MLPs which have consolidated their GPs, the multiple applied by the market is well above what KMP current trades for.
Kinder Morgan, as a whole, is wildly undervalued. However, long-term investors should focus on the actual day-to-day results and ignore the turmoil and "controversy."
Disclaimer: The opinions in this article are for informational purposes only and should not be construed as a recommendation to buy or sell the stocks mentioned. Please do your own due diligence before making any investment decision.
Disclosure: I am long KMI. I wrote this article myself, and it expresses my own opinions. I am not receiving compensation for it (other than from Seeking Alpha). I have no business relationship with any company whose stock is mentioned in this article.