By Rick Golod
US equities enjoyed a solid run of outperformance over European equities in 2013 and January 2014, but the dynamics seem to be shifting. In fact, I think the US' ongoing leadership looks questionable, as discussed in my most recent commentary, "Can the US Continue to Lead Global Equities?"
As Europe appears to be following the US' script for recovery, I believe the region currently offers attractive upside potential.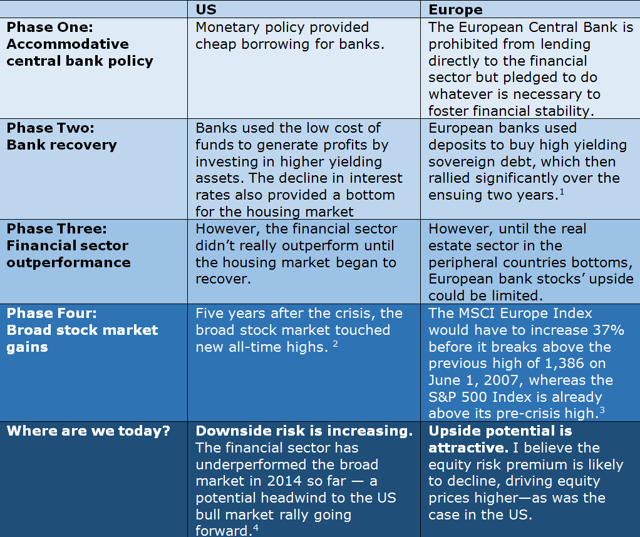 Click to enlarge
To read more about how these views fit into my broader global equity outlook, click here.
1 Source: Bloomberg LP, April 10, 2014
2 Source: Bloomberg LP, May 13, 2014
3 Source: Bloomberg LP, May 19, 2014
4 Source: Bloomberg LP, May 12, 2014
Important information
Equity risk premium is the excess return investors expect as compensation for assuming the risk of the equity market.
The European Central Bank (ECB) is the central bank responsible for the monetary policy of the European Union.
The S&P 500® Index is an unmanaged index considered representative of the US stock market.
The MSCI Europe Index is a free-float-adjusted market-capitalization-weighted index designed to measure the equity market performance of the developed markets in Europe.
About risk
The risks of investing in securities of foreign issuers, including emerging market issuers, can include fluctuations in foreign currencies, political and economic instability, and foreign taxation issues.
In general, stock and other equity securities values fluctuate in response to activities specific to the company as well as general market, economic and political conditions.
| | | |
| --- | --- | --- |
| NOT FDIC INSURED | MAY LOSE VALUE | NO BANK GUARANTEE |
The information provided is for educational purposes only and does not constitute a recommendation of the suitability of any investment strategy for a particular investor. The opinions expressed are those of the author(s), are based on current market conditions and are subject to change without notice. These opinions may differ from those of other Invesco investment professionals.
All data provided by Invesco unless otherwise noted.
Invesco Distributors, Inc. is a U.S. distributor for retail mutual funds, exchange-traded funds, institutional money market funds and unit investment trusts.
Invesco unit investment trusts are distributed by the sponsor, Invesco Capital Markets, Inc. and broker dealers including Invesco Distributors, Inc. These Invesco entities are indirect, wholly owned subsidiaries of Invesco Ltd.
©2014 Invesco Ltd. All rights reserved.