A study regarding
Cepheid's (NASDAQ:CPHD)
Xpert MTB/RIF test, which is meant for the detection of tuberculosis (TB), was published in the latest edition of the New England Journal of Medicine. The study was aimed at comparing the sensitivity and specificity of the Xpert MTB/RIF with the standard currently used. Apart from the detection of TB, the study is also meant to identify if the disease is resistant to rifampin, a first-line drug used for the treatment.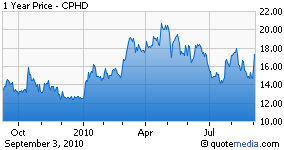 The study was conducted with 1,730 TB patients at five centers in Peru, Azerbaijan, South Africa, and India. It was observed that the MTB/RIF test could detect TB and rifampin resistance within two hours. Speedy diagnosis of the disease is crucial in the areas of sub-Saharan Africa and Southeast Asia due to the close connection between HIV and TB.

A person suffering from HIV is highly susceptible to TB, resulting in one third of the 33 million HIV patients globally infected with TB. The mortality rate of these patients is quite high if left untreated. Given the situation, development of the MTB/RIF test will be a boon for the patient population. Although the Xpert MTB/RIF test is available outside the US, it is expected to become available in the US within the 2012-2013 timeframe.

Cepheid derived 78% of its product revenues from the Clinical market during the second quarter, which recorded a robust 41% growth. The increase was driven by robust growth in both Clinical Systems (7% to $6.1 million) and Clinical Reagents (51% to $31.6 million). A rise in sales of the company's healthcare associated infections (HAI) portfolio of tests along with Xpert EV and Xpert MTB/RIF tests were responsible for the growth in Clinical Reagents while revenues from Clinical Systems grew due to increased GeneXpert System sales.

Cepheid's portfolio consists of several tests, many of which are witnessing greater acceptance. Following the success of the C. difficile test, it has become the second biggest test in Cepheid's portfolio (behind MRSA surveillance) with multimillion-dollar revenue contribution each quarter. Outside the US , Cepheid witnessed growth in the tuberculosis product, especially in Eastern Europe , where capital spending capacity is limited. We believe that the company is well positioned to grow its top line based on an attractive test menu.

We are currently Neutral on the stock.