E. I. du Pont de Nemours and Company (NYSE:DD) stock has outperformed the market this year and in 2013. Since the beginning of the year, DD's stock has gained 4.8%, while the S&P 500 index has risen 2.8% and the Nasdaq Composite Index has risen 0.2%, and since the beginning of 2013 DD's stock has recorded an impressive gain of 51.4%, while the S&P 500 index has risen 33.3% and the Nasdaq Composite Index has risen 38.6%. Nevertheless, DD's stock is a good combination of a good value and solid growth dividend stock, and in this article, I will explain why, in my opinion; DuPont's stock is still a promising long-term investment.
The Company
E. I. du Pont de Nemours and Company is the second largest U.S. chemicals producer. The company operates as a science and technology based company worldwide. The company was founded in 1802 and is headquartered in Wilmington, Delaware.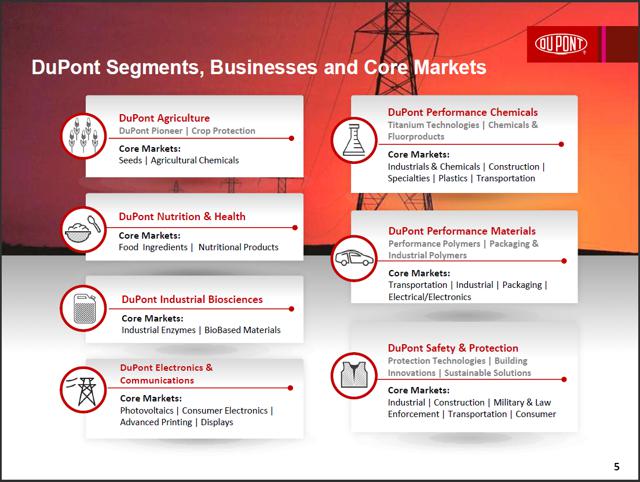 Source: DuPont at Goldman Sachs Basic Materials Conference
Valuation Metrics
The table below presents the valuation metrics of DD, the data were taken from Yahoo Finance and finviz.com.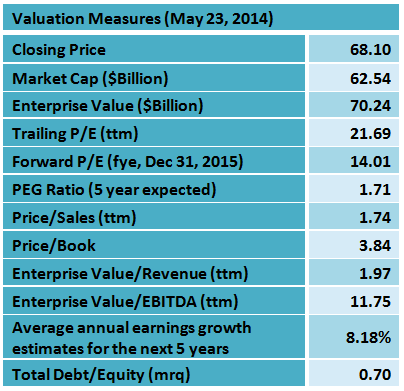 DuPont's valuation metrics are fairly good; the forward P/E is low at 14.01, and the Enterprise Value/EBITDA ratio is also low at 11.75. The average annual earnings growth estimates for the next 5 years are pretty high at 8.18%.
Latest Quarter Results
On April 17, DuPont reported its first-quarter 2014 financial results. The company reported first quarter 2014 operating earnings of $1.58 per share compared to $1.56 per share in the prior year. GAAP EPS was $1.54 versus $1.47 last year. Consolidated sales were $10.1 billion, 3% below last year, principally due to differences in timing and planted area for agriculture sales, negative currency impact, and adverse weather conditions in North America. However, volume grew in each of DuPont's industrial related segments and operating margins increased in 6 of 7 segments versus last year's first quarter.
First-Quarter Highlights
Substantial earnings increases and operating margin improvement across most segments including: Safety & Protection; Electronics & Communications; Nutrition & Health; and Industrial Biosciences.
Strong sales volume growth outside the Americas. Combined European and Asian developing markets volume up 10%; Europe, Middle East, and Africa volumes up 6%. Volume growth in the Americas constrained by shifts in timing and planted area in agriculture and the impact of harsh weather.
Adverse weather conditions reduced first quarter earnings by an estimated $.07 per share reflecting increased operating costs and lost sales.
Productivity initiatives, share repurchase program and Performance Chemicals separation remain on track.
The company reaffirms full-year operating earnings guidance of $4.20 to $4.45 per share.
In the report, Ellen Kullman, DuPont Chair and CE said:
We achieved substantial earnings growth in most of our segments in the first quarter as we advanced our strategic and operational priorities. We delivered near record earnings per share despite the challenges of harsh weather and differences in year-on-year comparisons in our Agriculture Segment, and our key initiatives remain on track. I'm pleased with the progress we are making to deliver further value to shareholders and strengthen DuPont's position as an engine of science-driven innovation.
Dividend and Share Repurchase
DuPont has been paying continuous dividends since 1904. The forward annual dividend yield is at 2.64% and the payout ratio is at 57%. The annual rate of dividend growth over the past three years was at 2.8%, over the past five years was at 1.7%, and over the past ten years was at 2.4%. I consider that besides dividend yield, the consistency and the rate of raising dividend payments are the most crucial factors for dividend-seeking investors, and DD's performance has been mild in this respect.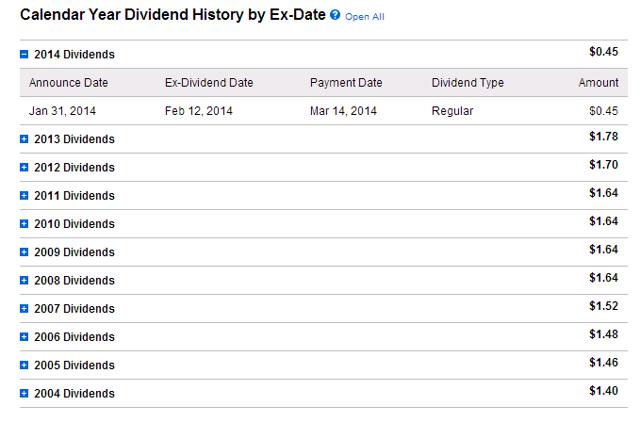 Source: Charles Schwab
On January 28, 2014, DuPont announced a new $5 billion share repurchase program. This program replaces the existing repurchase program. The company expects to repurchase $2 billion in 2014 with the remainder to be repurchased over time with no required completion date. During the first quarter, DD repurchased 12.5 million common shares.
Competitors
A comparison of key fundamental data between DuPont and its main competitors is shown in the table below.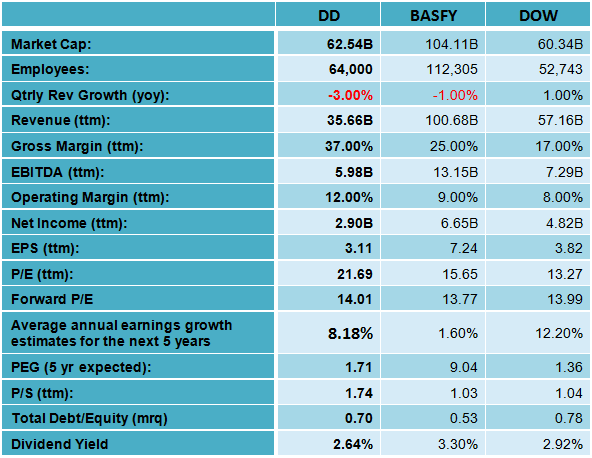 Source: Yahoo Finance, finviz.com
DuPont valuation metrics look better than those of BASF (OTCQX:BASFY) but not as good as those of Dow Chemical Co. (DOW).
Technical Analysis
The charts below give some technical analysis information.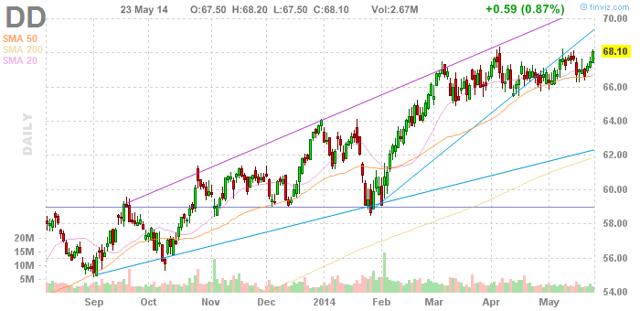 Chart: finviz.com
The DD stock price is 1.59% above its 20-day simple moving average, 2.13% above its 50-day simple moving average and 10.12% above its 200-day simple moving average. That indicates a short-term, a mid-term, and a long-term uptrend.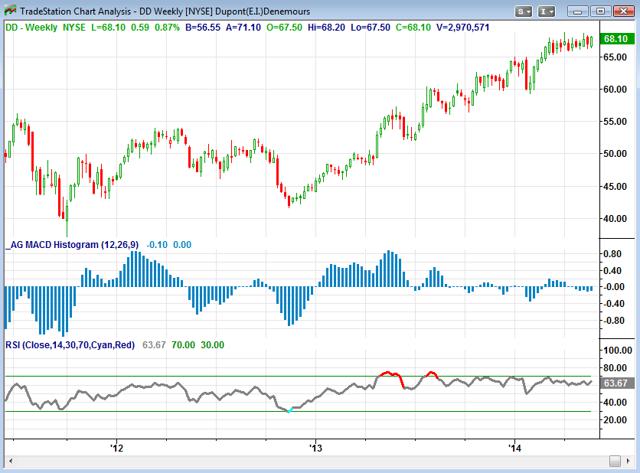 Chart: TradeStation Group, Inc.
The weekly MACD histogram, a particularly valuable indicator by technicians, is negative at 0.10 and ascending, which is a bullish signal (a rising MACD histogram and crossing the zero line from below is considered an extremely bullish signal). The RSI oscillator is at 63.67 which do not indicate oversold or overbought conditions.
Analyst Opinion
Analysts opinion is extremely divided. Among the twenty one analysts covering the stock, three analyst rate it as a strong buy, three rate it as a buy, thirteen rate it as a hold, one analyst rates it as an underperform, and one analyst rates it as a sell.
TipRanks is a website that ranks experts (analysts and bloggers) according to their performance. According to TipRanks, among the analysts covering DD stock there are only six analysts who have the four or five star rating, five of them recommend the stock. On April 21, Deutsche Bank analyst David Begleiter maintained a Buy rating on DuPont with a price target raised to $75 from a previous $70. I consider Mr. Begleiter's analysis very valuable, since he has 5-Star rating from TipRanks for the accuracy of his previous calls.
Major Development
On October 24, 2013, DuPont announced that the company advanced its transformation to a higher growth, higher value company as its Board of Directors authorized management to execute a full separation of its Performance Chemicals segment, which includes the Titanium Technologies and Chemicals & Fluoroproducts businesses. DuPont intends to execute the separation through a tax-free spin-off to shareholders, subject to customary closing conditions. Upon completion of the separation in about 18 months, 100% of the new public entity will be owned by DuPont shareholders.
In my opinion, the decision to spin off of the Performance Chemicals division, which is expected to occur by mid-2015, will benefit shareholders. The Performance Chemical division's revenues of $6.7 billion in 2013 represented 18.6% of the total of DuPont's revenues in that year, and it is significant enough to operate as an independent company. Moreover, the division had shown operating earnings of $200 million in the first quarter of 2014.
DuPont brings world-class science and engineering to the global marketplace in the form of innovative products, materials and services. DuPont believes that science is the growth engine for the company. As a matter of fact, more than $10 billion of its 2013 revenues came from new products that introduced in the last four years; $5.8 billion from the Agriculture & Nutrition segment, $0.4 billion from the Industrial Biosciences segment, and $3.9 billion from the Advanced Materials segment.
Conclusion
DuPont will benefit from the anticipated growth in global industrial market demand. The company is obtaining growth through innovative products, materials and services. The company reaffirmed its outlook for full-year 2014 operating earnings of $4.20-$4.45 per share, an increase of 8-15% from $3.88 per share earned in 2013. DuPont has good valuation metrics and good earnings growth prospects. Furthermore, the company returns value to its shareholders by stock buyback and by increasing dividend payments. During the first quarter, DD repurchased 12.5 million of its shares. All these factors bring me to the conclusion that DuPont stock is a smart long-term investment. Furthermore, the rich growing dividend represents a gratifying income.
Disclosure: I have no positions in any stocks mentioned, and no plans to initiate any positions within the next 72 hours. I wrote this article myself, and it expresses my own opinions. I am not receiving compensation for it (other than from Seeking Alpha). I have no business relationship with any company whose stock is mentioned in this article.