Vistaprint's (VPRT) shares collapsed after the company reported fiscal 4Q earnings and forward guidance that reflected accelerated spending, internal execution issues, currency impacts, and economic pressures on small businesses.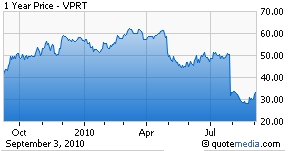 Management placed emphasis on the internal execution and operational issues as the culprit for the missed expectations. Specifically, rapid hiring, with those hires left untrained, and marketing initiatives that had unintended negative consequences, led the company to issue guidance below the Street. Several analysts downgraded the shares following the report, wrongly in our view.
This is the second time in VPRT's history as a public company that it has faced operational issues that negatively impacted the stock. The first time was due to transition of U.S. based employees to the international headquarters in Europe. Back then the shares recovered sharply after those issues were resolved.
We are likely to see the same happen this go around. This is why we believe that the shares are attractive and the analysts who downgraded the shares were wrong.
In the past we have always viewed internal operational issues at any company, and their respective depressed stock prices, as buying opportunities.
Fundamentals of the company continue to remain strong. Citing numbers from Jeffries and Co analyst Youssef Squali - web sessions up 25% y/y, orders up 21% y/y, average order value up 4% y/y, improved conversion rate to 6.2% from 5.9%, 67% repeat customers generating 67% of orders consistent with past trends, and q/q declining customer acquisition costs, ex the TV ad campaign.
It is a challenge for us to find a company growing their metrics at this pace.
That brings us to the latest chatter about VPRT as an acquisition candidate given the recent Tech acquisition spree. The chatter centered around companies such as Staples (NASDAQ:SPLS), Xerox (NYSE:XRX), FedEx (NYSE:FDX), and UPS. These are all logical except that Xerox's new CEO is currently digesting a huge acquisition and is unlikely to make any others at this time.
Staples is the more logical one in our view as it would give them an entrenched foothold with the small mom and pop business or businesses with fewer than 10 employees, for which Vistaprint believes there are 50 million in the U.S., Europe, and Canada. There would be immense cross selling opportunities that Staples could pursue.
We also see the same rational for FedEx and UPS to more deeply penetrate those business.
Acquisition or not, VPRT continues to remain an attractive company to us at a single digit EBITDA multiple and mid-teens P/E, with a PEG of less than 1 that screams to us an undervalued growth stock. The shares should be trading in the low $50 range.
Disclosure: No position at this time.