The stock markets have been trading in a wide range for the past three and one-half months. This maddening range of 9614-10720 on the Dow Jones Industrial average and 1010-1131 on the S&P 500 index has been chewing up both active and "buy and hold" investors alike.
Of course, trading ranges are the market's way of building up energy (or cause) for the next move either up or down and this consolidation is likely no exception. The million dollar question is then which way will this one break?
With all the negative news of rising unemployment, slowing growth and possible austerity measures both here and abroad, it would be easy to assume that the trend will be down from here. As a manager who tends to gravitate to the bearish side, deep down I would somehow love for this to be the case.
However we can see in the daily chart of the S&P 500 Large Cap Index (below), the accumulation/distribution index (see Stockcharts.com definition) is actually reflecting that investors have been slowly accumulating stocks during this consolidation period. Further, even during the May/June initial sell off stocks were really never distributed except at the July 1 range bottom.
click to enlarge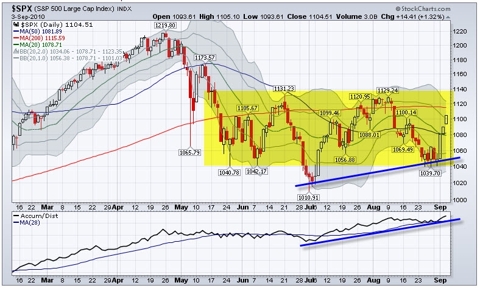 Click to enlarge
Recent market price advances have been confirmed by corresponding moves higher in the accumulation/distribution index that show investors want to own equities. We believe this bodes well for equities and could mark the beginnings of a larger up move for stocks once we get over some profit taking on last week's advance and again move towards the top of the range.
Note also in the weekly chart of the S&P 500 Large Cap Index (below) that the accumulation / distribution index held prior support (green line) and are now crossing back up through the 28 period moving average, a short-term buy signal.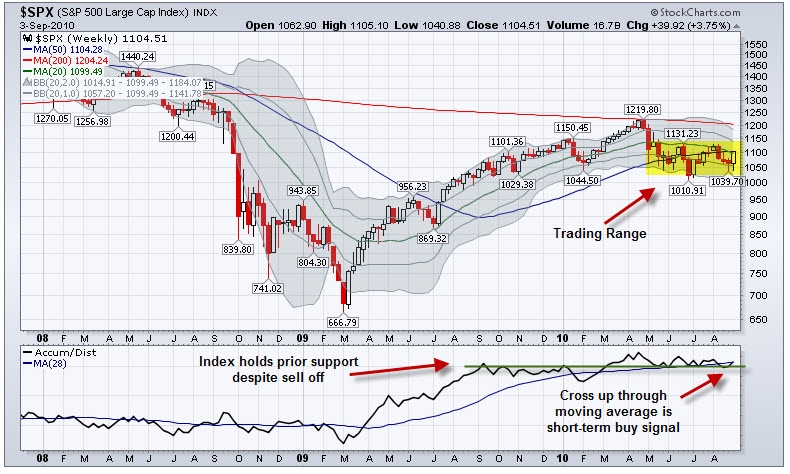 As a student of history it is important to note that the markets consolidated after a 50% + move in 2004 and moved higher the next three years. Could it be that we are setting up for a repeat of this move? It would seem counter-intuitive, but it's been said often that "markets climb a wall of worry."
Disclosure: We currently hold RSP (Rydex S&P Equal Weight) in client portfolios.