NetApp (NASDAQ:NTAP), electronic storage, reported fiscal 2014 results that are in line with my expectations. The fiscal 2015 first quarter forecast is disappointing, as the company deals with customers who will no longer sell its solutions. I am not expecting much in terms of growth during fiscal 2015, but I would prefer revenues that come in closer to the high end of management's guidance to revenues that come in towards the low end of guidance.
The product refresh seems a bit weak to me right now, but management says that they will be releasing new FAS solutions during fiscal 2015. NTAP appears to be one of the weaker players in the electronic storage industry, as the company bets on flash memory being the future of electronic data storage. In my opinion, flash will remain a relatively small portion of electronic data storage for the foreseeable future. Also, EMC (EMC) and HP (NYSE:HPQ) are able to use their scale to offer compelling flash-based solutions.
With that stated, the finance guys are doing an excellent job of returning capital to shareholders and engineering a higher valuation. Returning excess capital to investors allows NTAP to generate a return on invested capital that is higher than it otherwise would be. Consequently, at about $36 per share, NTAP is 50% undervalued by the market.
Recent Developments
IBM is expected to stop selling NTAP's storage hardware offered under the N-Series label on May 27th.
The board of directors increased the cash dividend to $0.165 per share.
Analyst's Note
NetApp creates innovative storage and data management solutions that deliver outstanding cost efficiency and accelerate business breakthroughs. The company generates total revenue from sales of its branded products and sales of its products by other companies, such as Fujitsu. The majority of total revenue is derived from the Americas.
Before getting into the financials, the product refresh during fiscal 2014 appears relatively weak; it was the year of Clustered Data ONTAP, and FAS8000. Also, sales of the E-series picked up relative to the year-ago period. Management plans to refresh more of the FAS series during this fiscal year. Strategically, the company is placing its money on flash memory, but flash memory is forecasted to be a relatively small portion of the total memory market. And if flash becomes cheaper than it currently is, the competition in the flash market will make flash significantly less profitable for NTAP.
The results for fiscal 2014 came in line with my expectations. Revenues came in slightly lighter than I expected, but profitability was better than I expected. Also, the share count came in below my forecast. For fiscal 2015, the forecast is for 3% revenue growth with slightly improved profitability relative to this year. Management's revenues forecast calls for flat to slightly down revenues during the first quarter; that is related to sell through on the OEM side of the business. High level, I view NTAP as a company that grows in line with GDP growth, but my 2015 estimate is subject to downgrade given the company-specific fundamentals. Additionally, management is calling for 10% EPS growth and my forecast calls for 12.5% EPS growth. The table below provides the actual and estimates.
| | | | |
| --- | --- | --- | --- |
| For the year ending (in millions of dollars except per share data): | 2014-04E | 2014-04 | 2015-04E |
| Revenues | 6346 | 6325 | 6536 |
| Gross profit | 3871 | 3919 | 4053 |
| Operating income | 698 | 734 | 784 |
| Net income | 616 | 638 | 703 |
| Diluted EPS | 1.75 | 1.83 | 2.06 |
On the cash flow side of things, fiscal 2014 was a solid year. Cash flows provided by operations were flat Y/Y. Free cash flow to the firm was also flat, and there was a substantial reduction ($1.27B) in debt as well as $2B returned to equity holders. For 2015, cash flows are expected to be flat to slightly up, but a substantial reduction of capital returns is expected through the next two fiscal years. For fiscal 2015, slightly less than 100% of free cash flow to equity is forecasted to be returned to shareholders.
| | | | |
| --- | --- | --- | --- |
| For the year ending (in millions of dollars): | 2014-04E | 2014-04 | 2015-04E |
| Cash provided by operations | 1450 | 1350 | 1503 |
| Capex | 275 | 221 | 300 |
| FCFF | 1218 | 1160 | 1246 |
| FCFE | -90 | -136 | 1203 |
NTAP does have problems in the product and scale categories, but the forecasted 19% return on equity with $1B of capital being returned to equity outweighs the problems. This isn't a fairy tale company, but the strong cash flows help investors sleep at night.
Portfolio & Valuation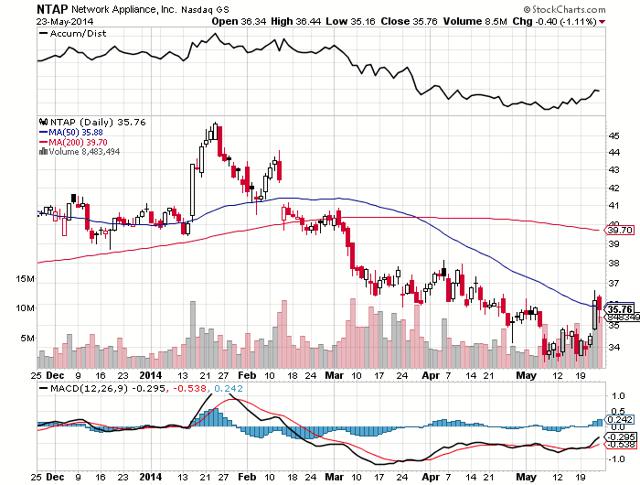 Click to enlarge
NTAP is in a bear market of at least intermediate-term degree. The bullish divergence and signs of accumulation suggests the share price could pop to $40 to $45 per share. Aggressive investors would jump the gun and get long at this level.
| | | | |
| --- | --- | --- | --- |
| Expected Monthly Return | Expected quarterly return | Quarterly standard deviation of returns | Sharpe ratio |
| 1.5% | 4.5% | 17.47% | 0.21 |
| | | |
| --- | --- | --- |
| | Estimated intrinsic value | Forward multiplier model valuations based on base case |
| Optimistic | $72.55 | P/E: 26.36 |
| Base case | $54.41 | P/S: 2.83 |
| Pessimistic | $36.27 | P/BV: 5.10 |
| | | P/CFO: 12.45 |
The share repurchase program increased the return generating ability of the underlying business, and consequently the valuation increased substantially. Specifically, the book value of equity declined from $4.72 billion to $3.79 billion. Thus, one dollar of earnings generates a significantly higher return on equity. NTAP is currently undervalued by 50%.
General Risks
The share price is likely to remain volatile and investors could lose a portion or all of their investment.
Investors should judge the suitability of an investment in NTAP in light of their own unique circumstances.
A decline in the global economic growth rate and/or a decline in the pace of economic growth in the United States could adversely impact the results of operations and the share price.
The technology industry is characterized by rapid technological change, which could materially adversely impact the results of operations.
Competition in product development and pricing could adversely impact performance.
Incorrect forecasts of customer demand could adversely impact the results of operations.
Higher interest rates may reduce demand for NTAP's offerings and negatively impact the results of operations and the share price.
This section does not discuss all risks related to an investment in NTAP.
Disclosure: I have no positions in any stocks mentioned, and no plans to initiate any positions within the next 72 hours. I wrote this article myself, and it expresses my own opinions. I am not receiving compensation for it (other than from Seeking Alpha). I have no business relationship with any company whose stock is mentioned in this article.