Hewlett-Packard (NYSE:HPQ) experienced another quarter of unimpressive sales performance as reported in its Q2 FY 2014 results on May 22nd, 2014. Flat or declining sales were observed for most of the segments except for personal systems where net revenues increased by 7%. All in all, revenues for the quarter remained more or less flat YoY in constant currency terms.
However, the major excitement in HP's stock comes from two recent announcements from the CEO, Meg Whitman. During the press conference, the CEO confirmed the company would be cutting 11,000 to 16,000 more jobs on top of the 34,000 job cut that was previously announced. Earlier in March 2014, in the shareholders meeting, Whitman said the company plans to enter the 3D printing market by the end of fiscal year 2014. In this article, I will discuss in detail how Whitman's vision of a lean, efficient, and innovative HP is reshaping the company and the value for an investor.
HP: Struggling Since New CEO
Meg Whitman took charge as HP's CEO in September 2011 (4Q11) and since then the company seems to be headed downhill. HP is losing sales in an IT industry that is growing worldwide and the company has failed to increase EPS despite aggressive share repurchases. As the graph below shows, HP's Q2 FY 2014 sales of $27.3 billion were down more than 15% from sales in Q4 FY 2011, when Whitman joined.

Source: Q2 FY 2014 Earnings Presentation
Job Cuts Will Help Earnings
In May 2012, HP announced a restructuring plan to decrease its workforce in order to cut expenses. The initial plan of 27,000 layoffs was continuously revised and eventually reached up to 34,000 layoffs by the end of 2013. The company expects to save $3.0 to $3.5 billion annually from this restructuring after 2014. In May 2014, however, Whitman announced she saw more opportunities from reducing the workforce by cutting a further 11,000 to 16,000 jobs so the total layoffs could be as much as 50,000. Whitman said the layoffs will result in additional annual savings of $1 billion for HP.
Chief Financial Officer, Cathie Lesjak explained that 41,000 employees will leave the company by end of October 2014, and the rest in FY 2015. This means HP will start to experience the positive impact on its bottom-line due to these cost savings immediately in the next fiscal year. HP earned $7.13 billion in operating income in FY 2013 so an improvement of $3 billion or more from restructuring will be greatly significant to the company's earnings in FY 2015.
Prospects are Bright in the 3D Printing Market
HP is the market leader in 2D printing, occupying around 40% of the total market. The printing business is an essential segment of HP, contributing about 42% of the company's operating profit despite making up just about one fifth of its net revenue.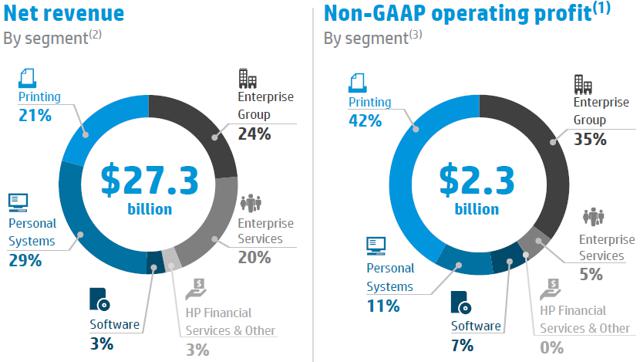 Source: Q2 FY 2014 Earnings Presentation
In March 2014, CEO Meg Whitman announced that the company would enter the commercial 3D printing market later this year. She confirmed that the company had solved major technical problems that previously hindered the adoption of the technology. Whitman says that entering the 3D printing market is consistent with HP's heritage.
Three-dimensional printing is a nascent industry. While the technology has been around for about a decade, its popularity and adoption in manufacturing is a relatively recent trend. Presently, there are small players such as 3D Systems (NYSE:DDD) and Stratasys that operate in this industry and the absence of any large player makes it even more lucrative for HP to enter. Furthermore, the 3D industry is growing fast. HP estimates that worldwide sales of 3D printers, software, and services will grow five-fold in less than 10 years from $2.2 billion in 2012 to around $11 billion in 2021.
In May 2014, Whitman clarified that HP intended to focus on business 3D printing not consumer 3D printing. With more than $15 billion in cash at the end of April 2014 and vast expertise in printing, HP is well positioned to make a mark in this nascent industry. The current technology is mainly used for industrial prototyping, however, once businesses start becoming familiar with 3D printing, the technology matures, and costs decline, the technology is expected to find rapid penetration in different industries such as architecture, defense, and medical products as well as in consumer use. The CEO likened entry into this industry to an acorn that HP was planting that would become an oak tree in the future.
CEO's Vision Leads HP into the Future
The job cuts were necessary as HP was over-staffed. Whitman says the company's bloated headcount was the result of several mergers and acquisitions that HP went through when it acquired Compaq in 2002, Electronic Data Systems "EDS" in 2008, and a number of software companies over the years. Whitman says the acquisitions were never integrated and there are still big pockets of inefficiencies in the company.
The CEO also emphasizes innovation as she announced in May 2014 that HP would enter the 3D printing market by the end of fiscal year 2014. Whitman said that innovation was at the heart of her strategy to turn HP around as the company also launched its cloud portfolio of products and services, named HP Helion in Q2 FY 2014.
Whitman sees HP as an efficient and innovative growth company and from the decisions the company has taken in the last three months HP seems to be headed in the right direction to achieve that vision.
HP is Offering Great Value for Shareholders
HP is currently trading at a ridiculous forward P/E of 8.7x. This discount to valuation exists because the company has failed to grow for the last three years. In fact, both revenues and EPS are on a downward slope. However, recently management has enacted tough initiatives which in my opinion have the potential to start creating value for shareholders going forward. In addition to the significant upside due to cheap valuation, HP offers a 1.9% dividend yield and also rewards shareholders with share repurchases. The company bought back $831 million in stock in Q2 FY 2014. The CFO, Cathie Lesjak, said during an earnings call that the company is committed to returning at least 50% of full-year free cash flow to shareholders in the form of dividends and stock repurchases.
Final Word
Hewlett-Packard has been a dull company to invest in ever since the new CEO, Whitman, took charge in September 2011. However, she inherited a mess and has made difficult and effective decisions in her effort to put the company back on track. I see huge savings by cutting the excessive workforce and the new venture into 3D printing is a vast market to develop and benefit from. In the earnings conference call on May 22nd, 2014, CEO Whitman said that HP's turnaround remains on track. I fully agree and recommend buying the stock.
Disclosure: I have no positions in any stocks mentioned, and no plans to initiate any positions within the next 72 hours. I wrote this article myself, and it expresses my own opinions. I am not receiving compensation for it (other than from Seeking Alpha). I have no business relationship with any company whose stock is mentioned in this article.