The following is a list of short squeeze candidates, based on the following criteria:

All of these stocks are in a new uptrend, defined by the ADX indicator moving above the +20 line (i.e. strengthening uptrend). As these rebounds gather strength, shorts might have to cover their positions, adding more momentum to the rebound. ADX data sourced from Stockcharts.com.

All of these stocks have sufficient liquidity, with current ratios above 1.5. In addition, each stock has a short ratio above 4 days, which means that more than 4 days of average volume is needed to cover all short positions. Current ratio and short float data sourced from Finviz.

And lastly, the stocks mentioned below have conservative and transparent accounting practices, based on ratings developed by forensic accounting firm Audit Integrity. The Accounting and Governance Risk (NYSE:AGR) rating is a forensic measure of the transparency and reliability of a corporation's financial reporting and governance practices. The closer to 100, the better the AGR score.

All the stocks mentioned here have AGR scores above 80, i.e. more conservative and transparent accounting practices than most other firms.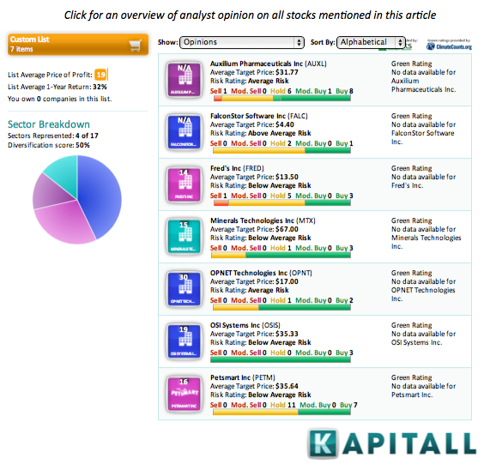 The list has been sorted by AGR scores.

1. Fred's Inc. (NASDAQ:FRED): Discount and Variety Stores Industry. Market cap of $464M. Short float at 9.65%, which implies a short ratio of 13.2 days. Current ratio at 2.76. AGR score at 96. The stock has lost -3.13% over the last year.

2. Auxilium Pharmaceuticals Inc. (NASDAQ:AUXL): Drug Related Products Industry. Market cap of $1,309B. Short float at 25.25%, which implies a short ratio of 14.83 days. Current ratio at 3.51. AGR score at 95. The stock has lost -5.11% over the last year.

3. OPNET Technologies Inc. (NASDAQ:OPNT): Application Software Industry. Market cap of $352M. Short float at 3.43%, which implies a short ratio of 5.84 days. Current ratio at 2.94. AGR score at 95. The stock has gained 75.11% over the last year.

4. OSI Systems, Inc. (NASDAQ:OSIS): Semiconductor Equipment & Materials Industry. Market cap of $579M. Short float at 5.76%, which implies a short ratio of 5.75 days. Current ratio at 2.42. AGR score at 86. The stock has gained 88.36% over the last year.

5. Minerals Technologies Inc. (NYSE:MTX): Synthetics Industry. Market cap of $1,047B. Short float at 3.28%, which implies a short ratio of 4.27 days. Current ratio at 4.14. AGR score at 85. The stock has gained 29.66% over the last year.

6. Falconstor Software Inc. (NASDAQ:FALC): Business Software & Services Industry. Market cap of $173M. Short float at 4.18%, which implies a short ratio of 8.96 days. Current ratio at 2.79. AGR score at 83. The stock has lost -20.92% over the last year.

7. PetSmart, Inc. (NASDAQ:PETM): Specialty Retail Industry. Market cap of $4,092B. Short float at 4.88%, which implies a short ratio of 4.69 days. Current ratio at 2.03. AGR score at 82. The stock has gained 68.67% over the last year.

Disclosure: No positions