Fortress Investment Group (NYSE:FIG), an alternative asset management firm, is involved in a highly competitive industry. The business line involves things such as private equity, currency trading, and hedge funds. Michael Novogratz, who is also a principal, managed the #1 ranked fund during much of 2013; though his performance's tailing off could signal sluggishness for the corporation. There are also other employees who are particularly important to investors.
The firm generates revenues through fees for managing assets. A graphic showing recent figures follows (Source: Press Release). Incentive income, the largest source, involves pay per performance: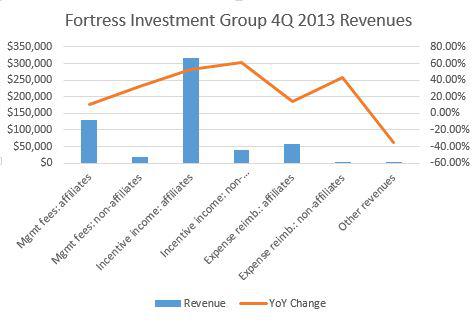 The Sell Side!
Goldman Sachs has been maintaining a Neutral rating on Fortress. (Other tickers that fit in its alternative grouping are CG, KKR, OAK, and OZM). Some may wish to consider Blackstone (NYSE:BX) as it is rated a Conviction Buy.
However, in its 11 page, May 12th report on the industry, Goldman says that "Stronger M&A means more distributions, sooner for alternative investors." In many stocks this would mitigate downside risk. Goldman also observes that public portfolio company performance has been more mixed, and it has its greatest impact on FIG and Apollo Global Management (APO; third graphic below). Apollo, which declared a cash distribution of $0.84 in Q1, and KKR, could have higher yields than Fortress's 4.53%; so it is difficult to say shares are at a nadir.
To value alternative asset managers, Goldman has lowered price targets and has a 6x average performance fee multiple, down from 7x. Here is a table comparing peer firms:

Though rated Neutral, FIG has the highest upside to its price target in the table below.

On May 6th, the SEC gave indication of greater regulatory scrutiny to private equity firms; however, Goldman thinks the risk is low. It is concerned with public securities. Here is one last helpful graphic from the investment bank's recent report showing above average exposure:

More broadly, consensus analyst estimates continue to show the stock at ridiculously low multiples: under 9.4x 2014E earnings with a 52% five year growth rate. (Estimates have been lowered over the past 60 days). Also, any growth rate over 40% can be difficult for a firm to maintain. However, even if Fortress falters to a reasonably fast 20%, the publicly traded partnership could be cheap. The median price target has actually increased to $11, from $10.63 months ago, and the low of $8 is above the current price of $7.06!
Financial Condition
The company's balance sheet is particularly strong. It has over $1.4 billion in cash and short term investments. There is no long term debt. (There has also been a ~ $35 million increase in net deferred tax assets to $391 million, which can lower future taxes). There is a $150 million revolving credit facility, and the firm can borrow to a specified ratio. Leverage is topical; particularly for the company's funds.
A current graphic from YCharts compares book values as a percentage of assets (shareholders equity has dropped $101 million through repurchasing) between alternative managers: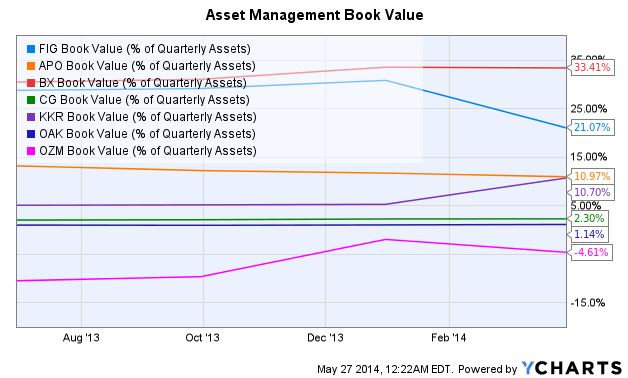 Capital Returns to Shareholders
Fortress has recently bought back a considerable amount of stock. Prior to FIG's recent decline and insider selling, it completed a 60 million share repurchase from Nomura (NYSE:NMR), contributing to 112 million shares repurchased in 14 months (I, II). The May 1, 2014 earnings Press Release specifies 60.6 million, or 12% of dividend paying shares, retired in 1Q 2014. Making $0.32 distributions to investors, it should save $19.39 million in annual payments.
Here is how YCharts records changes in outstanding shares (Per the Press Release, there are now 229 million weighted average class A shares, compared to 504 million in the previous quarter):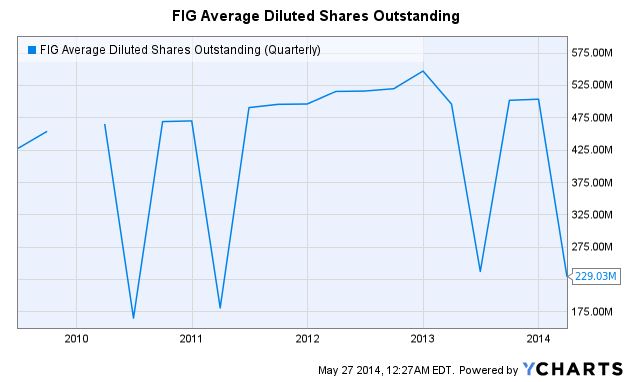 Again, the yield is currently 4.53%. It pays $0.08 four times a year, and has increased the distribution in Q1 since 2012. It has most recently gone ex-dividend on May 9th. A future increase and special dividend would be nice. Using a Dividend Discount Model, based on a CAPM with a 2.54% Risk Free Rate, Beta of 2.17, and a Market Risk Premium of 3.47%, the market appears to be pricing shares for a 5.5% increase: to $0.34 annually:

Risks
There are over 450 million diluted Class A shares. Employees have rights to approximately 157 million and the stock can find its way onto the market. Also, principals own 226 million Operating Group units and can exchange directly owned units for Class A shares at any time. As mentioned above, a relevant transaction occurred on March 18th, and the share price has not recovered.
Declining fund performance means lower revenues. Profitability can also fluctuate. It might be ironic that one of the existing concerns involves what the corporation is to do with available money, sometimes referred to as "Dry powder," as there could be a lack of worthwhile places to deploy it.
Another notable consideration is "key man risk." Hedge fund investors can redeem without incurring fees if certain persons cease to perform duties. Peter Briger, Wesley Evens, Randal Nardone, and Adam Levinson are among those specified as important in the company's Form 10-Q. Novogratz, who tends to appear in the media, has been a proponent of Bitcoin and cited the human capital involved in it -- something other business people can fail to recognize or emphasize -- while digital currency is described as speculative in the company's SEC paperwork.
Option Strategies
An investor in Fortress can enhance his or her income, in exchange for limiting potential appreciation, by writing a covered call(s). It is one of varied option strategies that might be employed. Specifically, anyone selling the right to buy his or her shares at a set price within a set amount of time might keep in mind the opportunity to place a collar around November.
A collar trade involves little risk. The method is to sell a long term ("LEAP") option; and simultaneously obtain insurance through purchase of a put with the same expiration, that is typically just in the money. (An approximate and hypothetical situation would be that shares would be priced at $8.75; a $9 January 2016 put could be bought, and a $10 or $11 call sold). Distributions would be collected over the following 14 months, and perhaps reinvested, while appreciation of the stock would be enjoyed as high as the short call's strike price.
Variations and adjustments can be made in order to meet specific risk or reward criteria. Some daring traders might use a calendar put spread as a variation; in some situations, conservative investors might be able to sell a call at a lower strike price.
There are considerations. If the dividend continues to appear safe, it should mitigate some risk. The central (median or mean) 12 month price target could have bearing: perhaps sale of an $11 call would make sense if the target is $11.
Similar tactics might be employed with Cypress Semiconductor (NASDAQ:CY), among others. In fact, Cypress may be safer; though it has not had the money to repurchase its shares recently.
Final Remarks
Fortress Investment Group offers a notably high yield. It is run by some people who have the wherewithal to keep ahead of financial markets and profit through them. They have chosen to return capital to shareholders through considerable buyback activity.
Yet there are several risks and considerations. Option strategies can be used make the situation safer as some might cautiously observe with November in mind.
Disclosure: I am long FIG, CY. I wrote this article myself, and it expresses my own opinions. I am not receiving compensation for it (other than from Seeking Alpha). I have no business relationship with any company whose stock is mentioned in this article.