Capstone Turbine (NASDAQ:CPST) shareholders are used to volatility. After the microturbine energy systems manufacturer announced an equity offering, Capstone's share price went into free fall. Add to that, weaker-than-expected results leading to cash strains which in turn required a waiver from one of its lenders. The good thing about all this: All of these events are short-term in nature, have been adequately addressed by management, but they continue to cloud the attractive growth prospects of the company.
The company's press release on May 7, 2014 highlighted the current battles that Capstone is fighting on multiple fronts:
Our expected annual revenue growth of 4% in fiscal 2014 was slower than in recent years but still reflects an impressive compounded annual growth rate of 30% since fiscal 2007. Fourth-quarter 2014 revenue was the second highest in company history and 3% higher than the year-ago quarter. Healthy new order flow pushed our backlog to an expected record of $171.6 million as of March 31, 2014. Ending backlog is a leading indicator of future revenue growth, and coupled with expanding markets and market opportunities, exciting developments in our product suite, and advancements in our aftermarket services business, these trends bode well for our revenue and margin expansion opportunity in fiscal 2015 and beyond. Likewise, as customers continue to migrate toward larger units and larger projects, Capstone's crossover to positive EBITDA and cash flow is forthcoming.

When considering our potential net cash position and potential future working capital swings as we continue to grow the business, we felt it was prudent to strengthen our balance sheet with the necessary working capital to execute our record level of product backlog. While initially we were not in compliance with our Wells Fargo credit facility based on our fourth quarter preliminary results, we have already received a waiver from our lender and now have ample cash to service our future obligations.
As the press release correctly emphasizes, Capstone Turbine's financial performance is respectable. Annual revenues stood at $21 million in 2007 and increased to $133 million in fiscal year 2014: A CAGR of 30% in terms of sales. Over the same time period, product backlog skyrocketed from $5 million in 2007 to $172 million in 2014 -- a strong indicator that its microturbine products are in a high demand and its business is solidly positioned for future growth.
Recent market panic put into context
It is always easy to panic over corporate events such as a share offering, but I think investors should make an effort to see past those one-time circumstances. In the case of Capstone, market panic has determined the share price and I believe Mr. Market has driven the share price way too low.
There is a much higher than average chance, that, with the benefits of hindsight, investors will come to appreciate the most recent equity offering which certainly led to a better balance sheet and a cash position that has been improved by $30.2 million from the offering's net proceeds. Over time, investors should realize that Capstone's strategic move strengthened not only the company's finances, but also the company as a whole giving it a better foundation to fund its growth projects. As the old saying goes, "You will get over it" also applies to dilutive equity offerings.
Shares of Capstone Turbine now quote at about the same price as they were quoting at the beginning of the year. Investors clearly overreacted to Capstone Turbines' common stock offering and took 34% off the company's market capitalization, the recent market sell-off is a textbook example of a contrarian investment opportunity. Strong BUY.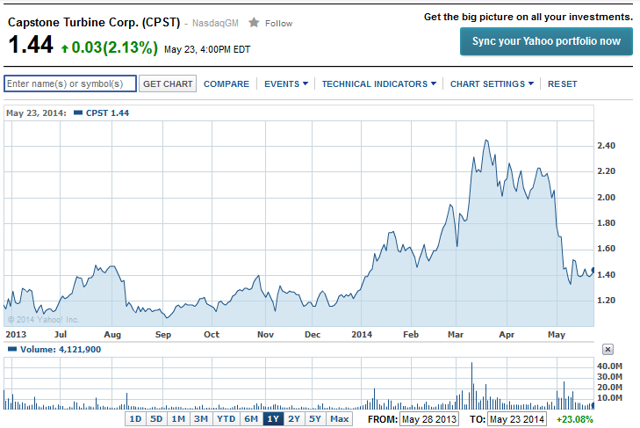 (Source: Yahoo Finance)
Disclosure: I have no positions in any stocks mentioned, and no plans to initiate any positions within the next 72 hours. I wrote this article myself, and it expresses my own opinions. I am not receiving compensation for it (other than from Seeking Alpha). I have no business relationship with any company whose stock is mentioned in this article.