Overview
Back in February, I wrote an article discussing 5 reasons why Coca-Cola (NYSE:KO) is a strong buy for long-term investors. In that article, I discussed the company's dividend, the current bull market, earnings, innovation, and PE ratio. Since that article was published, you can see that Coca-Cola has outperformed the S&P 500.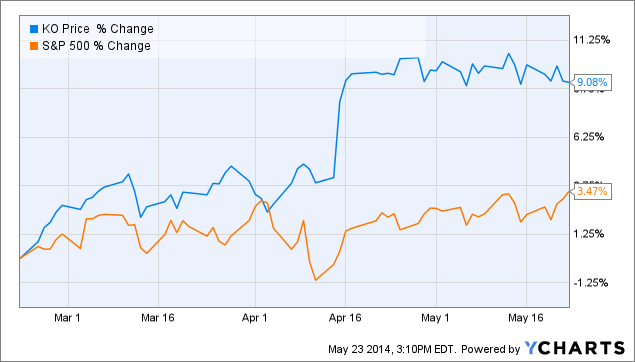 In this article, I will discuss five additional reasons as to why Coca-Cola remains a strong buy for long-term investors.
Reason #1: Partnerships/Relationships
Coca-Cola has too many partnerships and beneficial relationships with other companies to list out here, but to put this into perspective, realize that Coca-Cola currently sells its products in four out of the five top restaurants in the United States (based on sales). The restaurants are McDonald's (NYSE:MCD), Subway, Burger King (BKW), and Wendy's (NYSE:WEN). Starbucks (NASDAQ:SBUX) is the #3 restaurant in that list, and is the only one out of the five that doesn't sell Coca-Cola products.
This doesn't end with restaurants, Coca-Cola is the dominant force in terms of available drinks in other venues as well, such as movie theaters. With the top 4 movie theater chains accounting for roughly 50% of the screens in North America, Coca-Cola is the offered brand in all four (Regal, AMC, Carmike, and Cinemark).
Reason #2: Margins
Through size, strong management, cost controls, and great product and price mixes, Coca-Cola continues to be able to see strong margins that provide a higher level of safety compared to some of its competitors.
Looking at the chart below, you can see how well Coca-Cola's profit margin stacks up.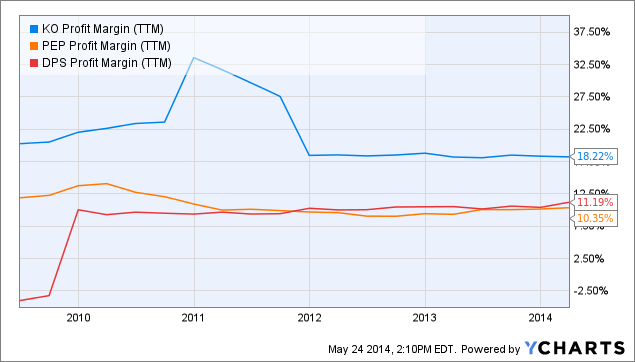 KO Profit Margin (TTM) data by YCharts
In the following charts, you can see that Coca-Cola's gross profit margin, operating margin, and EBITDA margins are considerably higher than PepsiCo (NYSE:PEP) and Dr Pepper Snapple Group (NYSE:DPS).
KO Gross Profit Margin (TTM) data by YCharts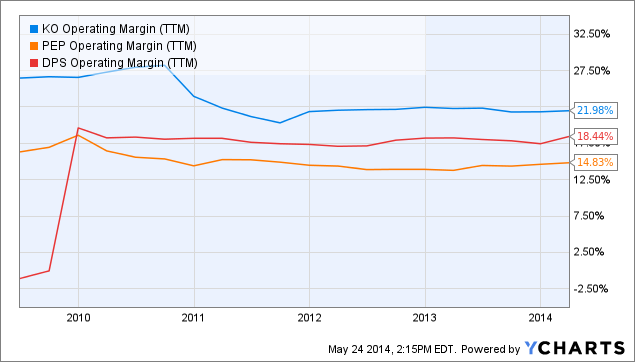 KO Operating Margin (TTM) data by YCharts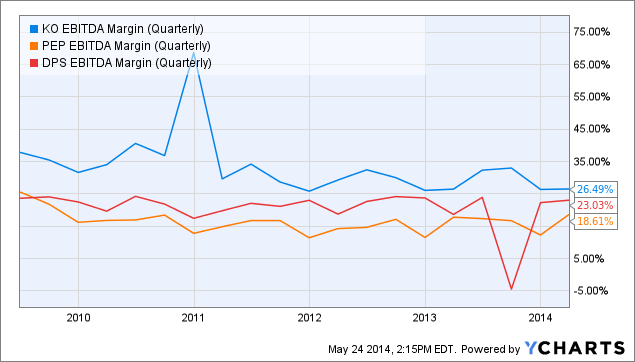 KO EBITDA Margin (Quarterly) data by YCharts
Reason #3: Cash
From free cash flow to operating cash flow per employee, Coca-Cola's cash control stacks up well against its competitors. Take a look at the charts below to see how the company has fared the past five years in various cash categories.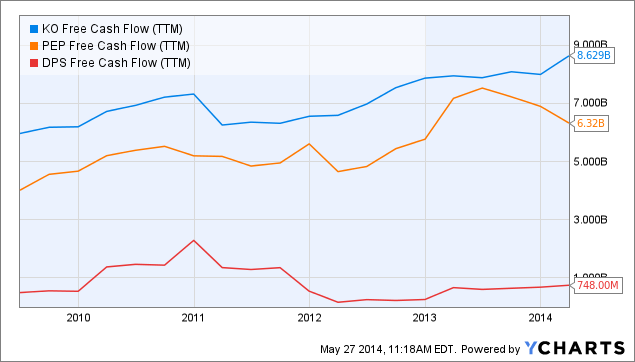 KO Free Cash Flow (TTM) data by YCharts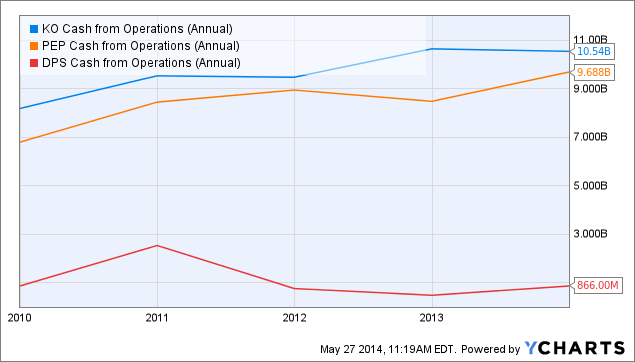 KO Cash from Operations (Annual) data by YCharts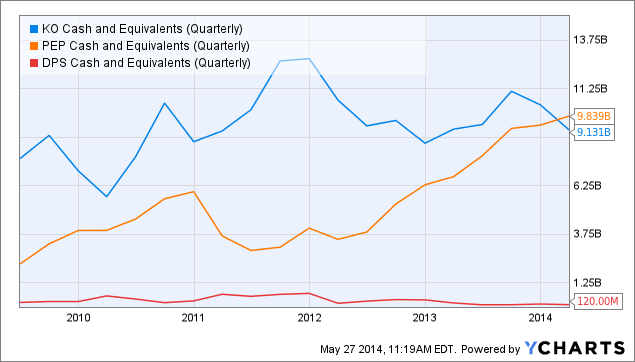 KO Cash and Equivalents (Quarterly) data by YCharts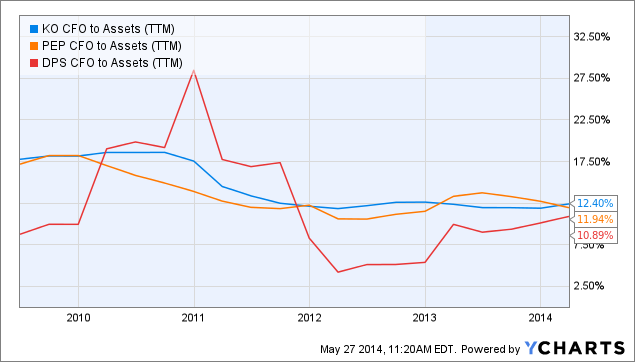 KO CFO to Assets (TTM) data by YCharts
Reason #4: Balance Sheet
Throughout the years, Coca-Cola has been able to maintain a strong and healthy balance sheet. In addition to a low liabilities to assets ratio, the company has also managed impressive retained earnings, book value, and increased goodwill.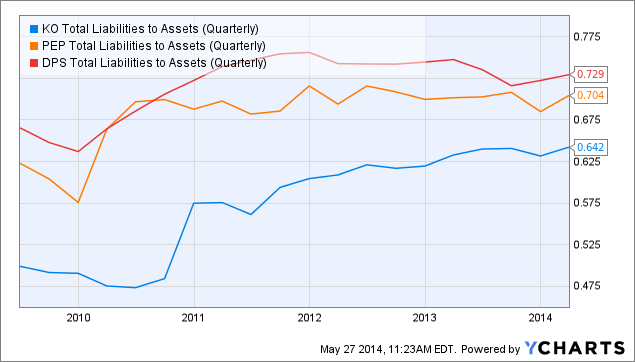 KO Total Liabilities to Assets (Quarterly) data by YCharts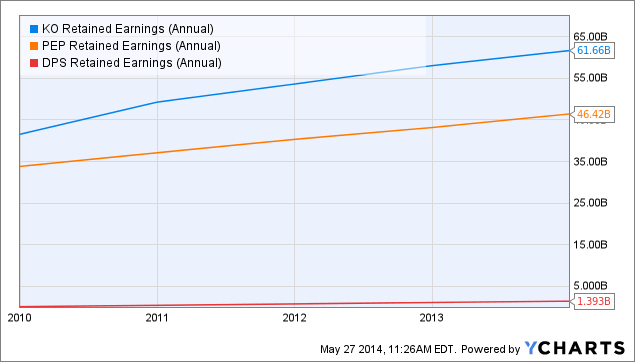 KO Retained Earnings (Annual) data by YCharts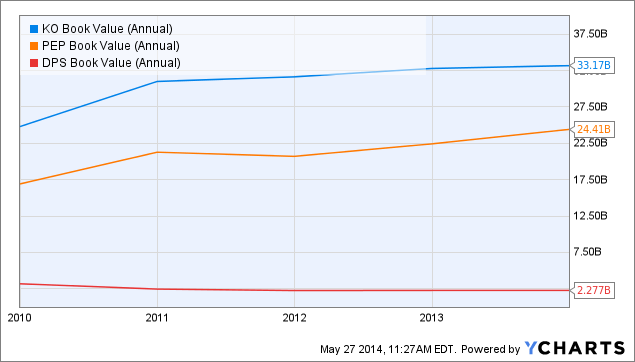 KO Book Value (Annual) data by YCharts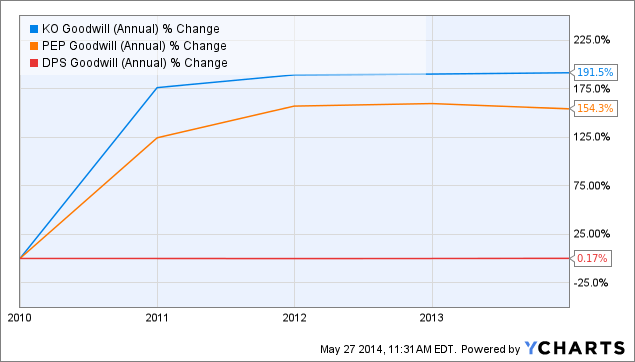 KO Goodwill (Annual) data by YCharts
Reason #5: Emerging Markets
According to the company's latest quarterly report, volume in developed markets was down 1%, while volume in developing/emerging markets grew 3%, with significant growth in both China and Brazil. Volume in both India and Russia was up as well. According to Bloomberg, Brazil is the 17th ranked emerging market, Russia is #9, and China is #1.
So while, Coca-Cola attempts to reverse the slowing demand for its products in America and other developed nations, their remains strong demand in several emerging markets. I believe that several of these markets will lead to significant growth down the road for the company as it continues to market and brand its products throughout the world.
Conclusion
While there have been some valid concerns related to Coca-Cola, due to declining sales in soda, especially diet soda, I feel that the company is making a strong push to overcome and eventually negate those impacts. Coca-Cola continues to increase its product portfolio, and the sales of the non-soda items such as juices and teas have performed well.
I believe that this combined with the ten reasons I've discussed (five in this article, five in the prior article) continue to solidify Coca-Cola as a solid long-term buy opportunity for investors. It is a stock that I will continue to look to add to in the future. As always, I suggest individual investors perform their own research before making any investment decisions.
Disclosure: I am long KO. I wrote this article myself, and it expresses my own opinions. I am not receiving compensation for it (other than from Seeking Alpha). I have no business relationship with any company whose stock is mentioned in this article.