Overview
In this series of articles, I will be identifying which stocks for various S&P industries are best suitable for income investors, based on dividend growth and yield. For Part 15, I will be taking a look at Healthcare Facilities stocks. These stocks include:
The following stocks do not currently pay a dividend: DaVita, Laboratory of America, and Tenet Healthcare.
When ranking the dividend paying stocks by yield, the order is as follows:
Quest Diagnostics - 2.29%
Patterson Companies - 2.05%
DENTSPLY International - 0.57%
When ranking them by dividend growth over the past five years, the order is as follows:
Quest Diagnostics - 230%
Patterson Companies - 100%
DENTSPLY International - 32.50%
Based on dividend yield and growth, I don't consider DENTSPLY International as a suitable option for income investors.
Quest Diagnostics has the more impressive dividend growth as well as a slightly higher yield.
When looking at revenue growth over the past five years, you can see that Quest Diagnostics' revenue has actually dropped, while Patterson Companies' revenue has seen fairly impressive revenue growth.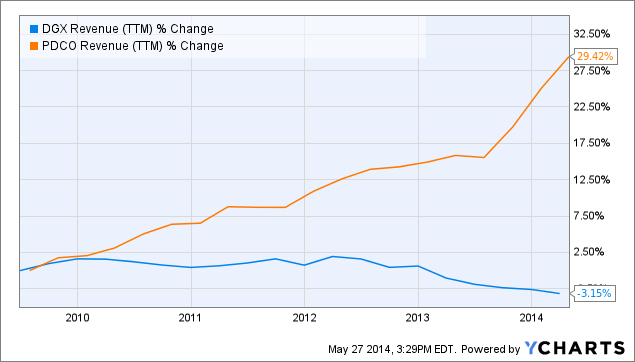 DGX Revenue (TTM) data by YCharts
In terms of earnings, Patterson Companies has seen the more consistent growth, while Quest Diagnostics has seen the higher overall growth.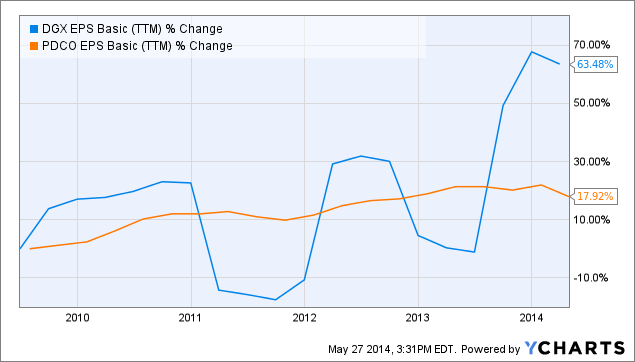 DGX EPS Basic (TTM) data by YCharts
Both companies have nice payout ratios, but Quest Diagnostics' ratio is lower.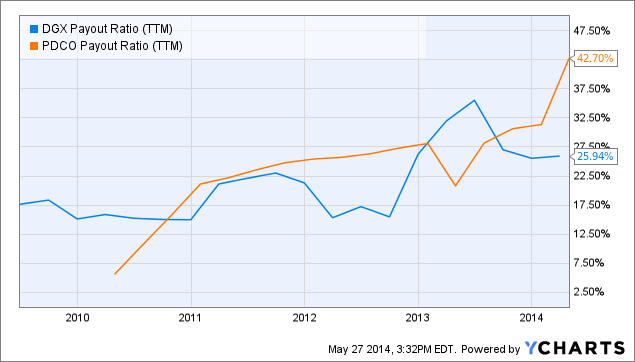 DGX Payout Ratio (TTM) data by YCharts
Conclusion
With the lower yield and the lower dividend growth, I don't see any evidence in the company's financials or revenue/earnings growth strong enough to justify choosing Patterson Companies over Quest Diagnostics as an income investment. Because of that, I believe Quest Diagnostics is the best choice out of this group of stocks for a long-term income investment.
The company has struggled to see long-term revenue growth, but is in a current growth stage. According to the company's recent quarterly report, it has completed seven acquisitions since the beginning of 2013. I believe that the acquisitions of Solstas, Summit Health, and others will help lead to long-term revenue growth.
As you can see from the chart below, Quest Diagnostics is trading at an attractive PE valuation compared to historical prices.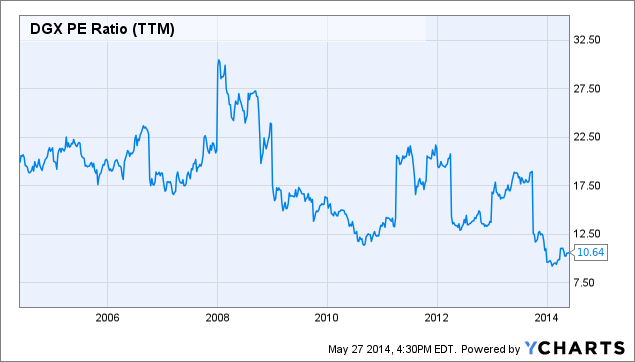 DGX PE Ratio (TTM) data by YCharts
When you add in management's continuing commitment to returning a large portion of free cash flow to shareholders through dividends and share repurchases, I have no hesitations about recommending Quest Diagnostics as a great option for long-term income investors. As always, I suggest individual investors perform their own research before making any investment decisions.
Disclosure: I have no positions in any stocks mentioned, and no plans to initiate any positions within the next 72 hours. I wrote this article myself, and it expresses my own opinions. I am not receiving compensation for it (other than from Seeking Alpha). I have no business relationship with any company whose stock is mentioned in this article.