We've heard a lot of talk recently about Sprint (NYSE:S) making a move for T-Mobile (NASDAQ:TMUS). The #3 and #4 US wireless carriers need to band together, as some speculate that one will disappear if they try to battle on their own. As a bitter price war continues, these two names cannot compete with Verizon (NYSE:VZ) and AT&T (NYSE:T) on their own. For those that don't believe a deal is coming soon, Sprint may provide a potential short opportunity. Today, I'll detail why.
"Framily" plan - not competitive for 4 people:
Even if you only watch a small amount of television, you've probably seen a ton of commercials for these four wireless carriers. Sprint keeps pushing its "Framily" plan, commercials highlighted by a family led by a hamster. Some of Sprint's commercials also feature NBA superstar Kevin Durant and NASCAR driver Jeff Gordon. You've probably seen AT&T's commercials with salesperson Lily, and perhaps former NBA player Grant Hill. Some of these commercials were funny or cute the first couple of times, but when you see them dozens of times a week, they get rather annoying.
Anyway, Sprint's Framily plan offers a low monthly rate if you can get a large group of people together. The plan offers unlimited talk and text, plus a GB of data per line, and the price drops as you get more people, as you can see in the graphic below.

Click to enlarge
(Source: Sprint website)
For a family of four, Sprint's plan is not competitive. The same $160 Sprint plan costs just $100 with T-Mobile. Additionally, for the same four phones, Verizon and AT&T offer more data than Sprint does. You can see a number of comparisons from Consumer Reports in this article. For example, AT&T offers a $160 plan for four that offers 10GB of data between the four phones. Sprint needs to be more competitive here, and that means driving down prices further.
Losing subscribers and ARPU:
If you look at the opening of Sprint's Q1 earnings press release, you don't see any information about subscriber growth or revenues per user. Sprint reported a loss of 383 thousand subs on the Sprint platform, and a total loss of 467 thousand wireless subs. Churn rates were also higher than the Q4 2013 and Q1 2013 levels. Perhaps just as negative was the report on average revenues per user. The chart below, taken from the above press release, worries me a bit.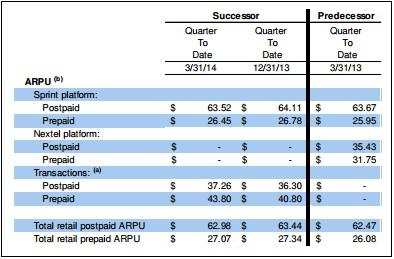 Note "a" - "We (Sprint) acquired approximately 352,000 postpaid subscribers and 59,000 prepaid subscribers through the acquisition of assets from U.S. Cellular when the transaction closed on May 17, 2013. We acquired approximately 788,000 postpaid subscribers, 721,000 prepaid subscribers, 93,000 wholesale subscribers and transferred 29,000 Sprint wholesale subscribers that were originally recognized through our Clearwire MVNO arrangement to Transactions postpaid subscribers as a result of the Clearwire acquisition when the transaction closed on July 9, 2013."
Note "b" - "ARPU is calculated by dividing service revenue by the sum of the average number of subscribers in the applicable service category. Changes in average monthly service revenue reflect subscribers for either the postpaid or prepaid service category who change rate plans, the level of voice and data usage, the amount of service credits which are offered to subscribers, plus the net effect of average monthly revenue generated by new subscribers and deactivating subscribers."
Not only did Sprint lose subscribers in Q1, but the average revenue per subscriber dipped a bit as well. With these "Framily" and other plans that go as low as $25, the average is likely to head lower. Don't forget, if Sprint loses a $75-a-month sub, the company needs to add three $25-a-month subs just to make up the revenue shortfall. If current Sprint customers trade down to cheaper plans, these numbers will continue to decline. With a price war continuing, I don't see how Sprint's ARPU numbers will rise anytime soon. Unless Sprint starts to generate meaningful subscriber growth, revenues will be stagnant for quite some time.
Declining revenues, more losses, high debt:
During Q1, Sprint reported revenues of $8.875 billion. That was down about $267 million sequentially from Q4 2013, and current estimates show more sequential declines coming. If the company's plans are not competitive, subscriber losses will continue. If you combine declining subscribers and declining average revenues per subscriber, the total revenues will not head in the right direction. Additionally, Reuters recently reported that T-Mobile had passed Sprint as the #3 smartphone buyer in the US during Q1. Reuters states that T-Mobile's aggressive pricing is working, while a market researcher stated that "Sprint doesn't have that much demand to sell into". Neil Shah, an analyst at Counterpoint Technology Market Research, believes that Sprint will have to up its strategy.
On the flip side, Sprint's losses have come down, but the company is still losing money. Estimates don't call for the company to be profitable this year or next, and if Sprint needs to be more aggressive with discounting, losses could accelerate. This isn't a short-term issue for Sprint, as losses have been in the billions for a number of years.
At the same time, the balance sheet continues to get weaker, and the company has to spend mightily to upgrade its network that is behind industry peers. Sprint had negative free cash flow of more than $1 billion in Q1, and about $4 billion in the past six months. Net debt rose by more than $1 billion in Q1, and now stands at more than $26.5 billion. With the company targeting capital expenditures of roughly $8 billion in 2014, negative free cash flow will continue for the indefinite future. In the next couple of years, billions in debt start to come due.
What's the trade here?
Sprint is a risky investment in the sense that you are betting solely on a share price rise. The company does not have a dividend, so investors get no income or level of safety. Verizon offers an annual dividend yield near 4.3%, with AT&T above 5.2%. Those names are also not as volatile as Sprint, so you won't see shares drop 30% in a short period of time.
Sprint could be in trouble if it remains solo, as T-Mobile continues to grab subscribers in a big way. However, every time these rumors pop up about Sprint buying T-Mobile, Sprint shares rise. Sprint is at the higher end of its yearly range, as you can see in the chart below.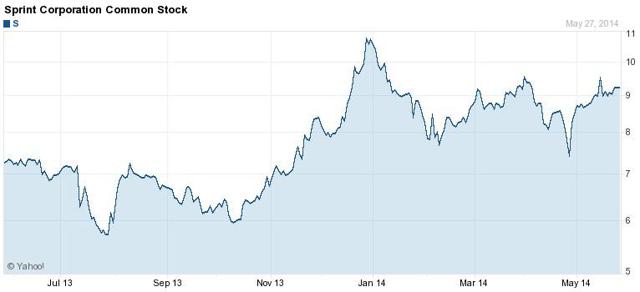 Click to enlarge
(Source: Yahoo Finance)
In late April, Sprint shares dropped to a low of $7.38, a large fall from the $11.47 high reached in late December 2013. If T-Mobile continues to steal subs, Sprint results might come in poor over the next quarter or two. An interesting trade currently might be to short the stock and sell out-of-the-money puts (maybe $9 strike for November 2014). In this trade, you make money to a point as Sprint shares go down, but you also hedge yourself a bit should shares rise in price. Right now, you could sell the November $9s for $1.10 each.
Now, there was some interesting options activity recently that leads some to believe Sprint shares will spike. A large number of June $11 calls were bought last week, prompting some to believe Sprint shares are about to spike. For this reason, I do believe it might be wise to see if Sprint rises to the $10 to $11 range over the next few weeks, then execute a short sale and an associated options trade. Perhaps if we get another T-Mobile rumor spike, that will be your chance to execute this trade.
Final thoughts:
Sprint may need T-Mobile now more than ever. T-Mobile seems to be stealing market share with its aggressive pricing, while Sprint lost subscribers in Q1 this year. Sprint's Framily plan for four people doesn't stack up, and lower revenue subs could take away from total revenues. The company continues to lose money and burn through cash. With shares over $9, a short opportunity does exist, but I'd prefer investors wait for a little more pop before shorting. I also think selling puts may be a good idea. If Sprint cannot get a T-Mobile deal done rather soon, investors will focus again on Sprint's results, which lately have not been great.
Disclosure: I have no positions in any stocks mentioned, and no plans to initiate any positions within the next 72 hours. I wrote this article myself, and it expresses my own opinions. I am not receiving compensation for it (other than from Seeking Alpha). I have no business relationship with any company whose stock is mentioned in this article.
Additional disclosure: Investors are always reminded that before making any investment, you should do your own proper due diligence on any name directly or indirectly mentioned in this article. Investors should also consider seeking advice from a broker or financial adviser before making any investment decisions. Any material in this article should be considered general information, and not relied on as a formal investment recommendation.