The Dun & Bradstreet Corporation (DNB) announced the acquisition of a privately held member of the D&B Worldwide Network, Dun & Bradstreet Australia Holdings Limited (D&B Australia) for approximately $205 million in cash.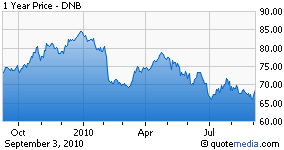 The D&B Australia is a leading provider of credit and information services in Australia and New Zealand. The company offers commercial risk, receivables management and consumer credit services throughout Australia and New Zealand that enable it to gather superior quality data for majority of business organizations.

In comparison to its competitors who are largely domestic, D&B Australia holds a large market share. The company has been increasing its revenues at a double digit pace over the past three years, and D&B expects it to maintain its high single to double-digit growth, going forward.

A major growth driver for the company has been its international business expansion. The D&B Australia's acquisition further complements the company's international expansion strategy. In the past three years, the international business has delivered consistent double-digit, top-line growth and solid margin expansion, which we believe will likely continue, going forward. Management pointed out that the acquisition of D&B Australia will drive a continued growth.

Dun & Bradstreet is well positioned to benefit from its strength in international markets through majority-owned joint ventures in Japan, China, U.K., Ireland and India and anticipates higher cross border opportunities from Australia to other regions.

The international business (about 20% of revenues or $355 million of core revenues in 2009) has been very strong in the recent past and we expect it to become a more significant part of revenues over time as customers' demand strengthens and emerging markets grow.

Almost 40% of 2009 International revenues came from Asia-Pacific, and the remaining 60% from Europe and other International markets. With the acquisition of D&B Australia, Asia-Pacific will account for about 50% of International business, and International will represent 25% (up from 20% in 2009) of the core revenues in 2010. The acquisition of D&B Australia could offset some of the weakness on its business due to the European economy debt crisis.

Management anticipates that International business will deliver double digit revenue growth in 2010, with sequential revenue growth in North America over the remainder of the year.

Dun & Bradstreet is acquiring new companies, which will help fuel organic growth in 2010 and making alliances to meet its expansion strategy and expand international operations.

With revenues of $80.0 million and an operating margin of 20.0% in fiscal 2010, D&B Australia's acquisition will provide accretive synergies to D&B in 2011. Management said that the D&B acquisition is the largest acquisition by D&B anywhere in the world since 2000. We remain highly positive on the acquisition.

The acquisition of D&B Australia is expected to impact D&B's fiscal 2010 results. Management expects the D&B Australia to provide a boost to revenues by approximately $15 to $20 million in the remaining months of 2010.

However, the company expects earnings per share (EPS) to be diluted by approximately 4 cents to 5 cents over the remaining 2010, primarily due to acquisition related charges. In addition, the deal will be marginally dilutive to 2010 operating income by approximately $3 million to $5 million, or 5 cents per share. Management expects the acquisition to be accretive in 2011.

Excluding this acquisition, the guidance for 2010 remains unchanged from previous outlook.

D&B reiterated its 2010 guidance. Core revenues are expected to be up 1% to 3%, before the effect of foreign exchange. Operating income is expected to be down 2% to up 2%, before non-core gains and charges. Growth in EPS is expected to be 1% to 6%, before non-core gains and charges. The company expects free cash flow of $240 million to $270 million, excluding the impact of legacy tax matters but including the new strategic technology investment.

We remain encouraged by D&B's growth strategy through its high margin business model, international growth potential, emerging market growth, profitability improvement measures, strategic investments, incremental cost savings and new product pipeline, impressive cash flow and increased payout that position it for long-term growth.

However, we remain cautious about the actual benefit extended by ongoing economic developments to the top line, which is not expected to grow much in 2010. Additionally, integration related risks, weakness in Europe and high debts are areas of concern.

We therefore maintain our Neutral rating over the long term. Currently, the stock has a Zacks Rank of #3, indicating a short-term Hold rating on the stock.