Investors in pharmaceutical manufacturing held their breaths for a time last week when Pfizer (NYSE:PFE) made a bid to purchase British company AstraZeneca (NYSE:AZN) for a cool $116 billion.
The move would have made the joint venture the largest pharmaceutical companies in the world. After AstraZeneca's rejection of the bid, experts fear that Pfizer's unwillingness to put more money on the table will impact investor confidence.
The Pfizer Play
Pfizer's failed effort has many investors scratching their heads. It appears that such a big move in the industry is a necessary part of the company's plan for future growth. Though AZN is significantly smaller than Pfizer, PFE would garner a favorable tax position, a motivation they denied repeatedly when answering questions by the British government.
However, the $93 per share price proved to be insufficient temptation for AstraZeneca to go forward with the deal, and further agreements between the two companies seems unlikely in the near term.
Astrazeneca Draws A Line
Pfizer CEO Ian Read defended the latest bid, insisting it represented full value for AstraZeneca, but AZN feels it has a number of promising drugs in the pipeline that makes the company worth significantly more than the Pfizer bid. AstraZeneca's shares slid after Pfizer dropped its bid, but the company remains firm on maintaining the best prospects for their shareholders.
Background On Pfizer's Performance
Pfizer has had uneven stock performance over recent years.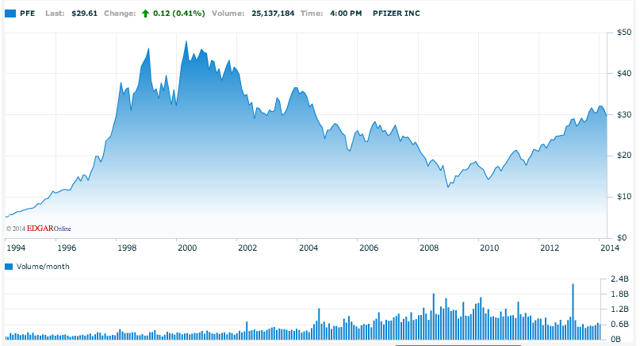 (Nasdaq.com)
Scottish-born Read took over the CEO position in 2010 and implemented a number of cuts and spin-offs tailored to re-position the company for future growth. His strategy has worked for the company, and analysts speculate that the bid for AZN is an attempt to leap to larger growth from the company's current smaller base.
However, Read is known for his slow and steady leadership style, which can take setbacks like the AstraZeneca refusal in stride. Add to the mix, the United Kingdom's restrictive rules on takeovers, which will allow AZN to reach out to Pfizer in three month's time, but prevents Pfizer from making another offer for six months. Clearly, there's no hurry to re-negotiate a deal in the light of current circumstances.
Pfizer's Failure
What this reveals about Pfizer's future prospects is telling. The company is eagerly looking for ways to defer its tax costs but is unable to make the whole-hearted effort it would take to actually accomplish this goal.
Whether this is a reflection of weak leadership or a lack of enthusiasm within the ranks is a question that will be answered by future actions.
In the meantime, PFE's stock chart shows a sharp decline.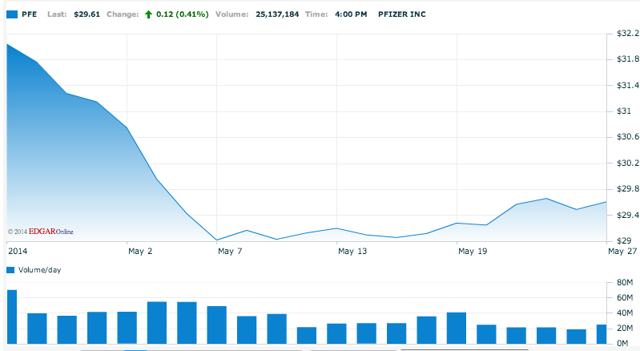 (Nasdaq.com)
Investors should take some profits in PFE in the event the company continues to report declining revenues as it has for the past five out of six quarters, and as the market has continued to punish the biotech industry.
We invite readers wishing to join the discussion on Pfizer to click the +FOLLOW button above the title of our article and add @DRDInvestments on twitter.
Disclosure: I have no positions in any stocks mentioned, and no plans to initiate any positions within the next 72 hours. I wrote this article myself, and it expresses my own opinions. I am not receiving compensation for it (other than from Seeking Alpha). I have no business relationship with any company whose stock is mentioned in this article.