Editor's note: Originally published on May 14, 2014
by Jeff Bailey
Revenue has more than doubled over the past five years. Profit has more than quadrupled. Stock buybacks have aggressively reduced shares outstanding by more than 30%. And for all of that and more, Outerwall (NASDAQ:OUTR)-- formerly Coinstar and the parent of the ubiquitous Redbox movie rental kiosks -- trades at a PE ratio less cash of less than nine.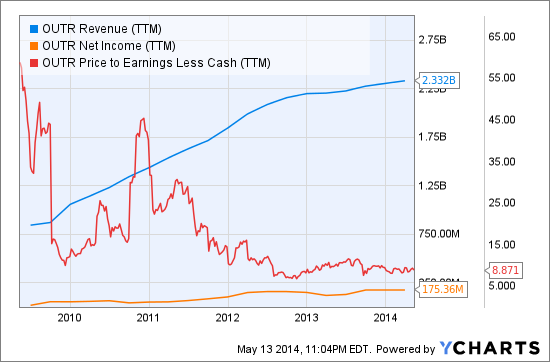 OUTR Revenue (TTM) data by YCharts
Consumers may find great utility in the Redbox business model - they rented 200 million movies and games during the first quarter alone - but many investors apparently see tomorrow's Blockbuster Entertainment, a company in danger of being disrupted out of existence.
Could be. But 45 minutes spent standing off to the side at the local supermarket, watching who rents movies from the Redbox kiosk, tells us: they're young, not the too-old-to-figure-out-Netflix (NASDAQ:NFLX) types; no, they're not wealthy in appearance, but neither are they scruffier or poorer-looking than any other bunch of under-30s. And they're quite often couples, not loners, topping off a little grocery shopping with the treat of an under-$3 movie rental. Not a bad clientele.
I've no doubt that most of the Redbox customers would prefer to be among those hooked up to Netflix, Apple TV and every other modern smorgasbord of video. They strike me as thrifty, however, not tech-averse, and I suspect Redbox or some other low-price, non-membership option will continue to hold down a piece of the home entertainment market.
Outerwall, 2013 revenue of $2.3 billion, operates three separate businesses, each one on the trailing -- rather than cutting - edge, of technology.
Redbox, accounting for nearly $2 billion of that, with 44,000 kiosks and bringing in $2.54 per rental last year.
Coinstar, bringing in the other $300 million by charging a 10.9% fee to swap your bucket of change - average transaction size about $41 -- for cash or a voucher at a store. It has about 21,000 kiosks.
ecoATM, a new venture with vending machines that buy your used cell phone or other gadget from you for cash, with about 900 kiosks so far.
The Redbox and Coinstar businesses are largely built out, so slow growth at best. Outerwall is calling for 2014 revenue of $100 million or more higher than last year. But it sees adjusted EPS from continuing operations of $6.68-to-$7.18, vs. last year's net of $6.16 fully diluted. A cost-cutting program is helping margins.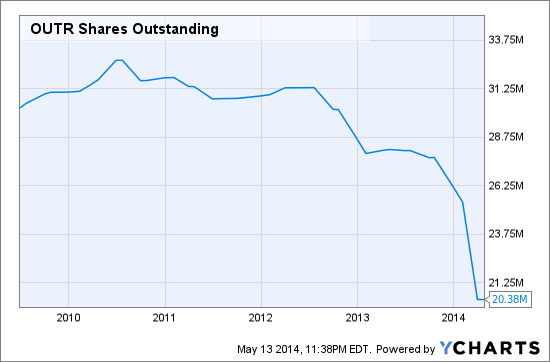 OUTR Shares Outstanding data by YCharts
There's no dividend. But buybacks - 6 million shares for $421 million during the first quarter of 2014 alone; 3.3 million shares for $195 million during 2013 - are reducing shares outstanding rapidly. Long-term debt and other long-term liabilities are up to $965 million at March 31. At current levels of profitability, that seems more than manageable. Should there be a serious business setback, the borrowing could look imprudent.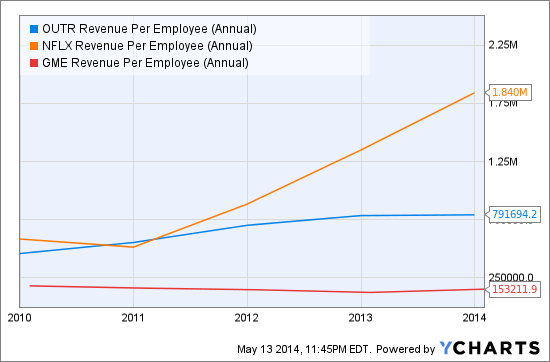 OUTR Revenue Per Employee (Annual) data by YCharts
Outerwall has 2,900 employees, about two thirds of them to run around and re-stock the kiosks and empty the change and such. The company doesn't reach the techie heights of Netflix on revenue per employee, but neither is it down in the people-intensive range of retailers such as Gamestop (NYSE:GME), another competitor.
We don't learn from the Outerwall financials exactly how much Hollywood is charging for content - agreements are in force with Warner, Sony, Fox, Paramount, Universal, Lions Gate (LGF), Summit and Anchor Bay - but we are told that as of December 31, 2013, commitments already existed to buy $565.7 million in content during 2014. Being the middleman, like Netflix and Apple (NASDAQ:AAPL) and Amazon (NASDAQ:AMZN), Outerwall is subject to being squeezed between cost-conscious consumers and studios that want top dollar for movies and shows.
Buying all those kiosks is also a big expense. At year-end, Outerwall had on hand kiosks that cost it $1.1 billion, and on which (along with some other assets adding up to less than $300 million) it had already recorded depreciation and amortization of nearly $850 million. The things apparently wear out: the coin-counting kiosks are depreciated over 2-to-10 years; and the Redbox kiosks 3-to-5 years. So, it's not like the need for cash goes away.
But the kiosks are their own advertisement, and so ad spending is minimal at $13.7 million last year. Kiosks at Wal-Mart (NYSE:WMT), Walgreen (WAG) and Kroger (NYSE:KR) combined account for about 40% of Outerwall's revenue.
What could go wrong? The Coinstar business seems pretty secure, if unlikely to grow. Redbox could get disrupted into oblivion by a better low-price movie rental option - but that will require someone to invest in the low end of the industry, which is a tough place to make a buck. And the ecoATM business - Outerwall paid about $264 million last year for the 77% of the operation it didn't already own - is little more than an expensive question mark so far. Lots of competitors are trying to buy in used phones, including original equipment manufacturers. Who knows if a vending machine will win in that market. To grow, Outerwall needs ecoATM or the next idea it chases to catch fire.
Countering all that uncertainly is a very inexpensive stock, and one that would seem to have some resilience in tough economic times. Unleash some Financial Advisor Tools to learn more.
As of April 1, the following institutions held Outerwall stakes: Blackrock 12%; Vanguard Group 10%; JANA Partners 8.4%; Fine Capital Partners 7.7%; Park West Asset Management 7.4%; TPG-Axon management 7.0%.
Disclosure: No positions