Executive Summary: Impala Platinum (OTCQX:IMPUY) is currently Vestact's least sucessful recommended stock, because we picked it in March 2008 when they were trading much higher than they are now. However, we feel strongly that environmental concerns around the world will lead to steadily rising sales of Platinum, at good prices, for autocatalytic convertors on petrol and diesel engines. Impala has the reserves to remain a major player in this industry for many decades, and has a great dividend-paying record. In time, that all time high price of R365 per share will be surpassed.
Impala Platinum reported their full year numbers to June 2010 last week, on the 26th of August 2010.
Here are some of the salient points:
A difficult year for the company due to the global financial crisis, characterised by volatile sales demand, wild platinum price swings and a fluctuating currency.
Revenue was off 3% to 25.4 billion Rands. Headline earnings per share decreased by 22% to 786 cents but the balance sheet was strong enough to see the dividend increased by 22% to 390 cents per share.
Gross platinum production up 2 percent to 1.74 million ounces, which included much higher sales of Rhodium (+27% to 228,000 oz) and Palladium (+21% to 945,000 oz), but marginally lower platinum sales (-5% to 1,435,000 oz). The target to 2014 is 2.1 million ounces per annum.
The average price received for platinum and palladium was 18 and 43 percent higher respectively for the FY 2010. The average basket price for ounces sold increased overall by 16 percent for the FY 2010 to 2316 US Dollars and in Rand terms (17,555 ZAR) increased two percent.
Despite a tricky period for long-range planning, the company will now press ahead with expansion in Zimbabwe, to the tune of 450 million US Dollars to push production levels up to 270,000 ounces per annum by 2014, from the current 90,000 ounces.
Safety is still a headache, 15 fatalities inside of the financial year is still unacceptably high.
Unit costs per platinum ounce in Rands increased 11 percent, which is disappointing for the group, even by their own admission, and this was excluding share-based compensation. In Dollar terms these same costs increased a more alarming 32 percent.
The Marula mine near Steelpoort is still struggling. The group will take action to close the mine if it continues to be unprofitable.
CNBC's Alisha Seckam interviewed the Chief Executive of Impala Platinum, Dave Brown on the day, click here to taka a look. (Courtesy of ABN Digital - Impala Platinum CEO, David Brown.)
These three slides, from the Impala Platinum annual results presentation, give you a good idea of what the applications for their three PGM metals produced hould be in the coming year, as well as what it has been for the past two:
Platinum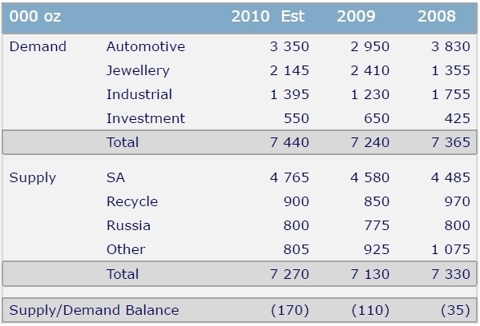 Click to enlarge
Palladium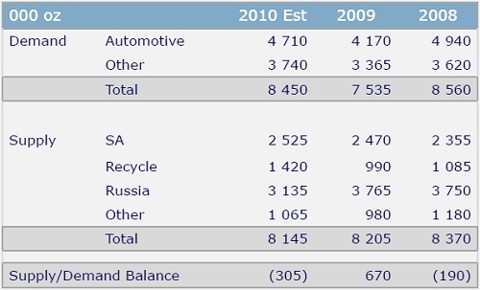 Click to enlarge
Rhodium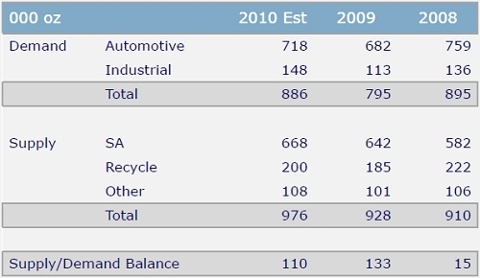 Click to enlarge
You can see that there are challenging times ahead for the platinum users, and that the supply side is going to be tight.
The motor vehicle market overview:
These two slides, also from the Impala Platinum annual results presentation, reflect on the poor year that was 2009 for vehicle sales: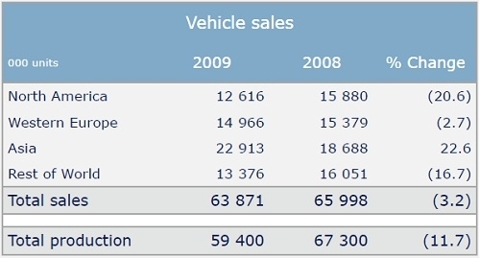 Click to enlarge
And how there has been a dramatic bounce in vehicle sales across the globe: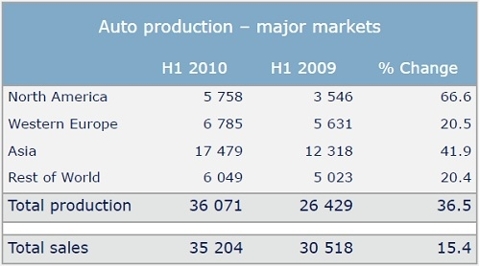 Click to enlarge
On the issue of vehicle sales, this is from Wikipedia:
According to the US Bureau of Transit Statistics for 2006 there are 250,844,644 currently registered passenger vehicles in the US. Out of these roughly 251 million vehicles, 135,399,945 were classified as automobiles, while 99,124,775 were classified as "Other 2 axle, 4 tire vehicles," presumably SUVs and pick-up trucks.
To learn more about motor vehicle emissions controls, visit the website of the authorities on the matter, Johnson Matthey. They have the most beautiful online scrapbook titled Cutting vehicle pollution.
However, notwithstanding the historic dominance of the US as the worlds largest automobile market, the Chinese consumption has for the first time seen them overtake the US, projections from Johnson Matthey suggest that the China would sell 17 million motor vehicles a year as early as 2014.
And this is just the beginning, because as a Johnson Matthey report titled Global Emissions Management points out:
car ownership in China is still very low at around 20 passenger cars per 1,000 people, compared to western markets such as the US and Germany, where car ownership is typically around 450 cars per 1,000.
Note too that as Dave Brown pointed out last year, all internal combustion engine emissions will be more tightly controlled in future - not just cars, but everything from diesel locomotives to leaf blowers.
Platinum is also widely used in jewellery in Asia, and this end-application represents about 20% of total sales. Demand from jewellers were strong in 2008 and 2009, and helped to stabilise the market when auto-manufacturers were de-stockpiling aggressively in early 2009.
Platinum is also used in fuel cell technology. Researchers have worked hard to reduce platinum usage in the fuel stacks, to around 30 grams from 80 grams before. This is a long-term demand possibility.
The prospects of the company are positive. In five years time, production will be much higher, and platinum prices will likely be higher too. Margins will be even fatter than they are now. The share price and the dividend flows should adjust accordingly.
Disclosure: Clients and family are long IMPUY.PK