Abbott (NYSE:ABT) is a diversified healthcare conglomerate whose principal business is the discovery, development, manufacturing, and selling of a broad and diversified line of healthcare products. It is a large cap company serving both the developed and developing markets through a broad portfolio of leading businesses. Recently, Credit Suisse upgraded Abbott Laboratories to outperform from neutral, and raised the price target from $44 to $46. The price target set by Credit Suisse is 16.16% above the current market price of the stock, which is $39.60. In the past year, the stock has demonstrated a 4.87% upward price appreciation. In this article, I will try to ascertain the future growth prospects of Abbott and assign a reasonable price target for the company's stock.
Abbott Laboratories has been in the news since it confirmed an acquisition deal earlier in May. To assess the company's future performance after the benefits of the acquisition deal come to fruition, it is essential to look at the company's pre-acquisition performance.
Abbott's Latest Performance
Abbott's business portfolio is established around four business segments: pharmaceuticals, diagnostics, medical devices and nutrition. Its $5-billion pharmaceutical business has been under pressure due to government price controls, austerity measures in developed European markets, and economic uncertainty in the emerging markets. In order to achieve positive growth and combat investors' concerns regarding the sluggish performance of the pharmaceutical segment, some serious steps had to be taken. There were rumors regarding divestiture, but the company didn't confirm any such news. The following graph shows the company's financial performance in the recent 5 quarters.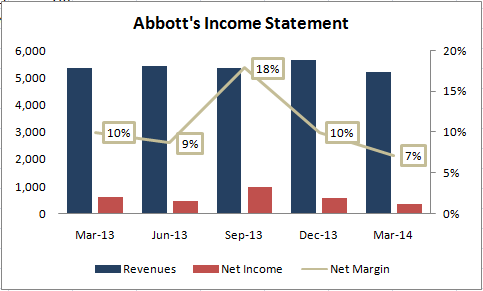 Source: Bloomberg
Over the past two consecutive quarters, Abbott has seen its profit margin decline from 18% to 7%. In the latest quarter, Abbott Labs experienced a 6.6% revenue decline in its growth-starved generic business partially affected by currency fluctuations. Last year, the same business had declined 3% in terms of revenues. Besides pharmaceuticals, the nutrition division also suffered from a 1.7% decline in revenues year-over-year in the most recent quarter.
Abbott Acquiring CFR Pharmaceuticals
Abbott Laboratories has been a leaner and more concentrated organization after spinning off its proprietary pharmaceutical division, AbbVie (NYSE:ABBV). Abbott has confirmed that it is going to acquire CFR Pharmaceuticals SA (CFR) for $2.9 billion, along with assuming $430 million in the company's debt. CFR Pharmaceuticals is the biggest pharmaceutical company in Chile, with a wide product portfolio consisting of a variety of products for women's health, central nervous system, heart and respiratory diseases. CFR has a wide geographic presence in 15 markets across Latin America, as listed below.

Out of the total 15 markets, CFR operates in 4 main markets that contribute a majority of the company's revenues; they are: Argentina, Chile, Colombia and Peru. Together, Chile and Colombia contribute 51% of the company's revenues, while Argentina and Peru combined contribute 28% of CFR's top line. The remaining 21% of the company's revenues are attributable to the markets it operates in. CFR Pharmaceuticals generated revenues of $768 million in 2013 from sales of branded generics. CFR Pharmaceuticals has products in difficult-to-substitute, high-growth business segments.
Benefits for Abbott Labs
Geographic Expansion
Through this acquisition, Abbott will be recognized as one of the top 10 pharmaceutical companies in Latin America. The Latin American market is highly lucrative, as it is estimated to reach $124 billion by 2018. CFR Pharmaceuticals will open up new emerging market opportunities for Abbott Labs. On its own, Abbott has a robust presence in the emerging markets, but its foothold in those markets is not growing significantly in general and specifically with regards to its generics business.
Acquisition Accretive To Earnings
This acquisition will prove beneficial for Abbott Laboratories, since it is projected to add $900 million to the company's top line in 2015, and that will be the first full year CFR will operate in complete integration with Abbott. This deal will not have an impact on Abbott's 2014 revenues or earnings. Abbott will enjoy a strong product pipeline comprising of more than 1000 products from CFR Pharmaceuticals. CFR's business, which is seamlessly in line with Abbott's therapeutics business, will bolster the Abbott's business areas concerning women's health, central nervous system, cardiovascular and respiratory diseases.
Concluding Remarks
The acquisition of CFR Pharmaceuticals by Abbott Laboratories will pave the way for the acquiring company to bolster its geographic presence and product pipeline in the emerging markets, as well as Latin America. Moreover, the company's surging diagnostics division and nutrition division make up a substantial portion of the company's goals for the long run. Abbott reiterated its full-year 2014 ongoing earnings per share guidance of $2.16 to $2.26, reflecting double-digit growth at the midpoint of the guidance range. Abbott declared a quarterly dividend of $0.22 per share in February. Therefore, I am bullish on this stock, and investors should consider it a worthwhile investment.
Disclosure: I have no positions in any stocks mentioned, and no plans to initiate any positions within the next 72 hours.
Business relationship disclosure: The article has been written by a Gemstone Equity Research research analyst. Gemstone Equity Research is not receiving compensation for it (other than from Seeking Alpha). Gemstone Equity Research has no business relationship with any company whose stock is mentioned in this article.