Intel (NASDAQ:INTC) has teamed up with one of the world's leading ARM SoC producers for tablets. Rockchip has agreed to design an Intel-branded quad-core x86 SoC based on Intel's SoFIA 3G integrated baseband/processor for the tablet market. Rockchip expects this product to be ready for commercial release by the first half of 2015.
This deal with Rockchip will not openly help Intel achieve its 40-million tablet chip sales target this year. However, it is a strong confirmation that Intel still commands enough influence to win the support of a leading ARM-chip vendor. Advanced Micro Devices (NYSE:AMD) is joining the ARMy, but Rockchip is now a recruit in the x86 army of Intel.
Brian Krzanich has found a great ally in its war of attrition against ARM Holdings (NASDAQ:ARMH). Rockchip Electronics has surged past Allwinner and MediaTek to become China's biggest supplier of tablet processors this Q2 2014. A DigiTimes writer expressed doubt that Intel will hit its 40-million tablet application processor sales target this year. The ARMy really grew big very quickly that industry observers keep on belittling Intel's future on mobile.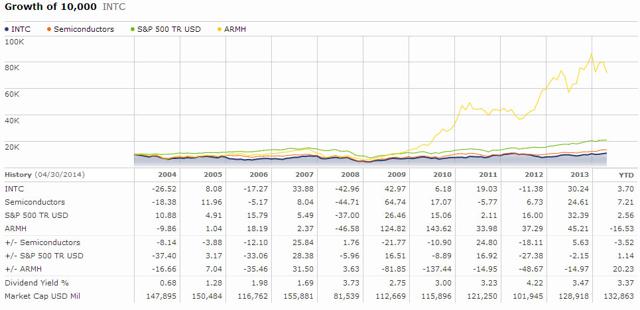 Source: Morningstar
However, Intel's savvy move of winning Rockchip to its fold is strong evidence that Krzanich's overt and covert operations to make Chinese white-box tablet makers defect to the x86 faction are working. ASUSTeK (OTC:AKCPF) is already shifting much of its low-entry Android tablets to Intel's processors.
The Shenzhen Army Wants Quad-Core SoC
Intel's original dual-core SoFIA 3G design might not be satisfactory to Shenzhen-based white-box tablet manufacturers. White-box tablet vendors like Onda and PiPo are already accustomed to quad-core ARM SoCs from Allwinner, MediaTek, Amlogic, and Rockchip. A dual-core x86, even if it is cheaper than a quad-core ARM, has no serious compelling selling point to Chinese companies.
Intel is desperate to win the support of Chinese OEMs and ODMs to improve its chances of winning substantial market share on tablet chips. The deal calls for Rockchip to make a quad-core version of the SoFIA 3G. It is not just a money-saving effort on the part of Intel. It is a shortcut towards winning the trust of Shenzhen-based tablet producers.
Rockchip will use Intel's x86 Atom IP to design a quad-core SoFIA 3G that is cheap and yet powerful enough to rival Rockchip's very own ARM product, the RK3288. Subsidies from Intel are insufficient to fully convince Shenzhen tablet makers that a dual-core SoFIA 3G can increase their sales.
Customers around the world expect their $100 Android tablets to multitask, smoothly play HD movies, and be able to play the latest 3D games. Quad-core and Octa-core ARM SoCs with embedded LTE like the Rockchip RK3288 (with Mali T-764 GPU) have proven they can satisfy the requirements mentioned above.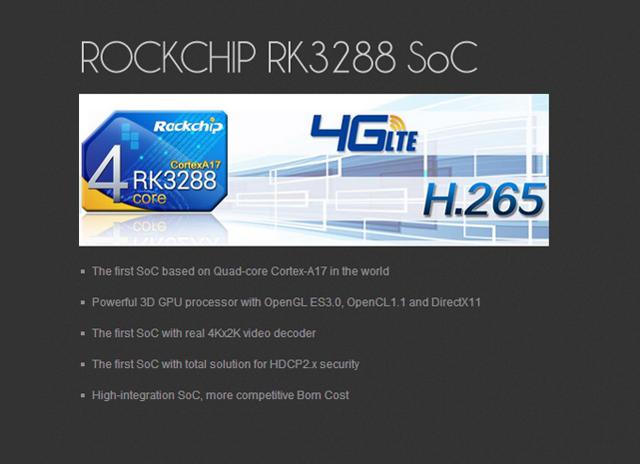 Source: rock-chips.com
Here is a RK3288-equipped PiPo 8 tablet's Antutu score: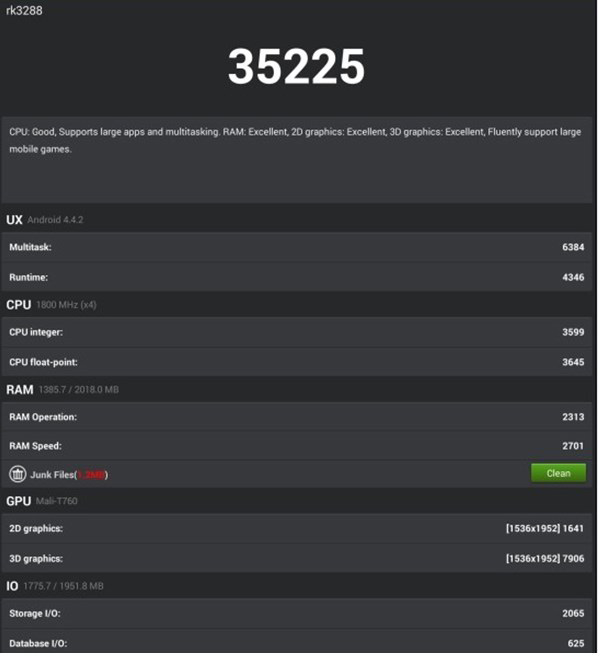 Intel's Bay Trail-T portfolio may beat the CPU-intensive benchmark scores of ARM SoCs, but its GPU performance needs improvement. The collaboration with Rockchip may involve using a non-Intel integrated GPU for the quad-core SoFIA 3G.
Rockchip gets access to Intel's x86 Silvermont IP to create a unique SoC that's not a copycat version of MediaTek's or Allwinner's ARM products.
The cut-throat and low-margin competition in entry-level Android tablets require white-box companies to make products to differentiate themselves from the generic make-up of numerous sub-$150 tablets in the market.
A quad-core SoFIA 3G may also lead them to make Windows 8.1 tablets to get a higher markup. Using Microsoft's OS is always a good excuse to sell higher price-tag tablets, even though the Bill of Materials is usually equal to that of an Android OS-powered product.
Conclusion
INTC investors should appreciate that Intel's deal with Rockchip is a big step forward towards making more ARM licensees add x86 chips to their product line-up. Intel cannot force mobile chip makers to abandon ARM, but it can seduce some of them to abandon their monogamous relationship with ARMH.
Intel is waging a bloody uphill battle in tablets. It faces formidable foes in Qualcomm (NASDAQ:QCOM), Allwinner, Samsung (OTC:SSNLF), and MediaTek. Intel is roughly losing $3 billion/year in its gory quest to make its x86 microarchitecture stay relevant in tablets and smartphones. Rockchip's huge influence among white-box tablet companies is like getting a big artillery support for the beleaguered Intel. Rockchip knows where to accurately shoot x86 SoFIA 3G chips in Shenzhen.
Intel is a Buy for the long term. INTC will never trade with a P/E as high as ARMH, but it's a good dividend stock (3.37%) worth holding on to forever. Intel, even with its huge war chest, cannot dominate the mobile chip business. What Intel is trying to do now is to cause much destruction (from price wars) against ARM-based companies. Damaging the competition to force them to negotiate a tacit truce with Intel... x86 on PC/Servers, ARM on tablets/smartphones.
In the end, Intel will remain safe and rich on its own x86 kingdom. Please compare the two charts below. ARMH, unlike INTC, is currently trading with stratospheric valuation.

Source: Finviz

Disclosure: I am long INTC, AMD. I wrote this article myself, and it expresses my own opinions. I am not receiving compensation for it (other than from Seeking Alpha). I have no business relationship with any company whose stock is mentioned in this article.