This is going to be a short and easy article today, I simply have three questions that I want to pose to Herbalife (HLF) longs. I realize that instead of cogent answers I'm likely to get ad hominem attacks and Twitter messages stating Mensa-esque insults like "Bill Ackman is a loser."
Admittedly, this article could have been a book.
I could have titled it "50,000 Questions Herbalife Longs Should Ask Themselves" - and I likely could have filled the entire thing. All you have to do is reach into thin air to pull out any multitude of questions that Herbalife longs should be perpetually asking themselves - questions such as:
Why don't we have retail sales tracking in place, still, after all of this controversy?
What could the potential outcome of an investigation by the FBI, SEC, DOJ, FTC and two state attorneys general potentially be? Why do they need to be looking into the company in the first place?
Why does Herbalife have a Twitter account that seems chock full of half truths and ad hominem attacks? If you haven't read my last article on Herbalife's bizarre PR campaign, you can read that here - it has a QTR record 541 comments as of right now.
Why can't the company raise funding without convertible notes?
Etc., etc., and the list goes on. But, the purpose of this article isn't to come up with 50,000 questions that all backhandedly dispel the longs' position on the company, it's to point out three questions related to recent news that longs should try and come up with a reasonable answer to.
Perhaps I'll consider the 50k for the future. And don't you think I won't. Onto my three quick questions of the day:
#1 - Why did John Tartol recently dump 50,000 shares of stock, especially while the company was buying it back?
According to his Form 4, it doesn't look like these shares were part of any planned exercise. This was simply Mr. Tartol dumping 20% of the Herbalife stock that he owned on the open market - get this - while the company is conducting the biggest stock buyback in its history. You remember, the buyback they had to loot all of the equity from their balance sheet to fund. Apparently, Tartol doesn't seem as impressed as other Herbalife longs - he just personally handed himself a $3 million bonus - all while the company is being investigated for claims exactly like the ones that Mr. Tartol himself has made to potential marks...err, distributors, I mean.
(click to enlarge - source SECFORM4.com)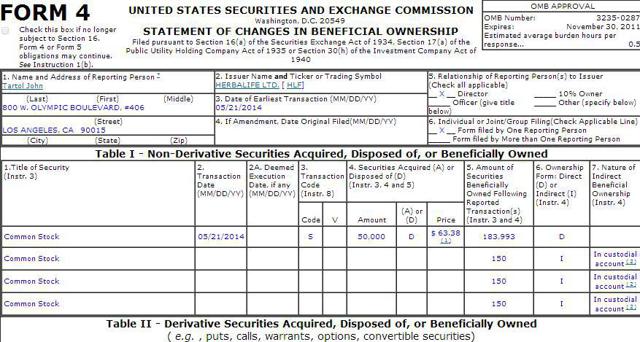 Further, what poor timing. Isn't Mr. Tartol concerned with what it looks like when he dumps that kind of stock on the open market, immediately following Mr. Johnson dumping stock - and in the midst of the massive controversy this company is under. Has this become a smash and grab job all of a sudden?
Apparently $200k in cash per year isn't enough to keep Mr. Tartol within the boundaries of his high level lifestyle. Or, perhaps, Mr. Tartol is trying to get as much money out of Herbalife as he can, little by little, while still being under the radar - before the shoe drops.
(click to enlarge - source Herbalife's 2013 proxy)

Remember it was Mr. Tartol that taught the art of how to "wring a lead dry".
Perhaps Mr. Tartol is now trying to wring Herbalife dry before the end?
#2 - Why would Amway's CEO in India be arrested for money laundering and pyramid sales?
Passed along to me yesterday morning from alert reader @stocksdd on Twitter, we're privy to the news that Amway's American born CEO in India has, in fact, been detained by local authorities.
The article reads:
The Andhra Pradesh police today arrested Amway India chairman and CEO, William S Pinckney, in Gurgaon. He was presented before a Kurnool magistrate who remanded him to judicial custody till June 10, 2014.

A case has been registered against the CEO of Amway India and its franchisees under Section 420 of the Indian Penal Code and also Section 4, 5 and 6 of the Prize Chits and Money Circulation Schemes (Banning) Act.

The case was registered after a complaint was filed in August last year against the direct-selling firm, alleging unethical circulation of money through Amway's operations.

Kurnool Superintendent of Police Raghurami Reddy said they had been collecting a lot of documentary evidence leading up to the arrest. They took the help of the Gurgaon police to execute the arrest swiftly.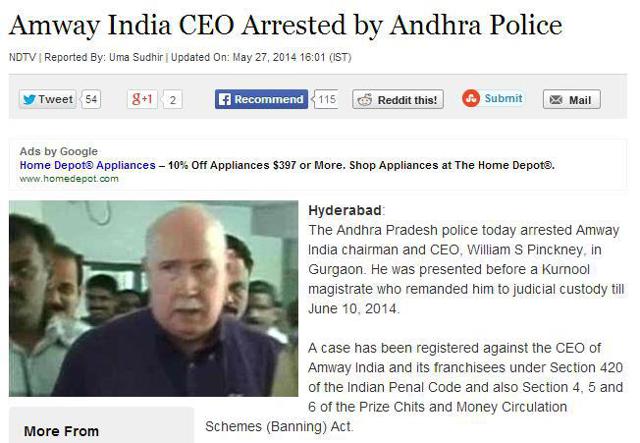 You can read the article, in its entirety, at this link.
Longs, of course, claiming this was all just a misunderstanding - which leads me to the question:
How grey are the lines between direct selling and money laundering that Amway's Indian CEO has been arrested?
And, even if you're long and using the argument that Amway is a legitimate business and that everything they're doing is legal - how legal can it be if officers of the law are now "mistakenly" arresting people for money laundering and pyramid sales?
Further, does anyone know how much more legitimate Amway, Tupperware, and Avon are than Herbalife? Amway actually makes an effort to track retail sales - as does Tupperware. Avon has downlines that only go three levels deep. If governments are starting to question Avon, Amway and Tupperware, Herbalife could very well be in for a rude awakening.
Does this put pressure on Herbalife's India operations? One would certainly think so, as this piece reported by ValueWalk points out:
Meanwhile a number of tweets from various Twitter users suggest that the Amway arrest will affect Herbalife Ltd. (NYSE:HLF) and Nu Skin Enterprises, Inc. (NYSE:NUS). However, Herbalife investors seem unperturbed by the news, as shares rose by about 1% in afternoon trading today. Nu Skin stock declined by less than 1%.

Interestingly enough, one analyst said back in January that Herbalife Ltd. (NYSE:HLF) is more like Amway than like Nu Skin. If that's true, then the company's Indian operations could be in jeopardy too if officials there target it as well.
#3 - Has anyone noticed that Regal Point has come out short on Herbalife, as well?
Yes, Regal Point is a small fund.
Yes, Regal Point isn't a massive Wall Street name.
But, they're in the game and they're lending credence to Mr. Ackman.
For a while, the argument was that Ackman was on his own. Despite rallying the support of private investors like myself and Mr. Stewart, Ackman didn't seem to have a friend in the hedge fund world when it came to Herbalife. It was slow going for a while, but we now have another fund that's on board with Ackman's thesis.
According, again, to ValueWalk:
Regal Point issued its short thesis on Herbalife Ltd. (NYSE:HLF) last week. The firm states that Herbalife's business model is not sustainable and that while recruitment is vital to success, it becomes difficult to recruit while regulators are scrutinizing the company. Marolia's firm also points to the recent ABC News investigation into the controversial company, increasing regulatory probes, and sell-offs of Herbalife stock by institutional investors.

On the bullish side, Regal Point does say that Herbalife Ltd. (NYSE:HLF)'s valuation looks cheap as its business grows. It plans to complete $266 million worth of share buybacks during the second quarter, and Carl Icahn and other big investors "seem to like it." In addition, Herbalife has been around for more than 30 years and operates in more than 90 different countries.

The firm does state, however, that it is maintaining its short position in Herbalife Ltd. (NYSE:HLF), siding with Bill Ackman. "The best companies to short involve fraud, fads, and failures-this company fits all three," Marolia said.
Conclusion
Now, a quick question for Mr. Carl Icahn.
Mr. Icahn - are you being played by Mr. Tartol? What do you think about him dumping $3M worth of stock at a time when the company is trying to support its own stock price? Why is someone on the Board selling 20% of their shares in the company and you continue to hold? Do you think Mr. Tartol knows something that you don't know?
You're friendly with Mr. Ackman now - why not pick his mind and see what he thinks about Mr. Tartol dumping $3M in stock?
Mr. Icahn, you're getting stuck with a deflated company with no equity - why do you continue to hold here?
Further, if longs read the first two of these three questions here and it doesn't give them some pause, you're likely looking at this thing from one angle only. For me, it's as clear as day - Herbalife remains a global confidence game that continues to separate people from their money under the guise of a business opportunity that could potentially make them rich.
As the stock continues to rise, I'll continue to add puts accordingly.
Disclosure: I am short HLF. I wrote this article myself, and it expresses my own opinions. I am not receiving compensation for it (other than from Seeking Alpha). I have no business relationship with any company whose stock is mentioned in this article.