Agriculture is a segment, which is expected to see sustainable growth for the next decade driven by three megatrends:
1) Growing population: The world population has reached 7 billion people in 2011 and will exceed 8 billion in 2022 according to UN estimations.
2) Growing middle classes: The standard of living in emerging countries is rising which leads to a higher food demand per se, and a disproportionately growing demand for forage crops due to higher meat consumption.
3) Bio-fuels and bio-based feedstock: A steadily growing share of the crop worldwide is used for the production of bio-fuels and as a chemical feedstock.
Since the arable land is limited and cannot be expended at the same pace in which the demand for agricultural products is growing, only more intensive farming leading to higher yields can help to solve this dilemma. More intensive farming requires more farming equipment and machinery, irrigation, and fertilization as well as agrochemicals and seeds.
Syngenta (NYSE:SYT) as the market leader in agrochemicals and an important player in the seed market, will benefit from this trend and it will enable the company to provide long-term return to its shareholders.
Agrochemical and Seed Market
According to Syngenta estimates, the global agrochemical market was worth $52B in 2011 (including non-crop agrochemicals). This is consistent with other data on the global Crop Protection market that estimates its 2012 size to be approx. $50B. Another study forecasts the market to grow to $68.5B in 2017 at a CAGR of 5.5% between 2012 and 2017. This is somewhat lower than the past CAGR of 7.2% from 2007 to 2012, but still very attractive. The agrochemical industry is highly consolidated with only six companies accounting for more than 70% of the market share worldwide. Syngenta holds the leading position, followed by Bayer (OTCPK:BAYRY), BASF (OTCQX:BASFY), Dow (NYSE:DOW), Monsanto (NYSE:MON), and DuPont (NYSE:DD).
The seed market has been growing even faster, it has almost tripled since the year 2000, with the major growth driver being the genetically engineered crops. Syngenta estimates the market size of the global seed market at $41B in 2011, which is in line with the ISF (International Seed Federation) figures of $45B for 2012. The seed market is less consolidated than the agrochemical market, however the six leading companies also combine more than 50% of the market share here. Monsanto and DuPont (Pioneer) are in the no. 1 and 2 position with substantial distance to Syngenta in the third place.
FY 2013 Agrochemical and Seed Sales in $M

Source: company reports, *Monsanto FY ends Aug. 31st, +Vilmorin & KWS FY ends June 30th.
Syngenta's Business Structure and Outlook
Syngenta originates from the agribusinesses of Novartis and Astra Zeneca, which were merged in the year 2000. The company has a market capitalization of $36B and despite being a Swiss company, Syngenta reports in US$, reflecting the global nature of its business.
Syngenta grew its sales in 2013 by 3% to $14.7B - $11.5B in the Crop Protection segment (including Lawn & Garden), and $3.2B in Seeds. The EBITDA was down 7%, corresponding to an EBITDA margin of 19.7%. Diluted EPS after restructuring and impairment stood at $3.56, down 12% from $4.06 the year before, however the 2013 operating income was affected by several one-time effects totaling to approx. $600M (the non-reoccurrence of one-time seed royalty income in 2012, higher corn seed production costs due to the drought in the US in 2012, and associated inventory write-downs).
In its 2014 outlook, the company expects a higher EBITDA vs. 2013 due to improved operational efficiency, guiding to an EBITDA margin at the lower end of the 22-24% corridor. In the long run, Syngenta expects to grow sales from $14B in 2013 to $25B in 2020 (excluding the Lawn and Garden segment) and to achieve an EBITDA margin in 2018 between 24 and 26%.
Syngenta is very well positioned in the Crop Protection segment where it resumes the leading position. Sales have grown at a CAGR of 6% in the last five years and Syngenta has one of the most attractive pipelines in the industry. This includes some promising new active ingredients (new agrochemicals) which will be launched in the next years. However, since the number of new active ingredients making it to the market is continuously declining, it is as equally important to offer new products based on combinations of existing active ingredients or new formulations, particularly to hold back generic competitors. Syngenta has generated sales of $550M with new Crop Protection products, which were launched during the last five years, and it has more attractive new product offerings, which will be launched in 2014 with a combined peak potential of $1.1B.
Besides this, the company is developing completely new offerings to capture more value with integrated solutions. One Example is the "PleneTM" technology, which is a whole new concept of sugarcane planting, combining chemistry, biotechnology, and application technology. Sales with products for sugarcane are expected to multiply between 2013 and 2020.
In the seed segment, Syngenta has been able to grow sales to $3.2B in 2013 at a CAGR of 10% over the past five years. In comparison to its major competitors, Syngenta is only a niche player in field crops (corn and soybean) with a combined turnover of $1.7B, but relatively strong in Diverse Field Crops (mainly sunflower, where it resumes the market leading position globally), and vegetables.
The underlying trend, which is the basis for Syngenta's continued success is the positive long-term outlook for agriculture. More and better plant protection products as well as higher yielding seeds will be required to meet the demand of a growing world population.
From a more short-term perspective, the commodity price situation has an influence on Syngenta's profitability. High commodity prices are an incentive for farmers to invest more into agrochemicals and seeds.
In terms of revenue generation, corn is the most important crop for Syngenta, followed by soybean, and specialty crops. The corn price has reached a record high in summer 2012 during the drought in the US and has dropped drastically thereafter. Due to lower prices, corn acreages are shifted to other crops, leading to a reduced demand for seeds and plant protection products there.
CBOT Corn Futures, Continuous Contract #1,US Cents per bushel

Source: quandl.com.
Soybean prices remain relatively high, making it more attractive for farmers to plant soybeans. The soybean acreage in the largest producing countries USA, Brazil, and Argentina is projected to increase in the 2014 growing season. Syngenta is also very well positioned in Latin America and should be able to participate in the growth there.
CBOT Soybeans Futures, Continuous Contract #1, US Cents per bushel

Source: quandl.com.
Potential short-term headwinds for Syngenta could come from the emerging markets, including the CIS, as those countries play an important role in Syngenta's growth strategy. The company has already indicated a negative $100M effect on the 2014 EBITDA due to depreciating currencies. A Q2 result falling behind analysts' expectations could lead to an attractive buying opportunity as it has happened at the beginning of the year after releasing the FY2013 figures.
Shareholder Return
Syngenta ADS are listed on the NYSE, five ADSs represent one ordinary share. Syngenta pays an annual dividend which is declared in Swiss Francs for the ordinary shares and then converted to US$ for the ADS.
In the last ten years, Syngenta has raised its dividend per ordinary share nine times, only the FY2009 payment was kept constant. The CHF dividend has increased by 490% in this period. Due to exchange rate effects, the net dividend per ADS in US$ has been more fluctuating, however the overall increase is even higher at 550%.
Syngenta Dividend Development FY2003-2013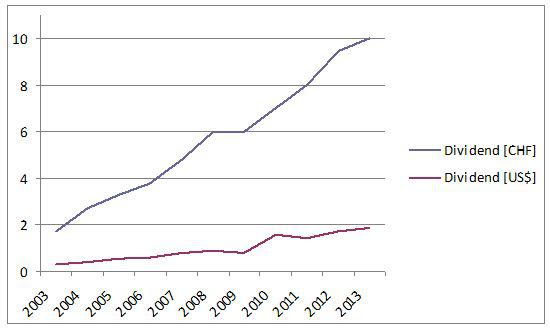 Source: Company website.
Syngenta Ordinary Share (CHF) Annual Dividend Growth Rate FY2003-2013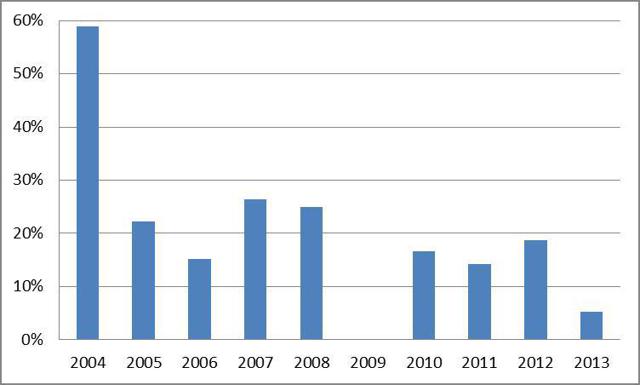 Source: Company website.
Syngenta ADS (US$) Annual Dividend Growth Rate FY2003-2013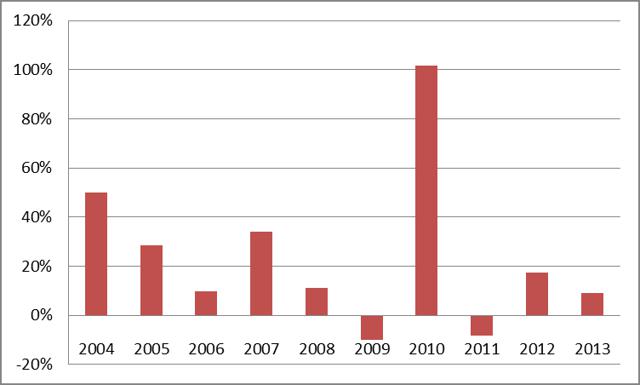 Source: Company website.
In 2014, Syngenta has increased its CHF dividend for FY2013 by 5% to 10 CHF per ordinary share, the US$ dividend amount has not been announced yet. The payment date for the ADS dividend will be June 30th, and based on the current exchange rates, a net dividend of approx. $1.86 can be expected which would correspond to a dividend yield of 2.4%. Syngenta's payout ratio for FY2013 of 47% is higher than for FY2012 (36%) reflecting the lower EPS and the dividend increase.
Syngenta shares have reached their all-time high of $87.45 at the beginning of 2013 and trade 11% lower today. After publishing the results for FY2013, the share price has dropped below $70 at the beginning of February 2014, but has recovered noticeably since then.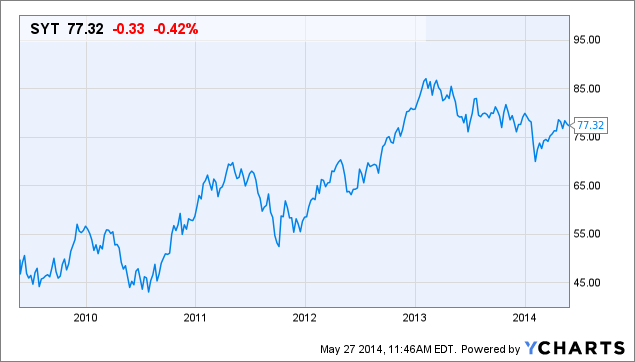 Dividend Growth Potential
Syngenta is committed to grow its dividend, however the company does not have a targeted payout ratio or an annual dividend increase target.

Source: Company website.
Assuming that Syngenta is able to reach its 2020 financial targets of $25B sales and an EBITDA margin of 25%, EPS should be in the region of $8, not assuming share buybacks. Syngenta's payout ratio has varied between 31 to 47% in the past five years with an average of 39%. Assuming a payout ratio of 40%, the dividend would then stand at $3.20, and the dividend yield would grow from 2.4% to 4.1%.
Another approach to estimate the dividend growth potential is based on the past dividend raises. The average dividend increases in any five-year period has always been higher than 10%, in accordance with the company's dividend growth commitment. Therefore, it seems safe to assume an annual growth rate of 10%. In that scenario, Syngenta's dividend for FY2020 would be $3.62, corresponding to a yield of 4.7%. Nevertheless, the payout ratio would remain relatively low at only 45%.
These estimates also do not take any possible share buybacks into consideration. Syngenta has re-purchased shares more aggressively until the year 2009 and the current tactical buyback program allows to repurchase up to 10% of the share capital until July 2016. During the last ten years, the share count has been reduced from 112 million in 2004 to 93 million in 2014. The return of a more significant buyback program would further contribute to Syngenta's EPS growth and add additional upside potential to the dividend.
Number of Syngenta ordinary shares outstanding in millions at the date of the AGM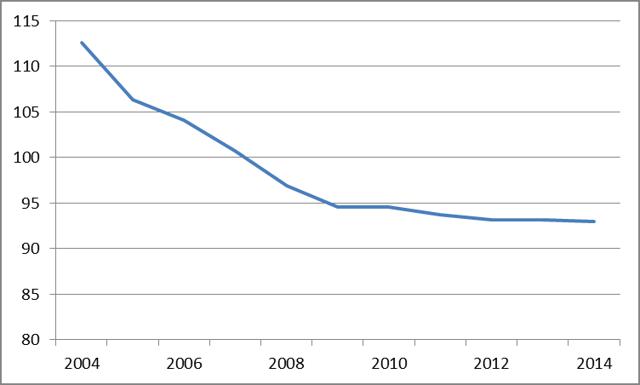 Source: Company website.
The above dividend estimates can be considered as quite conservative since the payout ratio remains low, nevertheless they lead to an already attractive dividend yield. Syngenta also has a strong balance sheet, which leaves the company enough room for a higher payout ratio to keep the dividend growth rate, even in case of slower than expected EPS growth.
Conclusion
Syngenta is one of the most attractive stocks in the agricultural sector. The company is the market leader in agrochemicals and capable of defending this position in a growing market. In the faster growing seed business Syngenta occupies some profitable niches. The demand for Syngenta's products will grow constantly over the next years and makes it a promising long-term investment.
Syngenta has also become an attractive dividend growth stock, which is committed to further dividend increases. Short-term corrections, like at the beginning of 2014 can be used as attractive entry points for an investment.
Disclaimer: Opinions expressed herein by the author are not an investment recommendation, any material in this article should be considered general information, and not relied on as a formal investment recommendation. Before making any investment decisions, investors should also use other sources of information, draw their own conclusions, and consider seeking advice from a broker or financial advisor.
Disclosure: I have no positions in any stocks mentioned, and no plans to initiate any positions within the next 72 hours. I wrote this article myself, and it expresses my own opinions. I am not receiving compensation for it (other than from Seeking Alpha). I have no business relationship with any company whose stock is mentioned in this article.
Editor's Note: This article discusses one or more securities that do not trade on a major U.S. exchange. Please be aware of the risks associated with these stocks.