Natural gas prices continue to be volatile due to supply and demand dynamics. Speaking of natural gas prices, companies in the E&P industry expect natural gas prices will grow marginally compared to 2013. However, crude oil prices were fairly stable throughout 2013. The production of oil continues to be more profitable than natural gas, and consequently, companies operating in this industry have been shifting their focus to oil production. To make a change toward liquid plays, companies are investing billions of dollars to acquire oil producing assets while disposing of non-core assets. The change in strategy has worked for companies in 2013 as liquid plays offer much better volume and margins. In this article, I looked at Chesapeake Energy Corporation (NYSE:CHK) to see where it stands. Furthermore, I compared it with closest peers to see whether or not it is a good investment.
Where Does Chesapeake Stand?
Chesapeake is the globe's second largest producer of natural gas. The company's core natural gas resource plays includes the Marcellus Shale in the northern Appalachian Basin of West Virginia and Pennsylvania, the Haynesville/Bossier Shales in northwestern Louisiana and East Texas, and the Barnett Shale in Fort Worth Basin of north-central Texas. Chesapeake is also producing liquid plays and is currently the tenth largest producer of liquids in America.
Looking at the losses in the past two years, Chesapeake has changed its business expansion strategy. The company is now looking to lower capital investments, dispose of non-core assets, expand production from existing assets, reduce operational inefficiencies, cut costs, and boost cash flows. Chesapeake's management is strongly implementing strategic policies. It has disposed of numerous non-core assets in the past few quarters and continues to reduce bare bones. In this year, it is likely to make big moves in its asset portfolio including the spin-off of oilfield services business, divestitures of CHK Cleveland Tonkawa, L.L.C., and other assets. These transactions are expected to bring in $4 billion for the company. However, the company's total production will decrease by only 2% from the disposal of these assets.
Its first quarter results are evident that Chesapeake is heading in the right direction. With the volatility in gas prices, the company has expanded its liquid production and lowered its dependence on natural gas production. In the latest quarter, oil production increased by 6% and natural gas liquid production increased by 55% as both oil and NGL offer better volume and margins in the current environment. Even with the assets dispositions, the company is looking to generate 9-12% growth in production in 2014, and similar growth in the following year. Growth in production is expected to mainly come from liquid plays: oil and natural gas liquids.
In the latest quarter, the company's earnings also improved with the improvement in gas prices, high margins from liquid plays, and enhanced operational efficiencies. Furthermore, with the strategy of lowering capital investments, disposing of non-core assets and expanding production from existing assets, its cash flow situation improved compared to the past years. The company is looking to generate around $6 billion in operating cash flows and looking to make capital investments of $5.2 billion. In the past years, Chesapeake's capital expenditure surpassed its operating cash flows; thus, the company has to depend on external sources. However, with the change in business strategy and asset allocation, the company is likely to make equilibrium in operating cash flows and capital expenditure, which I believe will enhance its financial flexibility and allow it to reduce debt and increase returns.
Where Do the Other Players Stand?
Chesapeake's industry peers are ConocoPhillips (NYSE:COP), Occidental Petroleum (NYSE:OXY), and Devon Energy (NYSE:DVN).
COP has made significant changes in its assets portfolio with the fall in natural gas prices and enhanced margins from liquid plays. Thus, the company has shifted its focus more towards liquid plays. In the past year, liquid accounted for around 56% of total production, and COP is looking to accelerate liquid production this year. With the move towards higher margin liquid plays, it's both earnings and cash flows improved over the past few quarters. In the latest quarter, it generated operating cash flows of $6.2 billion, capital investments of $4 billion, and dividend payments of $0.9 billion. At the moment, COP established very strong footprints for future growth with the shift in strategy, and its returns look completely safe.
OXY and DVN are also following industry trends, which are helping them to generate strong growth in earnings, cash flows, and returns for investors. Both OXY and DVN are increasing liquid production and lowering their dependence on natural gas. In 2013, OXY's domestic oil production grew by 11,000 barrels per day, and reserves replacement ratio was at 195%. In the latest quarter, the domestic oil production grew by 10,000 barrels per day. On the other hand, DVN has been able to attain 60% of its total production from liquid plays. Year after year, the company manages to grow liquid production by 21% and is looking to make 20% organic growth in the liquid production in 2015.
In Conclusion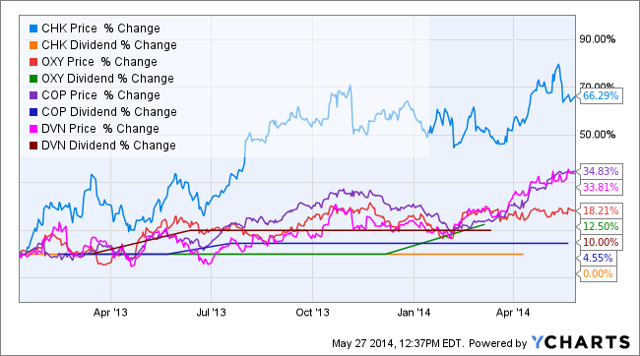 Due to the excessive dependence on natural gas, Chesapeake has suffered the most in the past few years due to the volatility in gas prices. However, with the change in its business strategy and capital allocation, the company is gaining momentum and looking to generate strong production growth. It is expanding NGL and oil production and disposing of non-core natural gas assets. Natural gas prices are also stabilizing as observed in the past two quarters, which has significantly impacted Chesapeake results in the first quarter. In the long-term, it is expected that the gas prices will stabilize compared to the past year, but we do not expect a drastic change in prices. Investors have strongly appreciated the move in the business plan and its impact on financial performance. Since the beginning of 2013, CHK stock is on surge, gaining 66.29%. At the moment, it is trading at 23 times to earnings, which looks bit pricy. However, the company is likely to generate growth in production and financial performance, which I believe keep giving its stock momentum.
On the other hand, COP, OXY, and DVN have shifted their focus more towards liquid plays compared to CHK, which led them to generate strong profits in the past year and in the latest quarter. These three companies have now established strong footholds for future growth with the shift towards higher margin liquid plays. Furthermore, they look relatively cheap compared to CHK based on a price to earnings ratio. COP is trading at 12 times to earnings, OXY at 13 times, and DVN at 18 times. Their dividends look more sustainable after the shift, and they are offering higher yields compared to CHK. Therefore, I recommend COP, OXY, and DVN over Chesapeake as I believe they are more defensive investments with steady returns.
Disclosure: I have no positions in any stocks mentioned, and no plans to initiate any positions within the next 72 hours. I wrote this article myself, and it expresses my own opinions. I am not receiving compensation for it (other than from Seeking Alpha). I have no business relationship with any company whose stock is mentioned in this article.