As stimulus induced economic indicators drove financial markets higher through the end of 2009 and into the middle of 2010, many financial advisors and researchers believed the Great Recession was taking its final breath and believed they bore witness to a forceful yet successful example of a proper response to a endemic crisis by policymakers around the globe. Fast forward to the present and you find that the Eurozone solvency crisis, the US economic slowdown and the Chinese real estate/lending bubble forces general economic consensus to move from that of recovery and prosperity to a gloomier picture of a return to output contraction or more realistically, realization that we never really left the period of economic contraction sans hefty government stimulus. Although it was a while ride, much of what BoomBustBlog has alleged has come to pass in terms of the condition of global banks, global economic output, and the prospects of the companies and countries that we cover. Most sell-side economists have lowered their GDP growth outlooks to near 1% for the next quarter, and more attention is being focused on central bank officials and the idea of new stimulus measures – all pretty much in line with our prognostications throughout 2008 and 2009. The problems has been that regardless of monetary policy, new stimulus and the growing need for them markets have moved with incredible correlation and very low dispersion among stocks over the past few quarters making it very difficult to monetize the fact that we have been right all along. These recent events beg the question, "Is this the end of the Stock Picker?" and if so, then "What does this portend for the future of the investment markets when casino style gambling has returned better results than adhering to fundamentals, math and basic common sense?" "Has the Fed destroyed the fundamental investor?" Let's peruse the topic as illustrated in the mainstream financial media:
Stocks Move with the Market: CNBC
78% of the S&P 500 simply moves with the market and ignores underlying fundamentals
CNBC attributes this to the rise of algorithmic trading and death of traditional stock picking, however, correlations have been higher in eras that lacked heavy algorithmic trading
Correlation Soars on S&P 500: WSJ
Individual stock correlations to the S&P have reached their highest point since the crash of 1987
Movements have forced fund managers from examining long term fundamentals and into quick moves into cash, treasuries, and investment grade corporate debt
Fund managers continue to express discontent over this new market behavior. Fundamentals do not matter for the time being, as the prevalence of fear in the marketplace continues to reign regardless of perceived economic progress.
Global Macro Funds Suffer Too: Marketwatch
Rapid swings in market moves have caused some very prominent global macro managers to leave the business, despite a plethora of historical success
Those who bet on deflation were punished in the first part of the year, while those who shorted treasuries have been punished to the tune of over 100 basis points since yields peaked
click to enlarge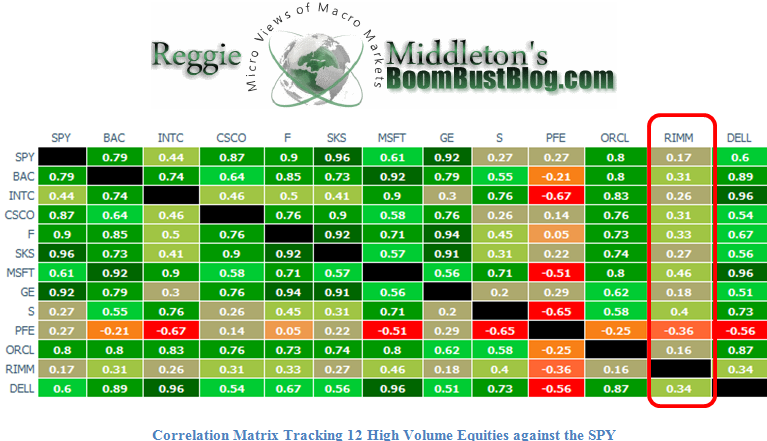 Correlation Matrix Tracking 12 High Volume Equities against the SPY
Notice that most major companies have seen significant correlation with the broad market despite a wide diversity in performance and economic outlooks. Although many have poo poohed hard fundamental analysis, we at BoomBustBlog have still managed to hit quite a few home runs by parsing those companies (and countries) prospects that are in truly dire straits or are very significantly diverging from their historical paths. Spain, Greece, Ireland and their respective banks come to mind (see the Pan-European Sovereign Debt Crisis Series), and more recently our expose' on the prospects of Research in Motion (RIMM) (see As Research in Motion Continues Its Inevitable Downward Descent In Both Equity Value and Market Share, Investors Should Tweak Their Assumptions Accordingly).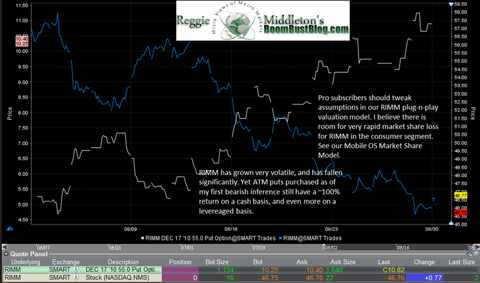 CBOE Data on S&P 500 Implied Correlation
Correlations are not exclusive to stocks. Market movements have resembled a pattern of "risk on" and "risk off" behavior for an extended period of time. This pattern has crossed global markets and even into emerging markets, where indices seem to be tracking developed markets. This should pose a concern to investors who have turned to emerging market investments for a variety of reasons.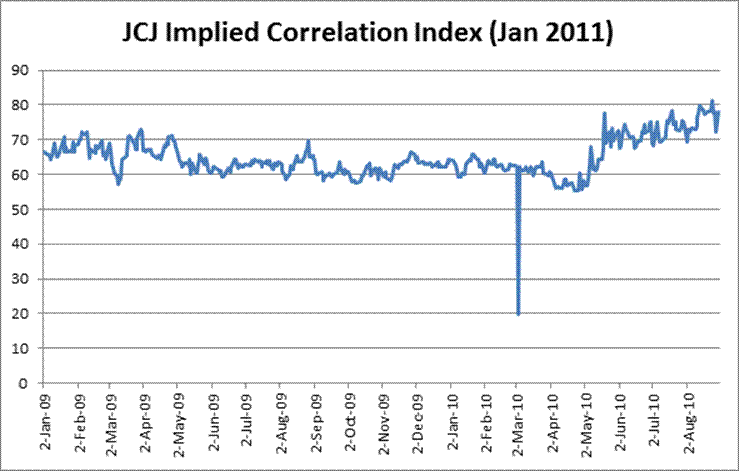 Global Markets Fail to Differentiate for Two Years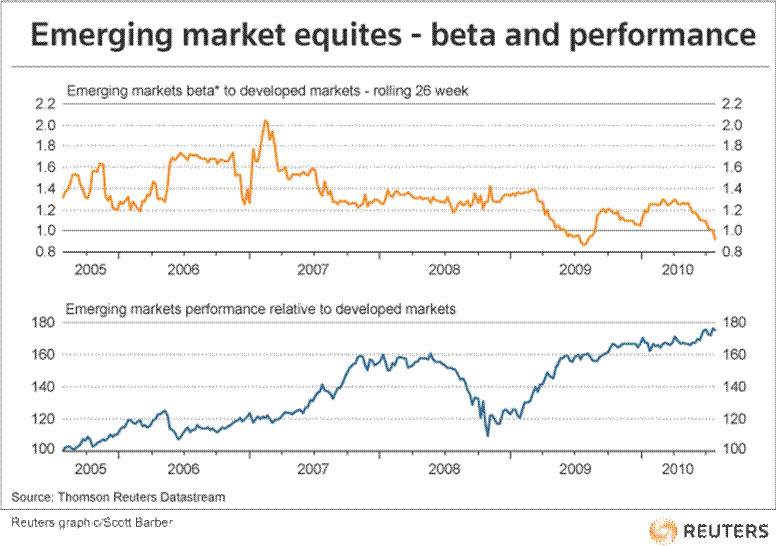 Correlations have even crossed asset classes, specifically the Australian Dollar and Japanese Yen pair have tracked the S&P 500 as an indication of risk taking in the market (equity buying & carry trading for FX).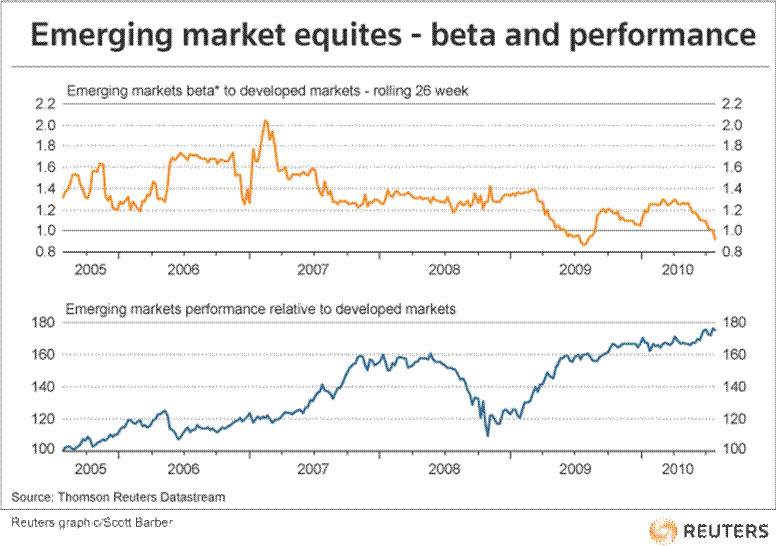 Pure stock pickers are certainly in trouble, and for a variety of reasons. First, many traditional stock pickers fail to "diversify" their holdings, and will overweight their portfolios with long only (or positive delta) strategies, with short interest coming in at record lows. Those that have been following BoomBustBlog for an extended period of time know that the markets are overvalued on belief that an American consumer recovery is right around the corner. Not only is that not the case, but following the research published back in early May explicitly indicating shorts in the US consumer market and retail stocks would have paid off incredibly.
Playing off the first problem with value investing, most value managers fail to understand the difference between traditional academic economics and value investing (and the voodoo speak oft heard in the mainstream financial media) and the actual economic facts on the ground and how they develop into the big picture. Greenlight Capital's David Einhorn elaborated on this back in 2009 at the Value Investing Congress. Failure by bottom-up investors to recognize and prepare for big picture economic events is one of the greatest downfalls of value investing. No one is exempt from the macro picture, regardless of investing approach (the full speech can be found here).
So, how do stock pickers and value investors generate alpha in the face of rising correlations, the apparent death of fundamentals in the marketplace, and high frequency traders pumping prices using fuel from markets synthetically elevated by the Fed? Aside from the traditional answers such as hedging using shorts, puts, and volatility instruments, investors will have to develop some sort of systemic macro strategy as buy and hold equity investing obviously shows the need to be tweaked with 21st century tools. Historically, when correlations have reached these levels, it is a result of some sort of fear related to global systemic risk. Herd mentality can put value investing, research, and analysis in the temporary backseat while global events become the talk of markets. Understanding these events will be the key to which portfolio managers become winners in the coming months and years.
Through the past three years of BoomBustBlog research, we have combined value, forensic fundamental research and macro analysis for global equities across a variety of sectors ranging from consumer retail to commercial banks. Those that are willing to ditch the Modern Portfolio Theory's definition of "diversification" (which we have seen over the last few years have provided nothing of the sort) and seek assets that will return on macro events will be rewarded in terms of absolute gains and will be among few managers and advisors who earn alpha even as rising asset correlations cause some of the most successful money managers to quit. The next decade of investing in financial markets will likely produce a new brand of success, exclusive from those go-go momentum managers of the 1990's and early 2000's who bought almost any stock and saw impressive returns for clients, basically charging 2 and 20 for leveraged beta under the guise of alpha. The landscape of money management and financial research is changing drastically from the days of traditional bottom-up value investing, and the rise of managers who mix investment strategies (bottom-up forensic analysis and fundamental value with global macro) appears to be waiting to capitalize off an elongated Recession.
For those who lament the new difficulties of investing in these times of extended global turmoil, consider it one of the very unpleasant side effects of The Great Global Macro Experiment, BoomBust Cycles, and the Refusal to See the Truth.
Disclosure: Short banks, tech and consumer stocks, considering long some tech after correction