Janus Capital Group, Inc. (NYSE:JNS) located in Denver, CO, is a public asset management holding company with approximately $174B in assets under management. In addition, Janus owns 95% of Intech, a Florida-based investment firm that uses a mathematical formula to drive performance. Intech manages approximately $41B in AUM. It traces its roots to 1970.
T. Rowe Price (NASDAQ:TROW), located in Baltimore, MD, is also a public asset management company with approximately $692B in AUM. It was founded in 1937.
Are these two firms mutual fund dinosaurs or stable, growing investment firms that can give investors above average returns? We believe the latter.
Despite the rising number of ETFs and passive investors, Janus and T. Rowe Price have quietly remained a force in the AUM gathering space, with both ranking in the top 50 of AUM worldwide.
Even with their large AUM, these two firms still dwarf some of the industry leaders such as Fidelity Investments ($1.6T), Vanguard ($1.8T), and especially the bigger ETF players like Blackrock ($3.86T).
But for dividend investors looking for solid companies to add diversification to a portfolio, Janus and T. Rowe Price are both worth a look. Here's why:
Each has a greater than 2.1% dividend yield
Each has grown their dividend > 10% over past 5 years
Each has a dividend payout ratio < 50%
Each has dividend coverage > 2
Each has forecasted EPS growth over next 3-5 years greater than 10%
Let's dive deeper into the numbers:
Dividend Yield: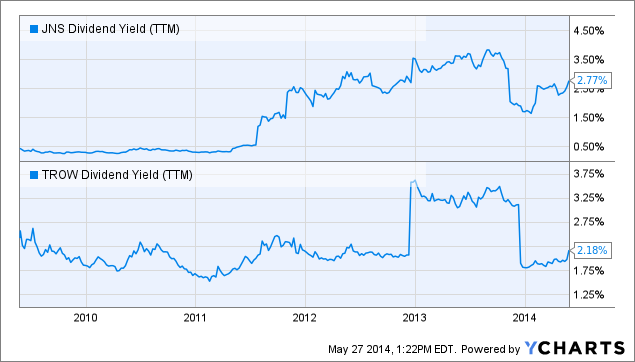 JNS Dividend Yield (TTM) data by YCharts
As shown above, JNS has a higher dividend yield at 2.77%, where TROW is at 2.18%. JNS is more recently putting an emphasis on paying dividends as evidenced by the dividend growth. TROW has a more stable history of paying and increasing dividends, thus didn't have the same need to play catch up.
Part of the choppiness of the dividend yield above is related to the underlying stock prices. TROW, as shown below, has a stock price that has grown significantly more than JNS over the past 5 years, making the relatively stable dividend yield for TROW understandable.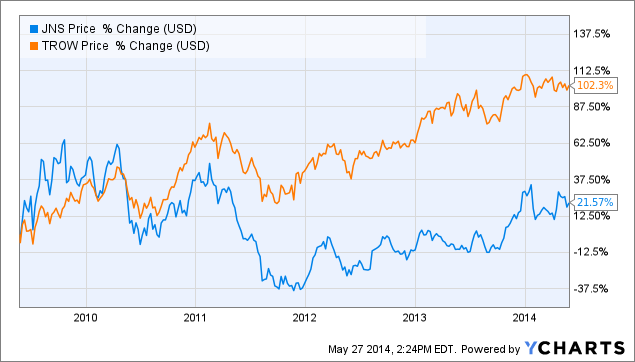 JNS data by YCharts
Payout Ratio: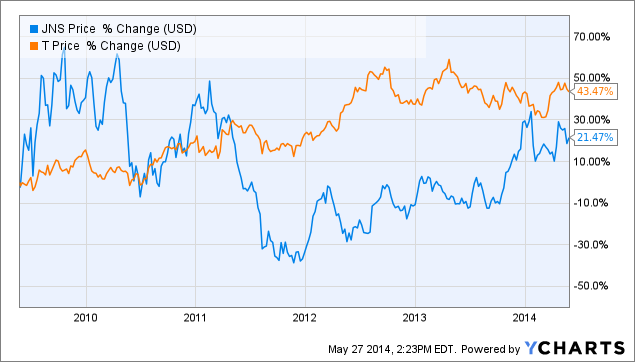 JNS data by YCharts
JNS and TROW both have dividend payout ratios that are very reasonable. TROW with a more stable one, JNS more volatile.
On the dividend front, both companies pay a good dividend, have been growing their dividend, and can sustain it. I give TROW the edge for consistency, but JNS is catching up.
So which might make a better long term total return investment?
Earnings: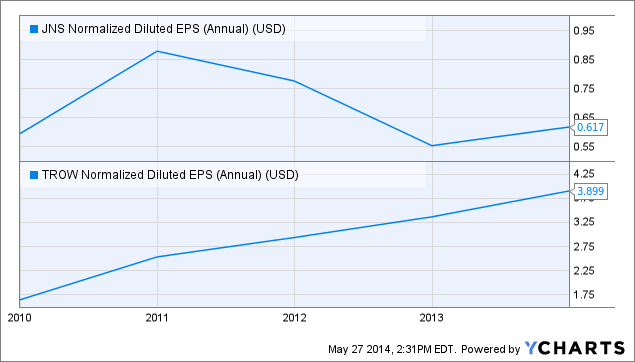 JNS Normalized Diluted EPS (Annual) data by YCharts
TROW has a substantially better track record of delivering consistent and increasing EPS over the past 5 years.
Revenue: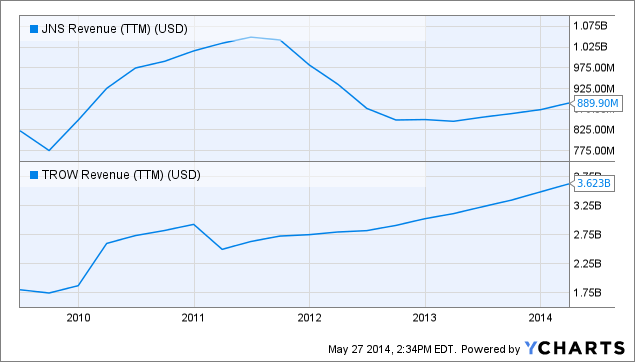 JNS Revenue (TTM) data by YCharts
TROW again has delivered the more consistent and stable revenue growth. At $3.6B revenue, TROW has 4x the amount of revenue as JNS.
Return on Assets: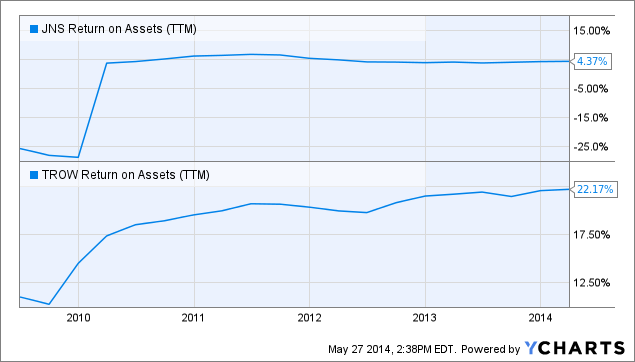 JNS Return on Assets (TTM) data by YCharts
TROW has a much higher Return on Assets at 22% versus 4% for JNS. TROW has also been slowly increasing the Return on Assets over the past few years, where JNS has been fairly stable.
Return on Investment and Return on Equity also give a clear edge to TROW.
Valuations: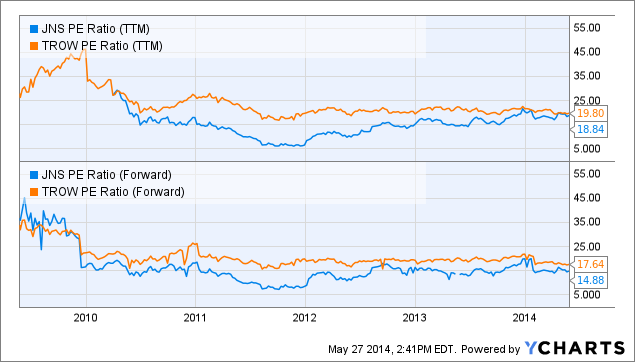 JNS PE Ratio (TTM) data by YCharts
JNS trades at a trailing PE of 18.84, and TROW at 19.80. Both are below the market median of 20.5.
The PEG ratio for JNS is 1.63 vs. TROW at 1.35. Both of these are below the market median of 1.80.
Other factors: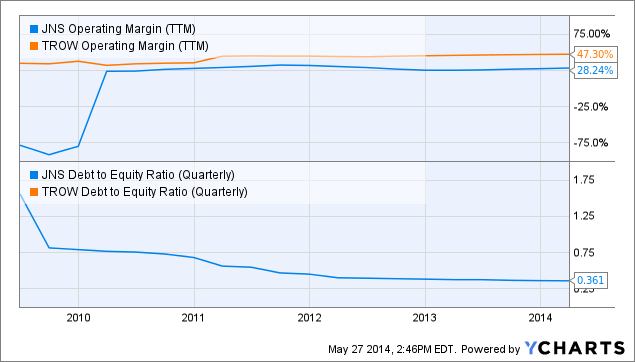 JNS Operating Margin (TTM) data by YCharts
TROW has an Operating Margin of 47% versus 28% for JNS. Additionally, JNS has a respectable Debt to Equity of 36%, but TROW has ZERO debt.
On a technical basis, JNS' stock price has performed better relative to TROW's over the past year, but much of that was catching up to years of underperformance prior to the past year. XLF (Financial ETF) added as a comparison.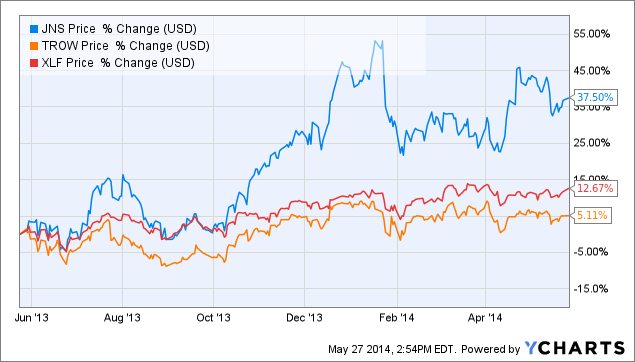 JNS data by YCharts
In summary, TROW gets the edge in:
Forward EPS projected growth
Historical EPS growth
Return on Investment
Return on Sales
Return on Equity
Dividend coverage
Dividend payout %
Operating margin
Total Debt/Equity
Concerns:
TROW and JNS still are predominantly mutual fund companies. ETFs and index funds are taking a substantial market share. Neither company has their own ETF as of now. To enter the ETF space, TROW is opting to partner with some of the bigger players through their brokerage offering. While this makes their brokerage offering more attractive and does make them money, it does little to boost the AUM, and that is where the bulk of the money is made.
Janus filed for an actively managed ETF in 2010, realizing they could be losing market share. Over three years later, they still have no entry in the ETF space.
Also, with a bull market in its 6th year, AUM is at an all time high for these firms. A substantial pull back in the market could significantly hurt both. While the dividends should remain intact, the EPS could suffer. TROW with the better margins and zero debt would look to weather those periods better.
A last concern is that financials in general are typically early cycle outperformers, and we are far along in this current cycle. Admittedly, these two companies earn their money differently than banks, so the correlation isn't exactly tied to the financials.
In conclusion, for dividend focused investors who want stability, sustainability, and potential for above average capital appreciation, both of these should be considered. Any entry by either into the ETF space would further solidify that opinion. Of the two, TROW gets the edge for total return expectations and our opinion is that TROW should outperform over the next 3-5 years.
Disclosure: I have no positions in any stocks mentioned, but may initiate a long position in TROW over the next 72 hours. I wrote this article myself, and it expresses my own opinions. I am not receiving compensation for it (other than from Seeking Alpha). I have no business relationship with any company whose stock is mentioned in this article.