The lockup period that began with the December 10, 2013 IPO of Autohome Inc (NYSE:ATHM) will conclude on June 10, allowing pre-IPO shareholders in the Chinese online automotive resource to sell their outstanding shares.
These shares are primarily held by Australian communications giant Telstra, as well as venture capital firms and ATHM's executives and directors. The massive increase in the supply of ATHM shares available for sale will likely cause a temporary decrease in the price of shares and may create a short opportunity for aggressive investors.
IPO and Recent Market Performance
ATHM's highly successful IPO priced at $17 per share, above the upwardly-revised expected range of $14-$16 per share, and the stock saw an exceptional 76.9% first day return. ATHM continued to make impressive gains through early March, peaking at $51.98 per share; however, the price has since been in a state of gradual decline. ATHM closed at $35.14 per share on May 27.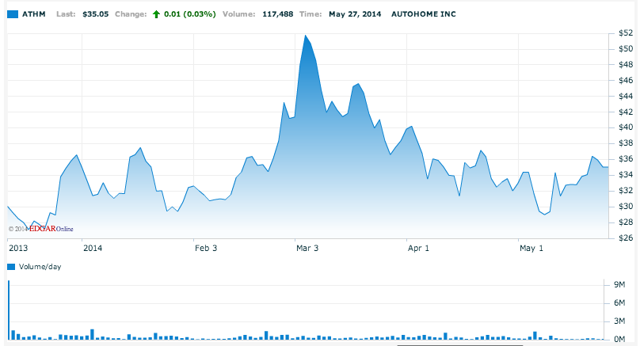 Click to enlarge
(Nasdaq.com)
Share Unlocking: ~88 Million Shares Could Saturate The Market
The June 10 lockup expiration will free some 88 million shares of ATHM for sale on the market, dwarfing the 7.8 million shares the firm offered in its IPO.
Telstra may choose to sell at least some of its 68.8 million shares before the value of the stock declines any further, especially given that the terms of ATHM's IPO specify that Telstra will be able to maintain 51% voting rights in ATHM so long as it holds at least 39.3% of outstanding shares. Orchid Asia Funds, a collection of venture capital funds, will also likely sell some of its 12.1 million shares in the interest of returning capital to its investors.
The directors and executives of ATHM will have their first opportunity to sell their shares since the December IPO, and many may choose to sell in order to cash out or diversify their holdings while the price of shares remains relatively high-as of May 23, the price of ATHM was still more than double the IPO price, despite the slide of the past two months.
Autohome's Websites Attract Significant Ad Attention
ATHM operates a pair of websites, autohome.com.cn and che168.com, which provide informational resources to Chinese automobile owners and buyers.
Autohome.com.cn in particular has become extremely desirable for advertisers; the site ranked first among all Chinese sites in terms of average daily page views and average daily unique visitors in the nine months ended September 2013. Over the same period, the site accounted for approximately 46% of all time spent viewing online automotive information by Chinese web users. Unsurprisingly, Chinese automakers are among ATHM's best advertising customers; approximately 80% of China's automakers advertised on ATHM's sites in each of the past four calendar years.
Stiff Competition Among Auto Sites
Despite ATHM's dominance in the sphere of online Chinese automotive research, it still must compete with other Chinese automotive sites such as pcauto.com and bitauto.com. Major Chinese internet portals such as Sina (NASDAQ:SINA) and Sohu (NASDAQ:SOHU) also compete with ATHM through their automotive channels. Offline media like magazines and television constitute significant sources of competition as well.
Strong First Quarter Results
ATHM released its unaudited results for the quarter ended March 31, 2014 at the beginning of May. As expected, the results revealed continued impressive growth in the firm's revenue and income figures, with year-over-year increases of 67.3% in net revenue and 62.5% in net income. ATHM also reported that it provided services to 12,659 dealer subscribers during the quarter, more than double the number of dealer subscribers the firm reported for the first quarter of 2013.
Average daily unique visitors to the firm's sites grew to 7.2 million for the quarter, up from 5.9 million for 2013.
Conclusion For Aggressive Investors
ATHM's performance on the market thus far has been impressive, even if it was unable to maintain the optimistic share prices of early March, and the firm's first quarter results tell the tale of a company that is continuing to gain steam. These facts provide insiders with the ability to begin to take profits in their huge stock holdings.
ATHM's share price will likely take a hit with the conclusion of lockup period, opening a temporary short opportunity for quick, aggressive investors.
Readers wishing to join the discussion on IPO lockup expirations should click the +FOLLOW button above the title of this article and/or follow @DRDInvestments on twitter.
Disclosure: I am short ATHM. I wrote this article myself, and it expresses my own opinions. I am not receiving compensation for it (other than from Seeking Alpha). I have no business relationship with any company whose stock is mentioned in this article.