Bristol-Myers Squibb (NYSE:BMY) was established back in 1858 and is today a global biopharma company with annual sales of approximately $16 billion and a market cap of $80 billion. The company boasts six billion-dollar brands, led by Abilify and Sustiva.
The Fundamentals
Like many of its peers in the pharmaceutical industry, Bristol-Myers Squibb has experienced a fairly slow growth rate over the last decade or so.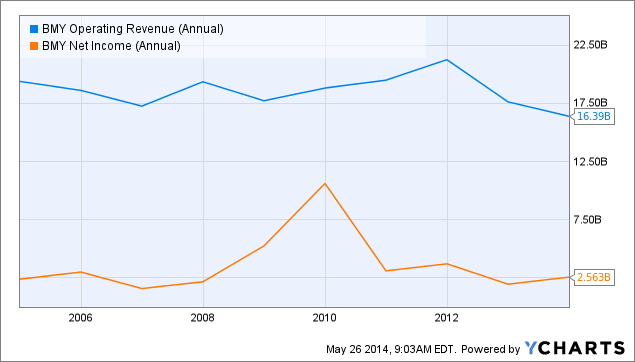 BMY Operating Revenue (Annual) data by YCharts
As can be clearly seen above, revenue has actually decreased over the last 10 years while net income is essentially flat. This is a recurring theme among many of the large pharmaceutical companies. Stability and dividends are fine but at the end of the day the company needs to be able to grow its top- and bottom-line in order to generate growing dividends and capital appreciation for its shareholders.
There are several ways this issue can be resolved. The obvious way is to beef up R&D spending so as to generate organic growth. This can be done by allocating more funds but also by focusing R&D resources on fewer products. Another strategy is to buy growth by acquiring other companies with promising drugs. A third way, which seems to capture less attention in the market, is partnering with other companies in the industry.
One promising partnership the company entered into was its deal with Gilead Sciences (NASDAQ:GILD) regarding the combination of Bristol-Myers Squibb's REYATAZ and Gilead's cobicistat for treatment of HIV-patients. This sort of agreement is a good example of a situation where combining two companies' products increases the effectiveness of treatment for patients, thereby also boosting sales and shareholder value.
Bristol-Myers Squibb has a biopharma strategy of combining the reach and resources of a major pharma company with the entrepreneurial spirit and agility of a successful biotech company. With this strategy the company strives to focus on customers' needs, giving maximum priority to accelerating pipeline development, delivering sales growth and continuing to manage costs.
According to the CEO, the strategy is working as the company has delivered high total shareholder returns in the last couple of years and has brought 14 new medicines to market in the last 10 years.
On the R&D side the company is following its String of Pearls strategy, which includes partnerships with other companies, innovative alliances and acquisitions.
The company has identified some key areas in which to focus its R&D efforts, namely cancer, cardiovascular disease, immunology, neuroscience and virology. A lot of times such focus is easier said than done. Bristol-Myers Squibb, however, has demonstrated that it cannot only increase investments in its key areas but also divest the areas which are not part of its core strategy. A recent example of that is its divestiture of the diabetes business to AstraZeneca (NYSE:AZN). Such moves should give confidence to investors that the strategy is not simply words but something that is taken seriously by management in order to enhance long-term shareholder value.
I believe the company has the right strategy going forward, combining internal R&D resources with external collaboration and divestitures where it makes sense. This strategy will help the company grow its cash flows over the long run, thereby underpinning a stable and growing dividend which should make the company a good fit for a conservative retirement portfolio.
Risk Factors
The company operates in a highly competitive industry so there is always the risk of other companies coming up with better drugs for the same disease or beating you to market within a new niche. Currency is also a risk as it always is for companies operating overseas. Historically there has also been a lot of litigation within the pharmaceutical industry so investors should be aware of that risk as well. Every now and then, NGOs or politicians start complaining about the high cost of medicines. Usually it results in nothing, but there is a risk of prices and distribution being regulated strictly.
Valuation
We now know that the company has been struggling somewhat with its growth rate but also that it has a strategy that management thinks will help it grow in the future. So we should have a look at the extent to which this future opportunity is priced into the stock.
| | | | |
| --- | --- | --- | --- |
| | Bristol-Myers | AstraZeneca | Pfizer |
| Price/Sales | 5.0x | 3.5x | 3.9x |
| Price/Earnings | 28.1x | 35.5x | 18.0x |
| Yield | 2.9% | 3.9% | 3.4% |
Source: Morningstar
In the table above there is one domestic competitor and one foreign competitor. We can see that AstraZeneca wins two categories, namely Price/Sales and the dividend yield. Pfizer (NYSE:PFE) wins the Price/Earnings category. For a separate analysis of Pfizer, you can read my recent article on that company. Bristol-Myers Squibb comes in second in the two first categories but is the most expensive when it comes to the dividend yield.
The S&P 500 trades at a P/E of 18.0x so all companies in the table trade at or above the multiple of the broader market. Based on the above it is hard to argue that Bristol-Myers Squibb is cheap on current multiples. However, it does have a fairly nice expected growth rate.
The Dividend
Bristol-Myers Squibb is a stable dividend payer. You should not be worried about a dividend cut if you own the stock. However, the growth rate of those dividends have not been as stellar. For instance, the dividend stood still at $0.28 per share between February 2002 and November 2007.
Over the last ten years the compound annual growth rate of the dividend has been an unimpressive 2.5% from the $0.28 to today's level of $0.36. That said, the last couple of years the company has been increasing its dividend every single year. The most important thing for investors now is how the future growth rate of earnings, and by extension dividends, will be.
The analyst community expects EPS to grow at an annual rate of 14.4% over the next five years. If we assume a constant earnings multiple and add in the dividend yield of 2.9% we arrive at an expected total shareholder return of 17.3% annually. I think this is somewhat high as I think the multiple will have to contract. But it is far better than what can be expected from the S&P 500 over the same period and, in my opinion, with lower risk.
For a current or future retiree seeking a predictable and rising cash flow, Bristol-Myers Squibb should be an ideal investment. This company offers the favorable combination of solid fundamentals, a nice yield and the prospect for healthy growth of that yield over the long term.
Conclusion
The company itself has demonstrated historically that it is a quality company and I think it has the right strategy for the future. It has a stable dividend that it seems determined to increase every year, though the growth rate thus far has been unimpressive. Going forward, this company should offer nice growth opportunities in addition to a respectable dividend of 2.9%. The stock's stability, dividend and future growth should make it a nice addition to your retirement portfolio.
Disclosure: I have no positions in any stocks mentioned, and no plans to initiate any positions within the next 72 hours. I wrote this article myself, and it expresses my own opinions. I am not receiving compensation for it (other than from Seeking Alpha). I have no business relationship with any company whose stock is mentioned in this article.