Bank of America (NYSE:BAC) has had a very challenging three months. It had to restate numbers it had previously submitted to the Federal Reserve and that had been in error since 2009. This delayed approval of their capital plan which would have included a significant dividend boost and stock repurchase program. Earnings estimates were also ratcheted lower by several analysts. This impact on the stock compared to the overall market has been predictable and negative (See Chart).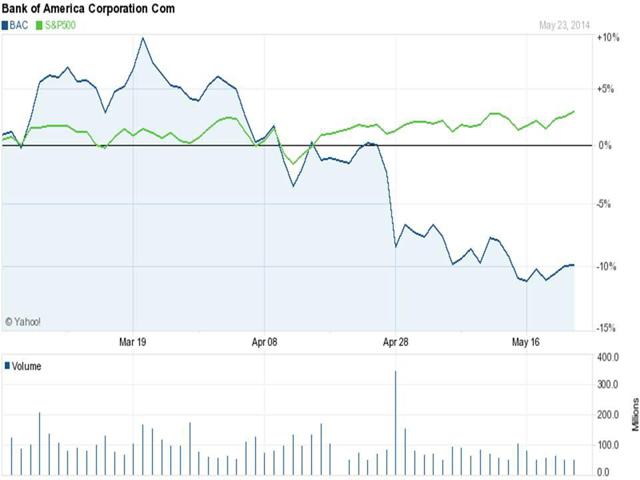 Tuesday the stock had its biggest one day gain of the year as it has resubmitted its capital plan to the Federal Reserve which should now pass muster as the original plan was approved before the errant calculations were discovered. I expect the Fed to approve Bank of America's substantial dividend increase to nickel a share quarterly - up from a penny a share - and a reduced stock repurchase program than the earlier submission. The plan should be reviewed and approved within three months.
I expect approval of this plan to be a significant catalyst and a primary driver enabling the bank to recover the highs in its equity earlier in the year. Other positives that should play out over the summer include housing activity picking up as the country puts a horrid winter behind it and as mortgage rates have dropped since the first of the year. Bank of America was the only major bank to pick up market share in mortgage originations in 2013.
In addition, M&A activity has picked up substantially so far this year which should bolster its investment banking arm. With interest rates still historically low, S&P 500 margins near record highs and organic growth hard to come by; I expect M&A to be robust throughout the year. Bank of America was even retained to help the now notorious Donald Sterling sell the Los Angeles Clippers. After being flat in Q1, GDP should accelerate substantially for the rest of 2014 which is a positive for the financials
I also expect negative government actions (Ex, fines) to subside a bit once we get past the mid-term elections. The major banks have now paid some $100B in fines as the result of the aftermath of the financial crisis. Fannie Mae and Freddie Mac continue to be unpunished and unreformed which are understandable given government control and their now substantially contributions to the government coffers.
One of the ironies of the financial crisis is that these "evil" Too Big To Fail banks have actually gotten bigger and have even more market share than before the crisis. The banks have almost too complex to manage and I expect eventually these banks will make significant divestitures over the longer term to unlock shareholder value and focus on their core competencies. MKM Partners recently postulated this thesis.
I think 2015 is the year that Bank of America really takes off as earnings are projected to go from a consensus profit of just over 90 cents a share in FY2014 to over a projected $1.50 a share. However, as the economy & housing activity improves, its latest capital plan is approved by the Federal Reserve and sentiment on major banks become a bit less negative; I believe the bank can hit its earlier high in the year of ~$18 a share. This would be more than a 15% gain from current levels of around $15 a share. ACCUMULATE
Disclosure: I am long BAC. I wrote this article myself, and it expresses my own opinions. I am not receiving compensation for it (other than from Seeking Alpha). I have no business relationship with any company whose stock is mentioned in this article.