In the current market environment, it is important for income investors to choose their dividend stocks wisely as they are putting new money to work. As volatility increases (especially downside volatility), investors may want to add some low beta stocks to their holdings to help dampen portfolio volatility. In general, companies with low betas will tend to be less volatile than the general market.
Low Beta Dividend Stocks For Your Portfolio
Stocks with low relative betas tend to generate stable cash flow regardless of the state of the overall economy.
That said, we recently scanned our entire dividend stock universe and came up with our current "All-Defensive" Team. This team is made up of 25 "defensive" dividend stocks with the highest Parsimony Ratings (that also meet the parameters below):
Beta (5-year) < 0.70
Dividend Yield > 2.5%
Parsimony Rating > 75
We will highlight each of these stocks over the course of a 5-part series. Below is a schedule of the entire series. Please make sure to "follow" us so that you will be notified when each new article is published.
The All-Defensive Team: Second Team
Our 25 All-Defensive Team stocks have an average beta of 0.46 and an average dividend yield of 3.4%. This article highlights the 5 stocks that made the Second Team (stocks ranked #6-10). The tables below summarize some of the key data points that we analyze when ranking our dividend stocks.
#10 Cleco Corp. (NYSE:CNL)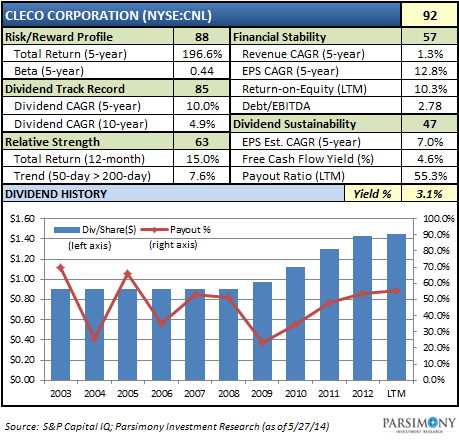 Cleco Corp. has a long and stable dividend track record. In fact, the company has paid dividends to its shareholders since 1935. That said, up until 2010, CNL had not increased its dividend since 2002. However, the company seems to have turned over a new "dividend growth" leaf recently as it has increased its dividend at a compound annual rate of almost 15% over the past 3 years.
#9 Altria Group (NYSE:MO)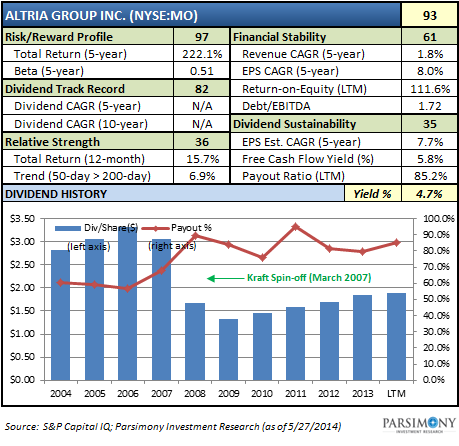 The long-term dividend chart above doesn't do Altria justice as the company did a major spin-off (Kraft) in 2007 (which distorted the payout history). That said, MO has been a tremendous dividend growth stock and it probably has one of the longest dividend track records of any stock in existence. Altria is a cash flow machine and it has delivered shareholders a total return of 222% over the past 5 years. It also has one of the highest dividend yields (4.7%) of any stock on our All-Defensive Team!
#8 Lockheed Martin Corp. (NYSE:LMT)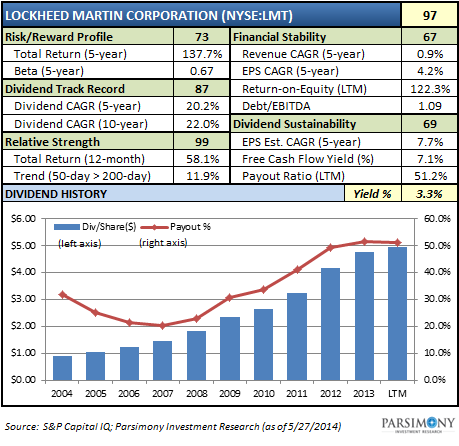 While Lockheed Martin is not in a traditional "defensive" sector, the stock has a low relative beta (0.67) for an Industrial company. LMT has certainly exhibited some amazing dividend growth for investors over the past 10 years, with a compound annual growth rate of 22.0%. In addition, LMT has a very respectable dividend yield of 3.3%. That said, the stock has gotten a little bit ahead of itself and we would wait for a pullback to get back into this one.
#7 Raytheon Co. (NYSE:RTN)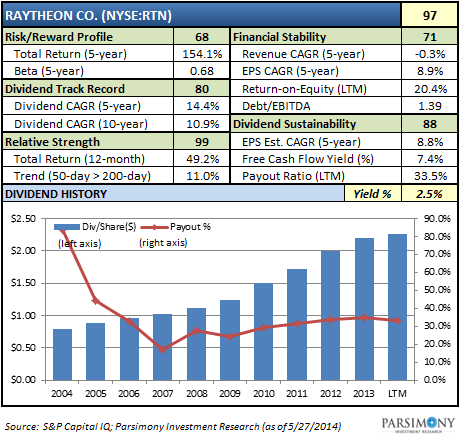 Raytheon is another low beta (0.68) Industrial company. RTN has paid dividends to shareholders for almost 50 years in a row (hence the high Dividend Track Record rating). RTN also has decent ratings for Financial Stability (71) and Dividend Sustainability (88). RTN has delivered shareholders a 154% total return over the past five years, and it has increased its dividend at a compound annual rate of 14.4% over that period. It's certainly not a shock that the stock has been on quite a run recently and we would also wait for a pullback to get into RTN as well.
#6 Bristol-Myers Squibb (NYSE:BMY)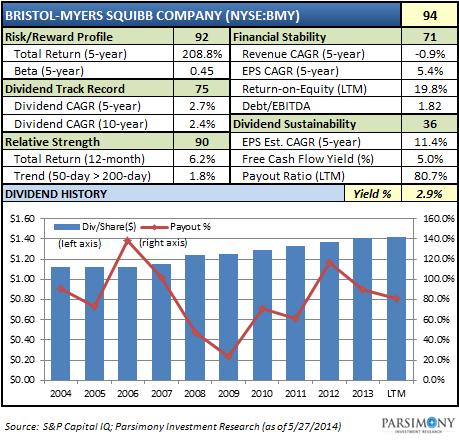 While Bristol-Myer's dividend growth rate has been relatively modest over the past 5 years (2.7%), the company has delivered shareholders a total return of 209% over that time period. In addition, BMY has a decent dividend yield (~3.0%) and we think that it is a great long-term hold for DIY dividend investors.
Summary
If you are looking to generate safe and stable income in a volatile market environment, low beta dividend stocks in defensive sectors are a great way to accomplish this goal. We believe that any of the 25 stocks on our All-Defensive Team would make a nice addition to a long-term dividend portfolio.
Disclosure: I am long CNL, MO. I wrote this article myself, and it expresses my own opinions. I am not receiving compensation for it (other than from Seeking Alpha). I have no business relationship with any company whose stock is mentioned in this article.