Early in March, the Securities and Exchange Commission (SEC) sent letters to five mega-banks operating in Asia, including: Credit Suisse Group AG (NYSE:CS), Goldman Sachs Group Inc. (NYSE:GS), Morgan Stanley (NYSE:MS), Citigroup Inc. (NYSE:C), and UBS AG (NYSE:UBS), expanding the scope of their investigations into these institutions' possible acts of bribery.
The SEC began civil and criminal probes last year, after they became suspicious of the hiring practices of JPMorgan Chase in Asia (NYSE:JPM). Since that time, there has been enough evidence to warrant expanding the investigations. According to the Foreign Corrupt Practices Act, US companies and their subsidiaries are prohibited from giving favors, money, or other valuable items to foreign government officials to gain a business advantage.
The probes themselves have been highly effective in discouraging questionable hiring practices, and many banks have decided not to engage in certain deals that might fall under SEC scrutiny.
The second rounds of letters recently issued are asking for much more information. The deeper probes are asking if employees were hired because they were referred to the bank by influential clients or foreign officials.
Briefing: Foreign Corrupt Practices Act
The Foreign Corrupt Practices Act does not prohibit US companies from hiring relatives of foreign officials if the new employees are fully qualified for the job. What investigators look for is evidence of the bank hiring someone who is not particularly qualified for a position, but who could be instrumental in securing profitable contracts or getting new business.
The Curious Case of Mr. Fang
US prosecutors have noted that when banks are scrutinized about their hiring practices, certain key employees abruptly decide to retire.
An example is the sudden retirement of Mr. Fang Fang. After becoming one of the top executives in JPMorgan's China division, Mr. Fang decided to retire after US investigators found emails that indicated that Mr. Fang was planning on hiring the son of Tang Shuanging, the Chairman of China Everbright. Since the bank had secured work from China Everbright, US prosecutors were inquiring whether the plan to hire Mr. Tang's son was an influential factor.
What was unusual about Mr. Fang's retirement was that he had just reached the peak of his career. After climbing the corporate ladder for many years, he retired just when he would have been in a position to earn the career rewards that he had been seeking for decades. At the time of Mr. Fang's abrupt retirement, Mr. Fang had not been accused of any wrongdoing.
How Will The Tale End For JPM Investors?
Although JPMorgan certainly is not the only institution under scrutiny for possible violation of the FCPA, the continued negative publicity in the case against one of its top executives should leave shareholders uncomfortable, at the least.
Bad news continues to roll off the presses for this mega-bank. Prior to Fang Fang's "retirement," JPM dropped out of a prominent IPO for similar questions into possible illegal business connections. A continent away - JPM has recently been accused of colluding to fix interest rates, and lying to countless investors.
Strangely, JPM's board seemingly deems these scandals irrelevant, and has rewarded CEO Jamie Dimon with a raise. We see this as continued disregard for shareholders, who likely hoped for better returns on investment than goodies for a questionably performing chief executive.
Most importantly (and unfortunately) for JPM shareholders is the institution's poor performance YTD. Fixed trading revenue has declined by nearly 20% as compared to this time last year. The firm's mortgage banking unit noted a pretax loss of at least $100 million in the current quarter as a result of higher interest rates.
Investors should also be increasingly concerned about JPM missing revenues estimates repeatedly for the past five out of six quarters.
JPM stock has seen a particular decline in the month of May, being edged out by competitors Morgan Stanley and Wells Fargo (NYSE:WFC).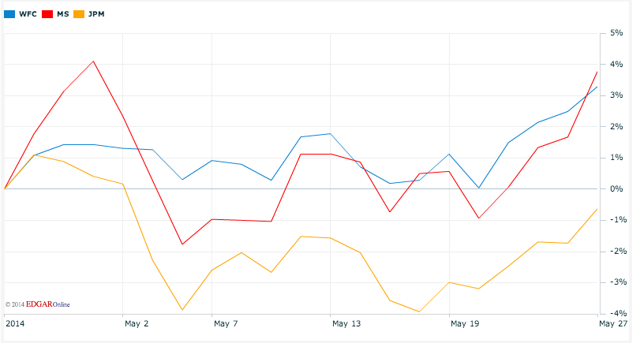 (Nasdaq.com)
We recommend investors consider taking profits in JPM.
Readers wishing to join the discussion on JPMorgan and other mega-banks should click the +FOLLOW button above the title of this article, and add @DRDInvestments on twitter.
Disclosure: I have no positions in any stocks mentioned, and no plans to initiate any positions within the next 72 hours. I wrote this article myself, and it expresses my own opinions. I am not receiving compensation for it (other than from Seeking Alpha). I have no business relationship with any company whose stock is mentioned in this article.