There are several mega-trends supporting Guangshen Railway (NYSE:GSH).
One of the most important is the urbanization of China, as people are moving from the country to big cities, increasing demand for transport. The second is infrastructure spending, a trend fueled by the intention to sustain growth. Another is that railroads are becoming the most competitive way for transport and more energy efficient. Additionally, even if China's economy is slowing, it is still growing faster than the developed countries and with more future potential.
In this context, the company is focusing on improving service quality, as well as on extensive railway construction and technology innovation.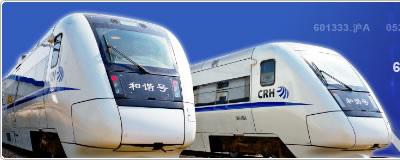 Source: GSH website
As you can see in this picture, the trains are modern and appear to be in good shape.
Additionally, new long distance train routes were put in place last year, like Guangzhou-Yantai. Also, the number of trains in the existing lines increased, like in the Guangzhou-Shenzhen intercity route. All that led to an increased volume of passengers (more people also traveled to Hong Kong and Macau), merchandise, and revenue for the company.
So if the business is sound, why has the stock dropped?
Margins declined, so earnings were lower, too. The market did not understand the situation. When revenue is growing and business is expanding, the reduction in earnings should be seen as temporary. Earnings reduction was caused by infrastructure spending, higher tax rate, weakness in the RMB (the Chinese currency), which hurt ADS shares (ADS=American Depositary Shares). This is why I see a current correction driven by negative sentiment as a buying opportunity.
Remember, the stock is trading at a 12.5 P/E, 0.6 P/B and 1.05 P/S -- a lot cheaper compared to US railroad stocks (Union Pacific (NYSE:UNP) is trading at 20 P/E, 4.2 P/B and 4 times sales), and with more growth opportunities! Nevertheless, Warren Buffett clearly considers American railroads as a good investment, as his Berkshire Hathaway (NYSE:BRK.A) (NYSE:BRK.B) took over Burlington Northern Santa Fe some time ago.
| | | | |
| --- | --- | --- | --- |
| | P/E | P/B | P/S |
| GSH | 12.6 | 0.6 | 1.05 |
| UNP | 20.2 | 4.2 | 4 |
| CNI | 20.5 | 4.1 | 5 |

In the US, railroad companies were hurt by the reduction in coal transport, linked to the advance of natural gas, but China is more reliant on coal.
I like to be a contrarian when market sentiment is not in line with fundamentals, like I did with Myriad Genetics and Amarin. When sentiment is misaligned with fundamentals to a great extent, you have the greatest swing in price. For instance, after the above mentioned article, Myriad gained more than 100% in 3 months, from $20 to $42.50, just because of a change in sentiment, not because of earnings growth. Earnings grew, but just 19% or so, not 100%, and at an even slower pace than before. What really changed was sentiment. In the same way, when the market starts focusing again on the growth opportunities for railroads in China, the multiples for this stock will reach normal levels again.
I can concede that in China railroads will face increasing competition, not just from alternative ways of transport like auto and trucks, but also internally, from eventual new railway companies, or the already existing ones, but they are still in the early age of the business. However, railroads are already citizens' most utilized vehicle for transport and traveling. China is too big to ignore, and people's standard of living is still low there compared to the West.
What could go wrong? I see these risks: Possible new competitors entering the market; weakening in the yuan, which could hurt foreign investors; and the chance of new debt issuance to finance new investment, as the industry is evolving and new investments can be necessary. There is also the always recurring suspect of fraud or lack of transparency in Chinese companies. Anyway, in the case of GSH, the fear of a fraud is way more contained compared to other small Chinese companies because the business is real and visible. Additionally, the company has been paying and increasing the dividend since 2007, yielding about 3% at current levels. Also, the stock was not hit when several auditors were blocked by the SEC, and Chinese companies, especially the internet related ones, suffered heavy losses.
Finally, this investment is not linked to the export sector of the China economy, but from internal growth in the country. This is called China's transition, where the country's economy is becoming more dependent on domestic demand.
SA contributor Paulo Santos already addressed this economic theme quite thoroughly in this article.
To sum up, China cannot rely forever on investments for growth, but needs to shift to a more consumer-oriented society. As a consequence, industrial production and residential housing starts will see a slowdown, while retail sales, consumption (in Santos' opinion), and even transport (in my opinion), even if they face a possible slowdown, will likely keep growing at higher levels.
Disclosure: I am long GSH. I wrote this article myself, and it expresses my own opinions. I am not receiving compensation for it. I have no business relationship with any company whose stock is mentioned in this article.