The 180 day lockup period that began with Nimble Storage Inc (NYSE:NMBL)'s December 12, 2013 IPO will come to an end on June 11, allowing major pre-IPO shareholders to begin selling their outstanding shares in the hybrid flash/disk storage manufacturer.
Many of these shares are held by venture capital firms; NMBL's directors and executives, who also hold a significant percentage of the outstanding shares, will be permitted to sell their shares with the expiration of the lockup period as well. The sudden increase in the supply of NMBL shares on the market will likely cause a decline in the price of NMBL shares, potentially offering a short opportunity for aggressive investors.
NMBL's Early Market Success
NMBL's highly successful IPO beat its expected price range of $18-$20 per share with a pricing of $21 per share; early NMBL buyers scored an exceptional first day return of 61.6%. Share prices continued to rise through late February, peaking at $58.00 per share before entering a lengthy slide to share prices beneath $21.00 in early May. The stock has shown signs of recovery through the rest of May, however, and has regained much of its lost ground to close at $28.71 per share on May 27.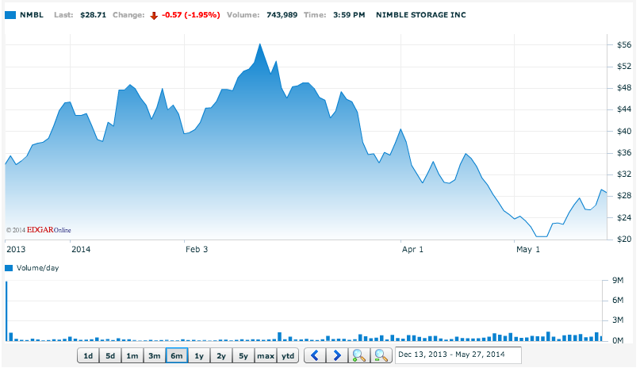 (Nasdaq.com)
Over 62 Million Shares Could Be Unlocked
The June 11 lockup expiration will free some 62.4 million NMBL shares for sale, nearly eight times the 8.0 million shares offered in the firm's IPO.
The venture capital firms that hold significant stakes in the firm will likely choose to sell some or all of their shares in the interest of returning capital to their investors; given NMBL's mercurial market performance thus far, these firms may wish to reduce their stakes in NMBL while the price still significantly exceeds the IPO price.
These venture capital firms include Accel Partners and Sequoia Capital, each of which hold approximately 12.9 million shares of NMBL, along with Lightspeed Venture Partners VIII, LP, which holds approximately 9.8 millions shares.
The firm's executives and directors, having had no opportunity to sell since the IPO, may also sell some of their shares in order to diversify their portfolios, though they are not under the same pressure to sell as the venture capital firms.
Summary of Nimble Storage
NMBL manufactures and markets a flash-optimized hybrid storage platform designed to address the growing storage needs of cloud-based services and enterprises.
The firm's platform is centered around its Cache-Accelerated Sequential Layout (OTCQB:CASL) file system software and InfoSight, a cloud-based storage management service. NMBL's software team has constructed its new file system software to combine the high performance of flash memory with the capacity and cost efficiency of disk. The InfoSight service uses deep-data analytics and other features embedded in NMBL's platform to track and report the performance of customer systems.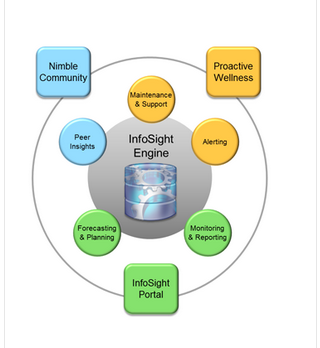 (http://nimblestorage.com/infosight/overview.php)
The firm's products have seen growing popularity over recent years; the firm reported over 40 end-customers as of January 31, 2011; 270 end-customers as of January 31, 2012; 1090 end-customers as January 31, 2013; and 2100 end-customers as of October 31, 2013. NMBL's customers include cloud-based service providers, financial services firms, and education firms, among many others.
Competition In The Storage Sector
NMBL competes with other firms offering similar enterprise storage solutions. Direct competitors include large storage system vendors like NetApp (NASDAQ:NTAP) and EMC (EMC); the firm also competes with more general systems firms like Dell and Hewlett-Packard (NYSE:HPQ) that have acquired specialist storage vendors or developed their own storage systems solutions internally.
NetApp suffered something of a blow with IBM's recent announcement that it will no longer sell or produce NetApp storage products as of May 27; some analysts have theorized that the announcement helped to maintain NMBL's positive momentum last week.
Positive Recent Reception from Market Analysts
NMBL's gains on the market over the past two weeks have been driven in no small part by improving ratings from popular analysts, who perhaps have finally forgiven the stock for its outsized post-IPO growth. Wunderlich analysts upgraded the stock to a buy on the 21st after Goldman Sachs offered a similar rating on the 15th. Needham & Company analysts rated the stock a strong buy on the 12th.
The stock has its detractors as well, most notably DA Davidson, which has persistently rated the stock at "underperform" throughout its recent growth.
Conclusion: A Short Window For Aggressive Investors
The large quantity of soon to be unlocked NMBL shares held by venture capital firms suggests a strong possibility of a glut in supply at the conclusion of the lockup period, likely leading to a decrease in share prices. The stock's poor performance through March and April may well catalyze concerns among investors and cause a larger swing in prices.
Though NMBL won't see profitability for years to come, we believe that this is a stock that investors should keep their eyes on-though interested parties should certainly take the time to examine the quarterly results expected from NMBL on May 29.
We invite readers interested in joining the discussion on IPO lockup expirations to click the +FOLLOW button above the title of this article and/or add @DRDInvestments on twitter.
Disclosure: I am short NMBL. I wrote this article myself, and it expresses my own opinions. I am not receiving compensation for it (other than from Seeking Alpha). I have no business relationship with any company whose stock is mentioned in this article.