By Chris McKhann
Options on bond funds have been drawing interest, and today we see a big trade in one fund that hasn't traditionally had any options action.
The iShares iBoxx Investment Grade Bond Fund (NYSEARCA:LQD) is trading at $111.03 this morning. As equities rallied last week, it fell from a five-year high of $113.05. The price had climbed from $105 in early June, showing potential concern among equity investors looking for diversification in bonds.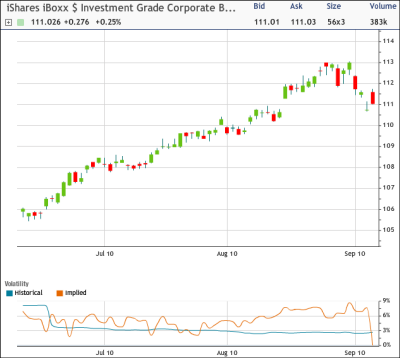 This fund is not a typical target for option trading, as the average daily volume over the last month has been only a bit more than 400 contracts. But this morning we already see two blocks of 10,000 trading in the March 100 puts.
These puts were bought for $1 and then $1.05 as they drove the price higher. The activity was against open interest of just 147, so it was new opening positions.
The put buying isn't tied to any activity in LQD shares that we can see, so it may simply be a big trader playing the downside in bonds as one way to play an equity rally or stabilization. But there was some big volume in the fund in the last minutes of Friday's session, so the puts may be protecting those gains as the bond ETF continues to jump today.
Given that the size of the trade also leads to the assumption of sophistication, this very well may be a trade in the LQD against a play in some other fund or even in the underlying bonds themselves as some form of arbitrage trade and not a directional tell in any real way.

Disclosure: No position