Many bond investors this year have been searching for higher yields but coming up short. Safer bonds, those with lower risk, are seeing higher yields as opposed to those with higher risk. This has not happened since 2010.
We have seen a rally in U.S. government bonds and corporate bonds. They have posted larger gains than junk bonds. The higher rated junk bonds like double B have rallied more than speculative bonds, which are rated triple C. What is fueling this growth? It has been driven by a surge in U.S. Treasuries. Also, rates are reflecting softer than expected growth in the world's largest economy and quiet inflation numbers. Rates are also being suppressed by the Federal Reserve's assurance they will keep rates near zero till sometime in 2015.
With the surge in U.S. economic growth towards the end of last year, we expected the economy to keep that pace through the first half of this year. After a harsh winter, which brought sub-arctic temperatures and blizzards to much of the United States, the data hit a wall. The slowdown caught many of us on the wrong foot. Instead of the economy accelerating, which would then drive gains in riskier asset classes such as equities and junk bonds, the gross domestic product (GDP) expanded at a tepid 0.1 percent in the first quarter. Since then, data has shown an uneven growth rate.
Remember that old maxim that more risk gives greater rewards. This is not happening. We are seeing investor capital flying into assets that give an incremental yield that is available on debt that is considered safe. This is happening to compensate for really low interest rates and relatively flat U.S. equity markets. So far, in 2014, the highest yields are being found in the super safe zero coupon Treasury notes.
Now, investors are starting to invest more into riskier debt. They feel that a resurgent U.S. economy will cause the recent price rally in Treasuries to reverse. This will push rates higher but should not cause problems, regarding default risk, to junk bond issuers. This move will hurt highly rated debt prices. We are now seeing a preference for higher yields as many economists, such as myself, are turning bullish on the U.S. economy, which means rates will start to push higher again.
By the end of the year, or beginning of 2015, the 10 year U.S. note should yield between three and 3.25 percent. We are currently hovering around 2.55 percent. For now, investors are looking for yields. Let's take a brief look at the high yield bond fund from Goldman Sachs (NYSE:GS), which has nearly 30 percent invested in speculative triple C bonds. This is way above the benchmark Barclays PLC (NYSE:BCS), which has 17 percent allocation into triple C debt. Fans of these bonds are betting that safe bonds, and their gains, are bottoming. U.S. corporate bonds have seen an average yield return of 4.83 percent versus the benchmark Barclays High Yield Bond Index, which has returned 4.26 percent.
The recent rise in government bond prices have forced investors to seek out riskier options thanks to falling U.S. bond yields. This is done by reducing interest rates on available safe assets. Now here comes the problem. As investor demand for risky assets increase, price rises and yields fall. Yields on triple C bonds have hit their lowest level on record. However, double B bonds have a higher average yield of 4.67 percent compared to the average on 4.2 percent on triple C bonds.
Many investors still have doubts whether the U.S. GDP will really pick up in the second half of this year. If this does not happen, then rates on longer-term issues fall further. Please see the below chart. Over the last six months, we have seen capital inflows increase by $30.5 billion into U.S. investment grade bonds.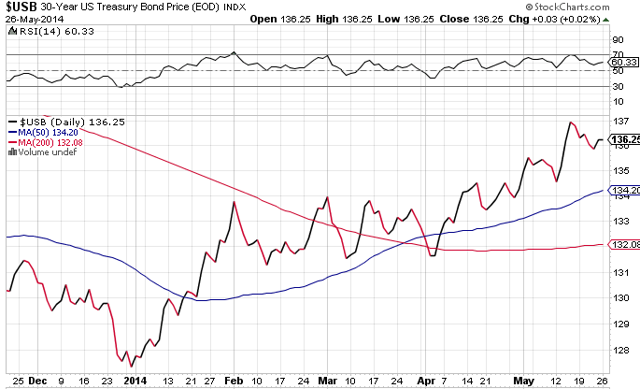 This is why zero coupon Treasury bonds are a good option. They are sold at a discount and they make no payments till they mature. These bonds have returned 8.6 percent this year. Going out long term has reaped the highest rate of return. A zero coupon bond with a maturity of 25 years has returned 19 percent through last Thursday. Compare this to the Barclay's Aggregate Bond Index, which yielded only 3.2 percent for the S&P 500.
This is the perfect time to own zero coupon bonds.
Disclosure: I have no positions in any stocks mentioned, and no plans to initiate any positions within the next 72 hours. I wrote this article myself, and it expresses my own opinions. I am not receiving compensation for it (other than from Seeking Alpha). I have no business relationship with any company whose stock is mentioned in this article.