Over the next few weeks, I will be assessing dividend coverage for each BDC in an effort to select top tier investments for the remainder of 2014. After falling 11% over 11 weeks straight, mostly related to the Russell reconstitution as well as 'small cap' stocks down in general, BDCs seem to be headed higher. However, there will likely be continued volatility through the end of June and I believe investors should be buying higher quality BDCs on the dips.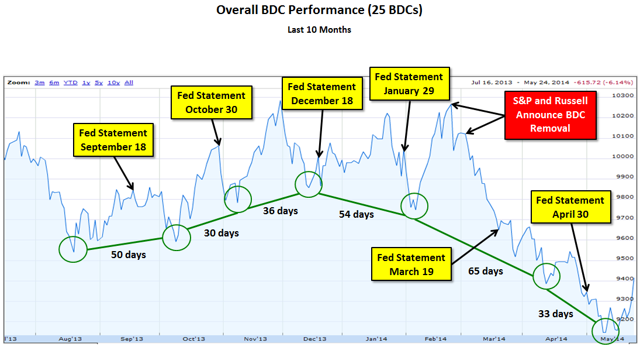 Click to enlarge
The following links are the other articles in this series:
Ares Capital
I have started this series with Ares Capital (NASDAQ:ARCC) for many reasons including its overall size and length of operating history. As BDCs mature, they usually reach a point of operational efficiency through cost structure and capitalization, taking this into account when setting dividends that stabilize over time. ARCC has chosen to pay special dividends as increased income and gains permit. I believe this is a more prudent strategy than increasing dividends especially when they are not fully supported by recurring income.
Over the last five quarters, ARCC has seen its portfolio yield decline from 11.1% to 10.2% but these declines are leveling off and lower than the average BDC closer to 11.7%. Historically ARCC has had a debt-to-equity ratio between 0.60 and 0.70. Including available cash and a higher leverage ratio of 0.80 would imply that ARCC could grow the portfolio by almost $925 million or around 12% without the need for additional equity capital.
Other income is mostly dividends and fees related to the Senior Secured Loan Program ("SSLP") that can be lumpy from quarter to quarter and create swings in the expected net investment income ("NII"). I have used the average from the previous four quarters.
Most BDCs have a base management fee of 1.75% to 2.00% of total assets and ARCC has one of the lowest at 1.50% of assets less idle cash resulting in a lower than average cost structure for an externally managed BDC. Its incentive fees are the standard 20% of income and gains but for projection purposes, I use core NII that excludes incentive fees related to capital gains.
The following table shows the most recent quarter along with various levels of leverage using a stable yield of 10.2% to determine the impacts on dividend coverage. Each of these scenarios assumes a full quarter of benefit from interest income but also a full quarter of interest expense, management and incentive fees.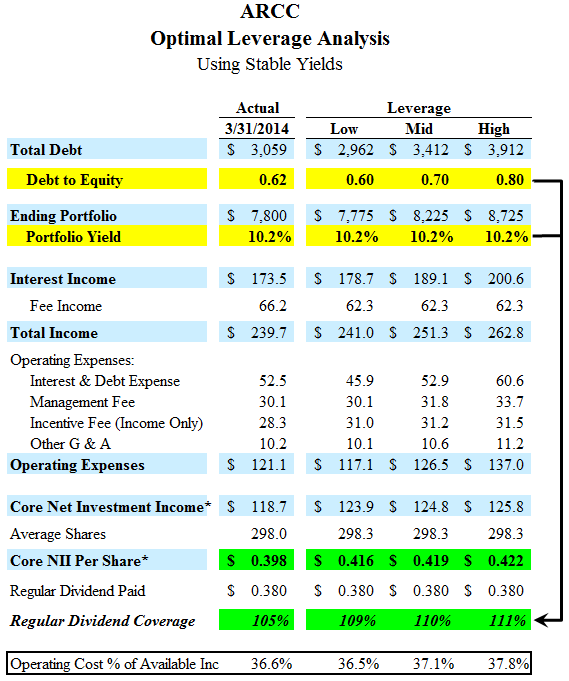 These scenarios assume the highest level of efficiency and actual results could be lower because there will always be some turnover in the portfolio (that could drive higher fee income) but keep in mind that this also assumes average amounts of fee income. At this point, I am comfortable with ARCC's dividend sustainability and there could be upside potential related to its SSLP in the coming quarters.
ARCC recently announced: "At the end of 2013, we estimated that we had approximately $0.82 per share of undistributed taxable income being carried over into 2014. We believe that this undistributed income is a meaningful asset that helps contribute to the stability and predictability of our dividend." This amount has been increasing and is usually a sign of successful quarterly results and/or underpayment of dividends that many BDCs use as a cushion for future payments.
For the remainder of this series:
In an effort to uncover BDCs that have the potential to sustain or increase current dividends I use this 'optimal leverage' approach to project potential NII per share using current portfolio yields and various debt-to-equity ratios for each BDC. The following side by side comparison shows an 'apples to apples' view of each BDC with a stable portfolio yield, current cost structure and capital expenses with a portfolio that uses the same amount of leverage to increase return on equity investments. I will be using the amount of equity as of March 31, 2014 (or most recent) along with a debt-to-equity ratio of 0.80 and the current portfolio yield to project income and expenses, tracking the following metrics:
Dividend coverage (using a debt-to-equity 0.80)
BDC expenses (as a % of available income)
'Available income' is total interest and fee income less interest expense from borrowings and is the amount of income that is available to pay management expenses and shareholder distributions. BDCs with lower expenses can pay higher amounts to shareholders without investing in riskier assets.
The following table compares the results for ARCC to the other BDCs (later in this series). As discussed in my "ARCC Articles" and shown in the table below, ARCC has a slightly higher than average 'operating cost as a percentage of available income' but also better than average dividend coverage compared to other BDCs.
One of the most important factors shown in the table below is the debt-to-equity ratios excluding SBA debt. The companies with lower amounts of leverage after excluding these loans (that are not included in the leverage requirements for BDCs) have the ability to borrow higher amounts. However this does not take into account which BDCs have available SBA debt capacity including TCPC that was recently approved for an SBIC license with the ability to borrow an extra $150 million.
This series of articles does not cover many of the BDCs that either have higher risk to return levels or will not be able to cover dividends with the current cost structure and associated portfolio yield including MCG Capital (NASDAQ:MCGC), BlackRock Kelso Capital (NASDAQ:BKCC), Full Circle Capital (NASDAQ:FULL), Horizon Technology Finance (NASDAQ:HRZN) and Solar Capital (NASDAQ:SLRC). The exclusion of these BDCs from this analysis skews the results toward BDCs that are more likely to cover dividends. If the BDC you are looking to invest in seems to have lower dividend coverage than most please keep in mind that there are worse BDCs not included.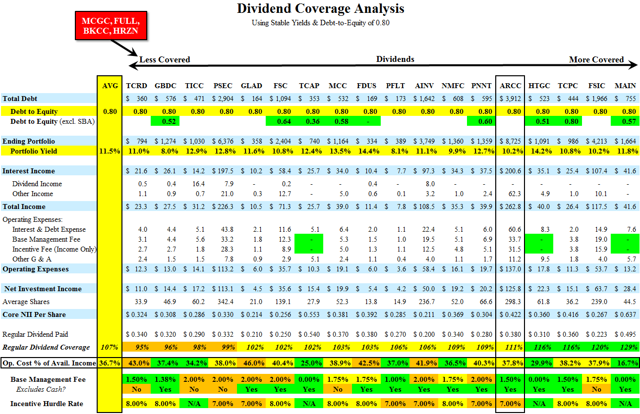 Click to enlarge
Potential variances to this 'optimal leverage' approach:
Leverage: The amount of debt that each BDC uses varies because not all BDCs are the same. Portfolio mix is important because higher quality investments usually have lower yields but are more secure assets that could be used with higher leverage ratios and discussed in more detail in "Leverage vs. Portfolio Investment Quality." BDCs with SBIC licenses have access to increased amounts of leverage that is excluded from BDC leverage requirements.
Declining Yields: Some BDCs are more likely to see declining yields and I will cover this in more detail throughout this series.
Other Income: Some BDCs depend on more than just interest income and for projection purposes, I will try to use average amounts over the last four quarters.
Expenses: The good news is that a majority of expenses (especially externally managed BDCs) are formulaic and driven by assets, borrowings and income. Interest expense depends on changes to borrowings including using lower rate credit facilities that are often paid off using higher rate fixed borrowings to position the company for rising rates.
Recently I have downgraded Prospect Capital (NASDAQ:PSEC), THL Credit (NASDAQ:TCRD) and Medley Capital (NYSE:MCC) from a 'Buy' to 'Hold' due to recent and/or potential dividend coverage issues mostly from declining portfolio yields. Most BDCs that are retaining underwriting standards have seen yield compression over the last two years and 7 of the 26 BDCs that I cover have cut dividends to match projected NII. Other BDCs have maintained portfolio yields through investing in specialized verticals, increased direct originations or investing in riskier 'unqualified' assets such as structured products but many of these companies are experiencing lower yields on new investments as well.
I will not be covering American Capital (NASDAQ:ACAS) in this series because it does not pay a dividend.
Investors should only use this information as a starting point for due diligence. See the following for more information:
Disclosure: The author is long ARCC. The author wrote this article themselves, and it expresses their own opinions. The author is not receiving compensation for it (other than from Seeking Alpha). The author has no business relationship with any company whose stock is mentioned in this article.
Editor's Note: This article covers one or more stocks trading at less than $1 per share and/or with less than a $100 million market cap. Please be aware of the risks associated with these stocks.