When a disruptive new company arrives on the scene, old-guard companies can respond with defensive, critical polemics. Tesla (NASDAQ:TSLA) is one disruptive force that has earned the respect of its competitors through a steady stream of innovations. According to Jim Farley, Ford's (NYSE:F) CMO, Tesla's achievements have produced benefits for the entire automotive industry.
Farley Praises Tesla For Innovation, Global Reach
At a technology conference in Tucson, Farley praised Tesla for successfully experimenting in distribution, sales, and servicing. According to Farley, all-electric vehicles are changing the face of the automotive industry. As a leader in all-electric development, Tesla sets a bold example for other companies with forward-thinking plans. Technical fluency is only one part of Tesla's value proposition. The auto maker's global focus is key for continued growth. Reflecting this focus, Tesla recently announced a partnership with Alibaba, the huge Chinese ecommerce firm that is the talk of Wall Street.
Larger than Amazon, Alibaba is gearing up for what could be the largest tech IPO in the history of the United States. By giving customers the option of making payments through Alibaba, Tesla puts itself in a position to court the Chinese market in a major way. This move could prove crucial for Tesla as it seeks to create momentum for its Model S electric car.
Tesla Taps Into China
In the wake of the unfolding "Chinese miracle," the average Chinese citizen has more disposable income than ever before. Despite a recent slowdown in Chinese manufacturing and the overall Chinese economy, many experts believe that auto sales in China have strong potential for growth. With Chinese pollution worries growing as well, Tesla is betting that electric cars will look particularly attractive.
With this announced partnership, Tesla can work around the hefty tariffs that China has placed on auto imports. Allying with Alibaba is far from the only way that Tesla is engaging with China. Tesla CEO, Elon Musk has announced that Tesla will invest in a Chinese manufacturing plant and a new network of charging stations for Chinese Tesla buyers.
Other Brands Take Notice
Ford announced its rollout of 3,500 plug-ins last month. Other brands, such as Nissan (OTCPK:NSANY), have quickly jumped on the electric train as well, NSANY already having moved over 100,000 units of its all-electric Leaf. While these brands have equal or greater market penetration than Tesla (see below), Tesla's influence is arguably stronger.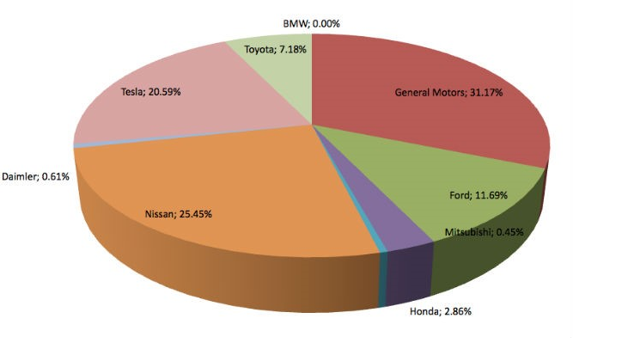 (energypolicyinfo.com/2013/07/another-rec.../)
Conclusion: Stock Steady After 2013 Surge, A Win For Investors
Above are just a few of the tactics that have made Tesla an enticing investment in 2014. In 2013, Tesla overcame a number of controversies to prove it is more than the trendy company of the moment.
Tesla's strategies both domestically and abroad show both depth and far-reaching vision. CEO Elon Musk's PR stunts have generated excitement and enhanced visibility of the company's growing supercharger network and its vehicles' extended battery life.
Tesla also announced its expansion in Europe in January 2014, with 14 stations connecting the German network to Amsterdam, Zurich, and Innsbruck, and the Netherlands network to Cologne and Brussels. Tesla proudly notes that superchargers offset nearly 1.13 million liters of gas in the region.
On the earnings side, TSLA has beat expectations for both EPS and revenues consistently for nearly four quarters. The stock surged in 2013, but has remained steadily strong YTD - offering an opportunity to take modest profits at a strong price, or buy into the stock betting on likely continued growth worldwide.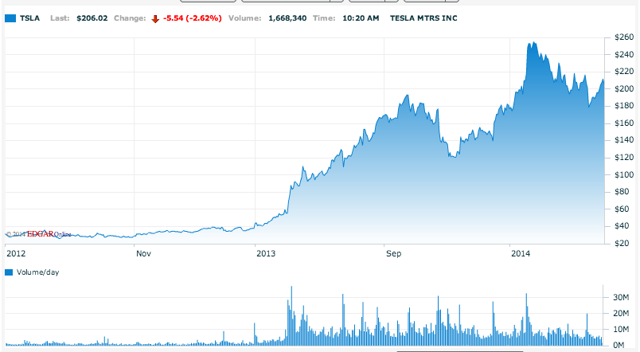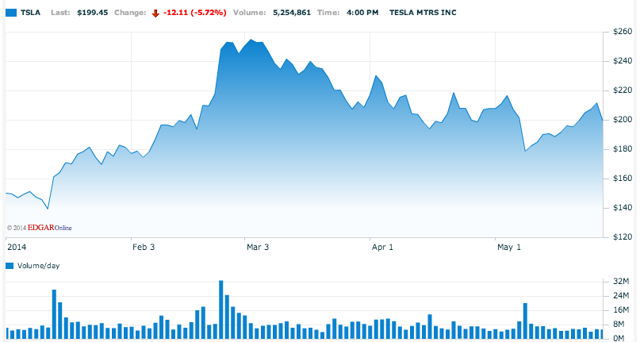 (Nasdaq.com)
It is always possible to squander a burgeoning opportunity. However, it is abundantly clear that Tesla has the right management to exploit its advantages for the indefinite future.
We invite readers wishing to join the discussion on Tesla to click the +FOLLOW button above the title of this article and follow @DRDInvestments on twitter.
Disclosure: I have no positions in any stocks mentioned, and no plans to initiate any positions within the next 72 hours. I wrote this article myself, and it expresses my own opinions. I am not receiving compensation for it (other than from Seeking Alpha). I have no business relationship with any company whose stock is mentioned in this article.