A secular market trend is driven by forces that could be in place for many years, causing the price of a particular investment or asset class to rise or fall over a long period of time. In a secular bull market, strong investor sentiment drives prices higher, as there are more net buyers than sellers. In a secular bear market, weak sentiment causes selling pressure over an extended period of time.
Click to enlarge images.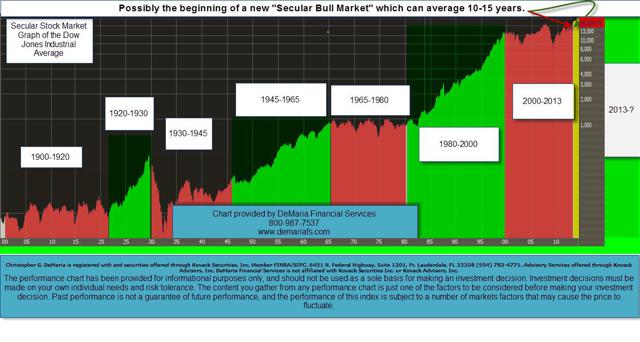 Many investors are not familiar with the long-term secular market cycles and the impact they have on how your portfolio is managed. The stock market has demonstrated longer-term secular bull and bear cycles which are extended periods with a common trend. The accompanying chart illustrates the secular stock market cycles from 1900 until 2014. Knowing where we are within these cycles can make a substantial difference in how you choose to invest and whether to buy and hold or to actively manage your portfolio for risk.
During the 1970s (similar to 2000-13), had an investor purchased all Dow 30 stocks and held them throughout the entire decade (excluding dividends), there would have been very little change to the value of the portfolio. Consequently, unless you were actively managing your account, managing downside risk, and taking profits when you could, you most likely would have been disappointed.
By taking a different approach to investing during the 1970s, investors who followed a more active approach, potentially yielded significantly higher returns. One investment manager, Peter Lynch, became famous as a result his stock selection methodology. Through active management, he successfully generated positive returns for his investors during that very difficult period in the market.
The lyrics "You've got to know when to hold 'em/Know when to fold 'em/Know when to walk away/And know when to run" comes to mind when trying to decipher a course of action. The last 13 years have trained investors to take profits quickly and move on to the next opportunity before the investment goes back down. Even many investment management companies and annuities have begun to more actively manage their portfolios to limit downside risk, which consequently can also limit the upside potential. Ironically, these newer methodologies would have helped more had they been implemented 13 years ago and not now, just as we appear to be emerging from a 13-year secular bear market. If you're not cautious, you may be investing in a portfolio that is not designed to capture the upside potential often realized in a secular bull market.
If you are looking for a pure play on the market and not one of the newer risk managed style portfolios, there are some identifiers that you may want to keep a lookout for. Here is a short list:
Dynamic allocation Portfolio

Tactical Strategies portfolio

Risk Allocation Portfolio

Active Allocation Portfolio

Targeted Risk Portfolio

Diversified Risk

Managed Risk
This isn't to say you should avoid all of the above listed types of investment choices. There are many investors that can stand to benefit from these types of strategies. It's more of a heads up so that you know whether you are in a pure market play or a portfolio designed to manage risk. Although the goal of these types of accounts is to minimize potential loss, these investment choices most likely will not capture as much market upside as their peers within a similar investment category.
What does this all mean? If we are indeed moving into a secular bull market, which can last anywhere between 10 and 15 years, it's time to relearn some lessons from the 1980s and 1990s. That period was a time where you could hold your favorite stocks or indices and return one to two decades later to find substantial growth in your portfolio. Many of today's investors have not experienced a true secular bull market and regrettably may not adjust their investment style until it's too late.
Both buy-and-hold and active investment strategies have a purpose. Knowing the longer-term market cycles, which strategy or combination of strategies to implement, and when to implement them are crucial considerations when making decisions about your portfolio and selecting an investment advisor to guide you through the process. So whether you manage your own investments or prefer the advice of an investment advisor, it's time to evaluate the longer-term secular trend.
We believe the Dow Jones Industrial average is emerging into a long-term secular bull market that can last anywhere between 10 and 15 years. You may want to explore a few of the following points and make your own decision:
Earnings continue to expand for the Dow.
The P/E ratio for the Dow is fairly valued.
The duration of the most recent secular bear market is in line with historical averages (please see graph).
Consider whether you want your portfolio to focus on managing risk, or to gear it toward capturing a greater portion of market returns.
Disclosure: I have no positions in any stocks mentioned, and no plans to initiate any positions within the next 72 hours. I wrote this article myself, and it expresses my own opinions. I am not receiving compensation for it (other than from Seeking Alpha). I have no business relationship with any company whose stock is mentioned in this article.