Every so often the market provides an opportunity for an outsized investment return with low underlying risk - American Capital, Ltd. (NASDAQ:ACAS) is one such opportunity.
For the active investor, fund or hedge manager, finding these opportunities are the raison d'etre for their financial pursuits. Hunting for these under-valued stocks that produce an excessive return with lower risk (or alpha) provides the thrill of the chase for investment professionals. This website is devoted to the search for these opportunities. These investment opportunities are usually found by identifying unique situations before the general market becomes aware of the intrinsic value.
I believe American Capital's current stock price offers an excellent investment return potential with very little downside risk.
BACKGROUND
American Capital is a Business Development Company (BDC) that invests in companies through a combination of debt and equity and will also purchase entire companies. BDCs are unique entities regulated under the Investment Company Act of 1940, as amended ("1940 Act"). BDCs are required to maintain a maximum debt to equity ratio of 1:1 and are generally pass-through entities for tax purposes and required to payout 90% of their income to shareholders.
American Capital was well known for offering flexible financing terms that included Payment In Kind (PIK) interest - where interest would accrue but not have to be paid until the debt was repaid. The option to accrue interest (vs. paying cash) on debt was attractive to many companies that desired the working capital flexibility from this term. As a result, American Capital was able to generate above average growth and attract a lot of deals. During the financial crisis in 2008, these investments with PIK interest left the company in a very precarious predicament. The collapse in values caused American Capital's assets to be discounted, and PIK investments in particular suffered from a lack of liquidity and were deemed too risky by most investors. The company's debt covenants and the required 1:1 debt to equity ratio were breached. To help alleviate the liquidity crunch, the company was allowed to pay a stock dividend instead of cash to meet the income distribution requirement and creditors provided temporary waivers of the covenant breaches.
The economic collapse caused American Capital to re-evaluate its vision and strategy. The company decided to focus on being more like a traditional private equity firm and asset manager than its old BDC self with illiquid assets. ACAS created an asset management company, American Capital Asset Management (ACAM), that manages a combination of internal and external investment funds. Per the company's Q1, earnings presentation, ACAM had $13B in Earning Assets Under Management (EAUM). The company has spun off several private and public entities that ACAM manages, the most recent being American Capital Senior Floating, Ltd. (NASDAQ:ACSF). The public entities have been pass-through corporations (REITs and BDCs) for tax purposes and to pay dividends. As part of this transformation, American Capital changed into a C-Corporation for tax purposes, which allowed the company to record a deferred tax asset for prior operating losses. All figures and tables referenced in this article are from either ACAS Q1 2014, Press Release or ACAS Q1 2014 Earnings Presentation unless otherwise noted.
CURRENT VALUATION
American Capital's closing share price on May 23rd was $14.73, a 24% discount compared from the current net asset value (NAV) of $19.29. Several reasons exist for this discount including:
· The company invests in private companies via debt and equity which are non-marketable securities and lack liquidity. Lack of liquidity became a huge issue for the company during the financial crisis of 2008. If American Capital is forced to sell these non-liquid assets quickly, it is likely the sales price would be lower than the current NAV for these assets and thus the market discounts the stock price to account for the nature of these assets.
· The non-marketable securities' valuations are based on management assumptions and discretion. These assumptions and NAV are reviewed by external auditors for reasonableness, but are still owned by management and as such can be biased or prove to be too "rosy".
· Quarterly profits that are inconsistent, trending down and have a large unrealized gain component. As the table below shows, American Capital's recent quarterly results have been inconsistent and are clearly trending lower. Specifically, the unrealized gain income has varied greatly and is based on management's valuation assumptions. These results are certainly contributing factors of the company's discounted share price.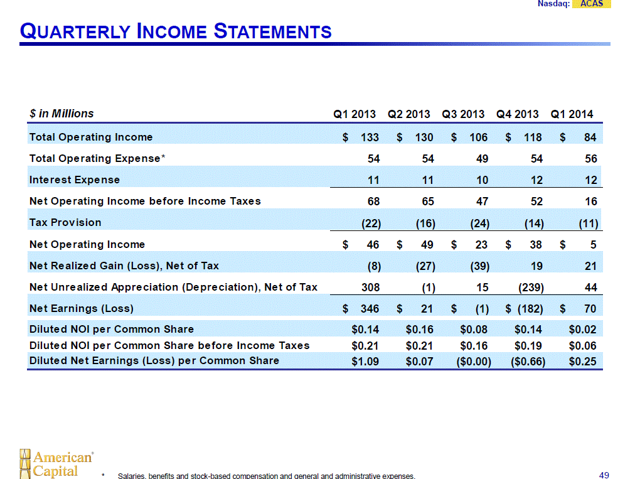 · Share repurchases vs. paying dividends. American Capital's Board of Directors decided that while the share price was below book value per share, the company would use profits to re-purchase shares vs. paying a dividend. This began several years ago and despite the repurchases, the company's share price continues to trade below book value. Income investors are attracted to BDCs (and REITs) specifically for the dividends, thus long-time shareholders who bought the stock for the income have since left for other opportunities.
All of the above factors provide ample reason for the discounted market value of American Capital's share price. The following sections will describe the company's current strategic vision and how management's actions are starting to reach a critical mass that will soon be recognized by the market.
CURRENT STRATEGY AND GROWTH OPPORTUNITY
American Capital's current strategy is best summarized by the description from the homepage of its website: "American Capital, Ltd. is a publicly traded private equity firm and global asset manager." Notice that BDC is not used in this summary, which goes a long way in explaining the company's vision and strategy. The company has been steadily progressing from a traditional BDC to a private equity firm and global asset manager over the last several years. Corporate transformations are not done overnight and as a rule it takes a long time for the changes to take hold and for the results to come to fruition. The company has reached a tipping point in its transformation, which will soon be evident in its results and the market will accordingly assign a higher valuation to the company. The strategic actions in 2014 that will produce these results are:
· Continued growth of ACAM - The asset management subsidiary of American Capital provides an increasing and stable stream of operating income as well as additional NAV. Asset management companies are typically valued based on EAUM and rarely trade below book value. Asset management is not a capital intensive business and book values of asset managers contain a large percentage of investment assets that contribute to profits. American Capital through its BDC and private equity experience is able to provide a steady stream of assets for ACAM to manage and grow EAUM. This growth is not solely through managing American Capital's funds; the company has spun off several public entities, including 2 REITs [American Capital Agency Corp. (NASDAQ:AGNC) and American Capital Mortgage Investment (NASDAQ:MTGE)], and a BDC [American Capital Senior Floating, Ltd.], which included capital from external investors. If ACAM successfully manages these public entities, their assets and related management fees will provide a continuous stream of growing income. American Capital has already made several announcements which will grow ACAM's EAUM significantly in 2014:
- AGNC May 5th, press release announcing it sold $175M of preferred shares, with an underwriter's option to sell shares worth an additional $25M more.
- MTGE May 16th, press release announcing it sold $50M of preferred shares.
- ACAS May 6th, press release announcing the formation of ACE III, a new private equity fund, which will increase ACAM's EAUM by $0.9 billion or 7%. This transaction included the sale of 6 American capital held companies worth $645M.
The company plans to create additional new funds in 2014, which ACAM will manage and will include the sale of American Capital assets. ACAM growth will thus be a significant factor in both net income and a higher book value for American Capital for the rest of 2014.
· Spin-off of assets into public and private entities - American Capital is more frequently developing private funds and tapping the public IPO process as a method to divest assets vs. selling to other companies or management buyouts. I think this adds an attractive alternative for American Capital when buyers for private assets are hard to find. The ACE III fund announcement on May 6th is the most recent example, where American Capital agreed to divest 6 companies for $645M. This fund will be managed by ACAM and increase EAUM for these assets when the deal closes.
· Investing in liquid assets - American Capital will be using available cash to invest in more liquid assets, mainly senior secured floating rate debt. The company has stated the need for liquidity, as it evaluates changes to its corporate structure to unlock shareholder value, as well as a good place to invest available cash in between deals. This will serve to add income in the short-term, as well as increasing the amount of liquid, marketable securities on the company's balance sheet. In the Q1 earnings release, American Capital disclosed it had purchased $199M and had an outstanding $143 commitment. The company also stated "it expects to make significant additional investments by quarter and year end." This will provide consistent profits going forward and the increase in liquid assets on the balance sheet should favorably impact the share price discount to NAV.
· Leverage the balance sheet -In the Q1 earnings release and subsequent analyst conference call, management stated that they'll increase the leverage available on American Capital's balance sheet. This leverage will be used to purchase liquid senior floating-rate loans and the spread between interest earned and interest paid is expected to be approximately 1-1.2%. At the end of Q1, the company had $4B of leverage available before reaching the BDC maximum 1:1 debt to equity ratio.
· Engaged Goldman Sachs to consult on splitting investment assets from asset manager - The hiring of Goldman Sachs is a significant step forward from the planning stage towards implementation; although the Board has not made a formal commitment at this time. If the company were to announce a change in the corporate structure, which is possible at any time, it would be an immediate catalyst and most likely at a minimum increase the share price close to the current NAV. That would be a very quick 31% stock price appreciation based on Friday's closing price.
UPSIDE POTENTIAL
I will be focusing on the key profit drivers to demonstrate the upside potential for American Capital's stock price -ACAM's growth, interest income from senior debt investments and leveraging the balance sheet as the foundation of my analysis. These are only the key profit drivers that will lead to a higher share price - I have excluded the immediate impact that a change in corporate structure might provide. The following outlines the expected increases from these activities:
· ACAM's growth in EAUM - As of Q1, 2014, ACAM was valued at $805M on ACAS' books ($772M equity & $33M debt), with $13B in EAUM. Additional management agreements announced since the end of Q1 will increase EAUM by $1.2B - (ACE III =$900M and $250M from AGNC and MTGE preferred stock sales.) This is a 9% increase in 1 quarter - with more funds planned in the 2nd half of the year. That's potentially a 20% increase in EAUM in the next 3 quarters. This will increase ACAM's value from $805M to $966M or a $.61 increase in NAV per share. Also in Q1, ACAM contributed $23M (27% of $84M) in operating revenue, which will increase to $27.6 by Q4 (assuming new fee structures are similar to the current agreements). Most of ACAM's asset management agreements also include an incentive clause that allows ACAM the opportunity to earn even higher income.
· Senior debt interest income - American Capital made 2 major changes regarding senior debt held for investment. The first change was that in the company's trademarked "One-Stop Buyouts" transactions, American Capital would retain the debt on its balance sheet instead of syndicating (selling) the debt. This will enable ACAS to receive a stable revenue stream from future deals. The 2nd change from the Q1 earnings release was that the company had purchased $199M of senior floating-rate debt and had an additional $143M purchase commitment. As of March 31st, the weighted average interest rate for this floating rate debt was 4.5%, equating to additional annualized interest income of $15.4M. The company also stated "it expects to make significant additional investments by quarter and year end," so this income will continue to rise throughout the year. Current economic forecasts are calling for higher interest rates potentially as early as next year. If these forecasts are correct, it would make floating rate debt a timely investment. These investments will also provide a more stable, recurring income stream for American Capital.
· Leveraging the company's balance sheet - In the Q1 earnings release, management stated that they will invest in senior floating-rate debt not just with existing free cash, but will also by leveraging their balance sheet. As a BDC, American Capital is allowed a maximum debt to equity ratio of 1:1 and the company had $4B in leverage capacity at the end of Q1. In the earnings release, the company stated "This will have a positive impact on earnings starting in the second quarter." On the Q1 conference call, management noted that the income spread on this additional leverage would be about 1.0-1.2% and also mentioned ways to achieve effective leverage greater than 1:1. One example that comes to mind is investing in leveraged senior floating rate funds. For this analysis, I will be conservative and use the low figure of 1% on $4B of assets, which equates to an additional $40M of annualized earnings. As stated previously, this will also provide a more stable and predictable earnings stream for American Capital.
In addition to the profit drivers noted above, I want to emphasize the impact that a more predictable and stable earnings stream and a balance sheet with liquid assets will have on reducing the current share price discount to NAV. A steady recurring income stream and a more liquid balance sheet should provide a 15-20% boost in stock price on a stand-alone basis with no increase in EPS growth. To illustrate the stock price potential of more stable cash flows and a liquid balance sheet, I have incorporated the historical price to book multiple for ACAS (from the Q1, 2014 shareholder's presentation) in the table below. Prior to 2008, the company was perceived to have a stable income stream and paid a quarterly dividend, both of which are no longer applicable today. The price to book value averaged a minimum premium of 20% vs. the current 24% discount. Management's current actions should help unlock shareholder value and get the share price trading closer to historical norms.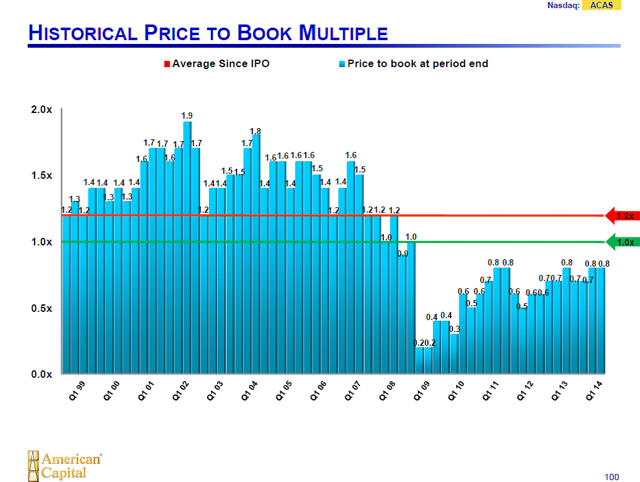 RISKS
There are always risks with any investment and that includes this company. The following are the company specific risks that should be noted by current and potential investors in American Capital:
· Non-liquid private equity assets - American Capital still has $1.4B of private investments held on its balance sheet. If another crisis occurs and management is forced to sell these assets, the sales price is likely to be lower than the current fair value recorded on the company's books. The $1.4B of private assets is lower than in previous years and with the addition of more liquid floating rate debt assets, the risk to American Capital as a whole is lower.
· Capital market accessibility - ACAM's growth from the spinning off additional assets via IPO's or fund creation requires accessing the capital markets (as well as investor partners) for external funding. Another crisis or even a mild recession will impact the ability of management to grow ACAM.
· Leverage risk - As the economic crisis of 2008 taught a new generation of investors, the use of leverage entails real risk. As American Capital increases its debt, this risk will rise accordingly.
To summarize my risk analysis of investing in American Capital, my conclusion is that the overall risks are currently lower than the historical (i.e. pre-2008 economic crisis) norms for this company.
SHARE PRICE FORECAST
I am forecasting American Capital's share price to appreciate 31-45% by year-end, which equates to an annualized return of 53-77%. This forecast is based on increased interest income on senior debt investments, ACAM's EAUM growth and related NAV appreciation. Additional share price appreciation will happen via the discount to NAV slowly being reduced as the operating income from predictable sources rises and company's balance sheet becomes more liquid. The table below shows the details of my year-end forecast for American Capital's share price:
Forecasted ACAS 2014 Appreciation
2013 NAV
$18.97
2014 Q1 NAV
$19.29
2014 Q1 NAV change -
$0.32
2014 Q1 NAV change -
1.69%
Forecast quarterly NAV growth Q2-Q4 -
3.50%
2014 year end NAV forecast -
$21.39
Low ACAS share price forecast @ 10% discount to NAV -
$19.25
High ACAS share price forecast @ par with NAV -
$21.39
May 23rd ACAS share price -
$14.73
Low price appreciation forecast -
31%
High price appreciation forecast -
45%
SUMMARY
I believe American Capital offers an excellent opportunity for an above average return with lower risk. The company's strategic direction is moving towards more stable and predictable earnings and cash flow streams, while at the same time the balance sheet assets are becoming more liquid. The current discount to book value should provide down-side risk protection, as well as additional appreciation potential as the company executes its vision.
I will be writing 2 follow-up articles on American Capital, the 1st one detailing the expected company valuation based on splitting the asset manager from their investment assets and a 2nd article detailing the company's earnings growth.
If you are interested in reviewing my analysis on another stock I believe is undervalued, please click here or here.
I hope you find my articles useful and I invite you to follow me by clicking on the "+ Follow" icon at the top of this article (to the right of my picture). The settings in your seekingalpha.com profile can also be adjusted to receive e-mail alerts when I post new articles. As always, your comments and e-mails on my articles are always appreciated.
Disclosure: The author is long ACAS, ACSF. The author wrote this article themselves, and it expresses their own opinions. The author is not receiving compensation for it (other than from Seeking Alpha). The author has no business relationship with any company whose stock is mentioned in this article.