We always try to keep an open mind to various types of investments; be they a type of technology, a certain company or a specific industry. Even when we form an opinion on an industry that is working, we constantly research to see whether we need to adjust our position to the opposite of where we are or move to a neutral posturing.
With that said, we have come across an interesting report on the coal sector, and we wanted to highlight that today based on the fact that we recently discussed the coal names mentioned in this report.
Chart of the Day:
We watch the US Dollar Index, as it can lead commodity prices higher or lower. It has once again grabbed our attention as it approaches the 80.5 level, but we will not grow too concerned unless it makes a strong move through that area. We are probably in the clear unless we see a move above 81.5.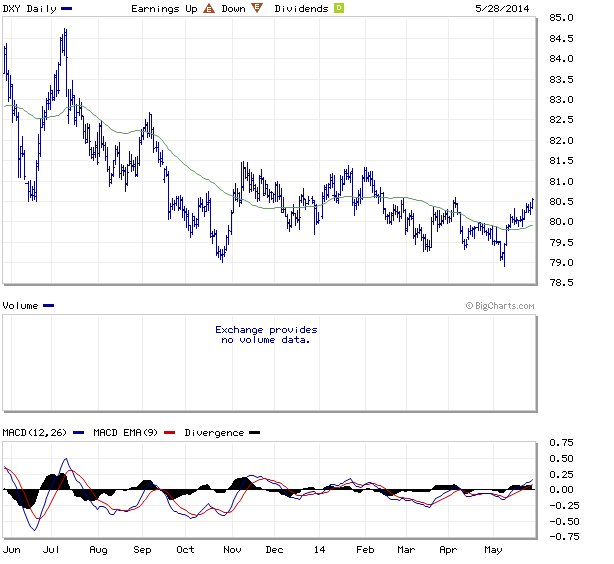 Source: BigCharts
Commodity prices are as follows (at time of submission):
Gold: $1,258.20/ounce, down by $7.30/ounce
Silver: $19.045/ounce, down by $0.022/ounce
Oil: $103.61/barrel, down by $0.50/barrel
RBOB Gas: $2.9936/gallon, down by $0.0016/gallon
Natural Gas: $4.571/MMbtu, up by $0.066/MMbtu
Copper: $3.175/pound, down by $0.0025/pound
Platinum: $1,461.30/ounce, down by $1.00/ounce
Analysts Focusing On Coal
We recently wrote about coal miners (see article here), after the latest bankruptcy fulfilled one of our predictions from a few years back regarding the industry. In the article, we discussed how we would play the coal sector if we had to, and have continued to watch the area for news. We came across a Barron's article, located here, which focused on an analyst's comments regarding the sector as a whole and the worst case scenario. The analyst, UBS' Kuni Chen, makes some good points concerning names in the industry and should be read by those looking to establish positions within the sector.
We did find some interesting analysis in the article and thought it important to point out. If one buys into the report, then the probability of Arch Coal (ACI) and Alpha Natural Resources (ANR) filing for bankruptcy is low, although the analyst does say they both could run out of cash in the next few years. They still have credit lines available and because of the way their debt is structured, the analyst seems to be a bit more bullish on the names than we are.
Walter Energy (NYSE:WLT) will be the first to face a cash crunch, but still, the thinking is that the company will be able to weather the storm as creditors would likely want to avoid a bankruptcy. These three names make up the speculative area of the market, but the report indicates that the next liquidity crisis is at least 2-3 years away.
We have been on record saying that if one had to have exposure to the coal market, that Peabody Energy (BTU) and CONSOL Energy (NYSE:CNX) were the way to play the area based on their diversification (Peabody in terms of its production locations and CONSOL with its natural gas exposure). CONSOL Energy is not mentioned in the report, but Peabody Energy is, as the equity raise question is answered. In short, Chen thinks that it makes a lot of sense for the company to raise cash via a sale of shares in order to lower leverage and shore up the balance sheet. In a blow to the smaller names, Chen states that "a recapitalization of the balance sheet probably does not provide substantial dry powder for Peabody to make acquisitions."
So although there is good news in that the industry appears to have liquidity moving forward over the next few years, those who are betting on industry consolidation and trying to pick the smaller names that will be purchased might be playing a fool's game. Speculation is needed in every market, but this report makes us wonder if the timeframe to begin investing in coal companies is further out than we originally thought, especially with the logical buyers not appearing to have the balance sheets to do the rumored acquisitions.
Disclosure: I have no positions in any stocks mentioned, and no plans to initiate any positions within the next 72 hours. I wrote this article myself, and it expresses my own opinions. I am not receiving compensation for it (other than from Seeking Alpha). I have no business relationship with any company whose stock is mentioned in this article.