Cliffs Natural Resources (NYSE:CLF) has been dealing with almost nothing but bad news over the last couple of years. The latest hammer dropped today as the company announced that it would be cutting its 2014 capital expenditures by $100 million as a result of continued weakness in iron ore prices.
The move isn't really unexpected as the company has remained in cost cutting mode in an effort to stay afloat as iron ore prices continue to drop but the main question is increasingly becoming "can Cliffs hang on until iron ore prices start heading back up?"
The capex cut comes at a time when Cliffs is doing what it can to limit expenses in an environment of declining revenue. Cliffs delivered a disaster of an earnings report for Q1 as the company failed to meet already depressed revenue estimates (Cliffs reported $940 million in revenue - below estimates of $957 million and far below the prior year quarter's $1,140 million). It also cut its dividend by 75% recently and made a secondary stock offering in an attempt to remain capitalized. The moves have plugged the holes in the dam for the time being but will it be enough if ore prices don't rebound?
Now, it deals with the latest in a string of negative news and the fallout that comes with it. The stock price dropped almost 4% on the news and is now down 40% year-to-date. That comes on top of a 30%+ loss in 2013.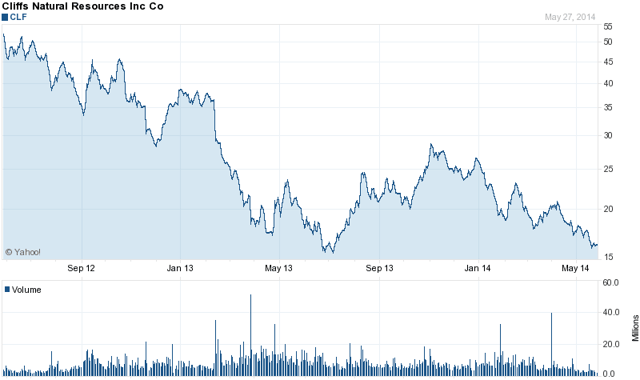 Click to enlarge
One of the ancillary consequences to come from the announcement was reported by Barron's that said Cliffs may breach its debt covenants if iron ore weakness continues. RBC Capital reported that if the average spot price of iron ore for 2014 drops below around $114/ton, Cliffs could be in breach of its debt/EBITDA ceiling of 3.5. The average price of iron ore is above that mark currently so Cliffs is OK for now but if prices continue to fall the company could begin teetering dangerously close that mark.
The other wild card in all of this is the pressure from Casablanca Capital. Casablanca - the owner of around 5% of outstanding Cliffs' shares at the moment - wants the company to break itself up (among other things) in order to extract value. While the company has rebuffed Casablanca up to this point (and I think it would be unlikely that the Casablanca takeover ever happens), it remains uncertain if pieces of the Casablanca plan like divesting itself of low-performing assets will eventually become reality. If ore prices remain in the $110-$120 range, Cliffs may be forced to make tough decisions in how to raise capital. Casablanca's call for Cliffs to double its dividend seems very highly unlikely given everything else that's going on.
Conclusion
It's hard to think of an investment in Cliffs right now is anything more than a blind bet on iron ore prices. Contrarians may want to make a small investment viewing Cliffs as a deep value play but there appears to be very little upside here absent a turnaround in ore prices.
Wells Fargo stated that they believe the capex cut makes Cliffs cash flow neutral for the near term. So the move in and of itself is a positive but it is a signal of bigger issues. The bottom line is that Cliffs future is dependent on the price of iron ore. If it starts going up again, it could be the sign of a long-awaited recovery. If not, we could be looking at the end of Cliffs as we know it.
Disclosure: I have no positions in any stocks mentioned, and no plans to initiate any positions within the next 72 hours. I wrote this article myself, and it expresses my own opinions. I am not receiving compensation for it (other than from Seeking Alpha). I have no business relationship with any company whose stock is mentioned in this article.