(Editor's Note: Investors should be mindful of the risks of transacting in securities with limited liquidity such as PTORF. The Canadian listing of Spartan Energy, SPE.V, offers enhanced liquidity.)
Magnum Hunter (MHR) sold $150 million of stock to Relational Advisors on May 28th, announced in the morning before the stock market opened. Subsequent to the announcement, the stock traded up over 8%. This happened despite a few factors that may have kept the stock price lower, including 10% warrant coverage and the stock being issued at a ~5% discount to the closing price the previous day and a ~10% discount to the 30 day volume weighted average price (VWAP) of the stock.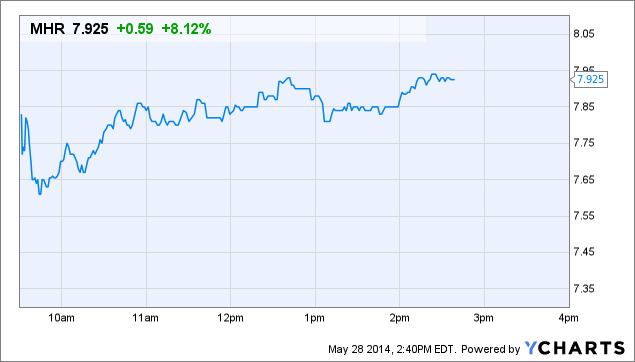 Spartan (OTC:PTORF) sold $130 million of stock to institutional investors on May 27th, also announced in the morning before the stock market opened. Subsequent to the announcement, the stock traded up over 3%. The offering was "cleaner" than Magnum Hunter's, in that no warrants were offered along with the stock, the stock was issued near the previous closing price, and the stock was issued at a smaller discount to the 30 day VWAP.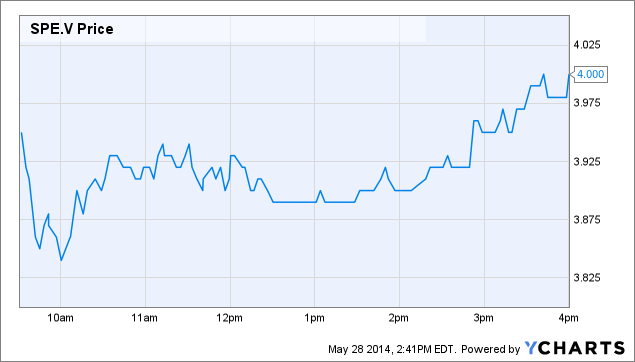 It is unusual for stocks to trade up on the back of secondary market equity offerings, so it is worth exploring both of these situations. Below I will examine the associated disclosures that came out with the offerings (describing use of proceeds, leverage levels, etc), participants in the offerings, and other factors that can potentially explain the price movements. Understanding these things can potentially be helpful in understanding the future prospects for these stocks.
In Magnum Hunter's case, it would appear the disclosure contained more negatives than positives. The company said the use of capital is to accelerate development in the Marcellus and Utica, to acquire additional leases, and to pay down debt. Each of these sound like reasonable uses of capital. But then the company discloses that subsequent to the $150 million offering, it has $208.5 million in liquidity. This implies the company was running out of money, and rather than accelerating anything, the proceeds were used to sustain current levels of activity and to de-lever.
It might seem surprising that the stock would trade up subsequent to a disclosure showing just how thin a liquidity wire management had been balancing their business on. However, one factor seems to overwhelm all else, at least in the short run: Relational Advisors was the sole participant in the deal. Relational has a strong track record, manages billions of dollars, and is known as an activist investor. Apparently investors think that Relational will be able to drive improved management of Magnum Hunter, enough that the market is overlooking the tight liquidity situation and bidding the stock price up.
Spartan's disclosures couldn't be more different. The use of proceeds is entirely to fund the acquisition and development of a "bolt-on" asset in SE Saskatchewan. The dislosure says the acquisition is accretive at ~5x cash flow (and investment banks providing research on the stock seem to agree). And it says Spartan is maintaining very low levels of debt, less than 1x cash flow. This compares very favorably to the many turns of leverage Magnum Hunter is obligated to, including senior debt and high yielding preferreds.
Interestingly, despite maintaining significantly lower levels of debt and despite growing a similar fast rate, Spartan is generating free cash flow (versus Magnum Hunter's ~ 2:1 capex to cash flow ratio). And even more interesting, Spartan trades at a lower multiple of 2015 EV/EBITDA than Magnum Hunter, according to investment bank research on both stocks.
One company is growing within cash flow, one is growing through aggressive borrowing. One company has less than 1x debt to cash flow, the other is at 5x+. One company issued stock at a material discount to 30 day VWAP, with warrant coverage. The other issued at a slight discount to 30 day VWAP, with no warrant coverage. One used the money for an accretive acquisition, the other to pay down debt and maintain existing activity levels. The choice seems clear.
Disclaimer: Opinions expressed herein by the author are not an investment recommendation and are not meant to be relied upon in investment decisions. The author is not acting in an investment adviser capacity. This is not an investment research report. The author's opinions expressed herein address only select aspects of potential investment in securities of the companies mentioned and cannot be a substitute for comprehensive investment analysis. Any analysis presented herein is illustrative in nature, limited in scope, based on an incomplete set of information, and has limitations to its accuracy. The author recommends that potential and existing investors conduct thorough investment research of their own, including detailed review of the companies' SEC filings, and consult a qualified investment adviser. The information upon which this material is based was obtained from sources believed to be reliable, but has not been independently verified. Therefore, the author cannot guarantee its accuracy. Any opinions or estimates constitute the author's best judgment as of the date of publication, and are subject to change without notice.
Disclosure: I am long PTORF. I wrote this article myself, and it expresses my own opinions. I am not receiving compensation for it (other than from Seeking Alpha). I have no business relationship with any company whose stock is mentioned in this article.
Editor's Note: This article discusses one or more securities that do not trade on a major U.S. exchange. Please be aware of the risks associated with these stocks.