Earnings estimates have risen strongly for Westlake Chemical Corporation (NYSE:WLK) following the company's 9th consecutive positive earnings surprise on May 5. It is a Zacks Rank #1 (Strong Buy) stock.
While shares of Westlake jumped after the latest beat, the valuation picture still looks reasonable, which leaves plenty of room for further upside.
Westlake Chemical Corporation manufactures and markets basic chemicals, vinyls, polymers and fabricated building products. Its operates in two segments:
Olefins (~69% of total sales), which are the basic building blocks used to create a wide variety of petrochemical products, and
Vinyls (~31% of total sales), which include PVC, VCM, EDC, chlorine, caustic soda and ethylene. The company also manufactures and sells building products fabricated from PVC, including pipe, fittings, profiles and foundation building products, fence and deck, and window and door components.
First Quarter Results
Westlake Chemical reported better-than-expected first quarter results on May 5. Earnings per share came in at $1.18, beating the Zacks Consensus Estimate of $1.13. It was a 28% increase over the same quarter last year.
Net sales rose 19% to $1.028 billion, well ahead of the consensus of $964.0 million. This was due in part to an acquisition, but the company also saw higher sales volumes for polyethylene and ethylene, as well as higher sales prices for most of its major products. The company's "Olefins" segment saw top-line growth of 24% as average selling prices rose an impressive 13.3% while volumes grew by 10.7%. The "Vinyls" segment increased 8% as a 32% jump in building products was offset by a 2% decline in 'PVC, caustic soda and other'.
Meanwhile, operating profit soared 28% as record quarterly profits in "Olefins" more than offset a loss in "Vinyls".
Estimates Rising
Following strong Q1 results, analysts revised their estimates significantly higher for both 2014 and 2015. This sent the stock to a Zacks Rank #1 (Strong Buy).
The Zacks Consensus Estimate for 2014 is now $5.35, up from $5.13 before the Q1 report. This represents 18% annual EPS growth. The 2015 consensus is currently $5.58, up from $5.33 over the same period. This corresponds with 4% EPS growth.
Rising earnings estimates have been a recurring theme for Westlake lately. The company has delivered 9 consecutive positive earnings surprises and has seen consensus estimates move consistently higher over that stretch.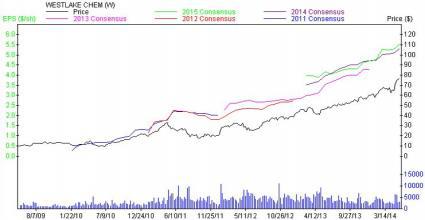 Reasonable Valuation
Shares of Westlake Chemical are up more than 8% since the Q1 report, but the valuation picture still looks reasonable. Shares trade around 14x 12-month forward earnings and 13x trailing 12-month operating cash flow.
The Bottom Line
With rising prices and volumes, very strong earnings momentum, solid growth projections and reasonable valuation, Westlake Chemical still offers investors attractive upside potential.